Best ERP for Schools - Expectations vs. Reality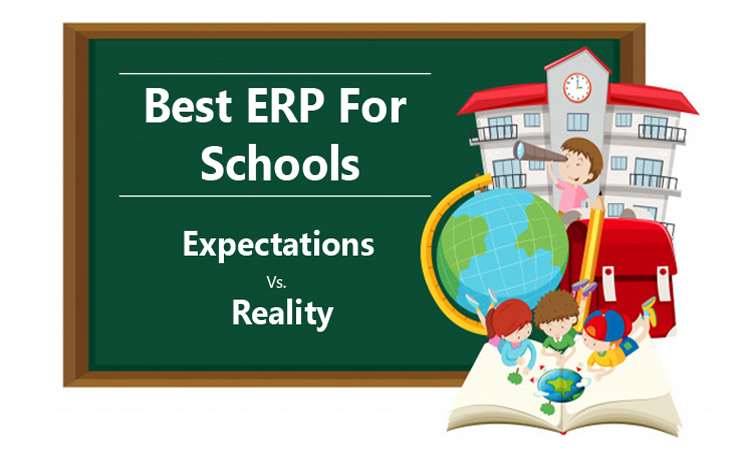 "Expectations were like fine pottery. The harder you held them, the more likely they were to crack." - Brandon Sanderson, American Writer
You desire the best ERP for your school! Well… then don't ignore the elephant in the room. I refer to misplaced expectations of both school leaders and EdTech providers! Although it is good to have expectations, too wide a gap between expectations and reality could result in "the best-laid plans" going awry!
It is of vital importance that all cards be placed on the table at the very outset. Both vendor and buyer of educational ERP solutions need to have a very clear picture of the "nuts and bolts" of the implementation process so that they are both mentally and materially prepared to give their best to the project.
Here are some ground realities that have often caused heartburn to both the vendor and the school, since they were so far removed from the original expectations:
Rigorous staff/end user training is indispensable:
Many ERPs fail due to poor education and training of staff regarding all possible functions and features of the school ERP, whether it is for higher education or for schools. Through practical, highly interactive training, the education ERP Company and the school management should jointly allay apprehensions of staff members (the end-users) regarding structural and operational changes in their institution. ERPs have a reputation of causing staff attrition. If employees are not reassured that their jobs are safe, they may react negatively to training or resist the ERP altogether. Secondly, training needs to lay out clearly how the ERP will benefit the trainees. They need to be made aware of and ready for their responsibilities and their position in the new scheme of things. Most importantly, the end-users should be thoroughly and rigorously trained to use the ERP optimally. They should be encouraged to listen in attentively, participate wholeheartedly and clear all doubts through the training.
The input needs to come from the school:
Another unrealistic expectation lies in how automation is understood and viewed by institutions. The reality is that automation does not happen automatically. Data has to be entered into the new system, or transferred from an old legacy system to the new school management system. The process of data entry or data migration requires diligent, constructive teamwork between school staff and the technicians deployed by the vendor to implement the ERP. A competent vendor will provide a data migration analyst/specialist, who can identify and communicate data migration requirements and risks accurately. But the process of data entry/migration needs the active collaboration of school departments. One risks losing precious data if either the vendor or the school administration does not take this fundamental responsibility seriously.
Not all integrations are possible in a school ERP:
Several integrations are possible in your new system, and it is important that the school is made aware of these possibilities so they can make optimum use of the ERP. Email, SMS, Mobile App, Biometric or RFID, Barcode and Digital Payment integration are some of the integrations possible with your school management system. Tally integration is also totally possible. However, there are schools that expect Alexa, Google Assistant or other Virtual Assistant integrations in their ERP. Some ERP providers do provide AI technology integration, but they are few and far between, and the school would need to reserve a substantial budget for AI technology. As for legacy systems, they are usually plagued by security and scalability issues. Their modernization is therefore a sine qua non of a successful ERP implementation. That… or a complete overhaul of obsolete systems may prove more cost effective in the long run.
School ERPs cannot allow for modifications at every stage:
The resistance to discarding old habits is ingrained in many faculty and staff members. The common grouse regarding most ERPs is that they do not allow for modifications easily. What is seen as a deficiency is, in fact, the ERP's biggest strength. Data that can be easily modified, as in an Excel Sheet, also risks getting lost or stolen or manipulated. Student data integrity and privacy are thus seriously jeopardized with legacy systems. Advanced Education CRMs are usually cloud-based technologies with a single centralized data platform. Any changes to be made to the data would need to go through the right channels and the management would have to be kept in the loop at all times. But this also creates tamper-proof data security – an indispensable feature for schools that store vast quantities of vulnerable student and staff data.
User interest + management initiative = successful execution of an ERP project:
Another ground reality that is vital for the seamless implementation of an education ERP is management initiative. The management needs to do more here than take the original decision of investing in EdTech or upgrading the current system. The management needs to:
brief the vendors in detail about their requirements;
bring end-users and technicians together;
impress upon staff the need to support the implementation team;
mitigate fears, if any;
create space and time for the staff so they may undergo training;
support the data entry/input and data migration process wholeheartedly;
work with the implementation team to define parameters for different modules (e.g. the online fee collection software would require the input of parameters such as "session", "standard", "concessions", "scholarships", etc. );
ensure that the ERP is correctly and optimally used, maintained and upgraded so it does not become obsolete.
An school ERP can fail due to lack of commitment on the part of the school management, poor communication and the absence of timely, informed decisions in support of the implementation team and the staff. The best school ERP, ultimately, is the one that is implemented in that comfortable, mature space where expectations and reality meet.