Is Digitizing the Classroom the Best Thing To Do at this Moment?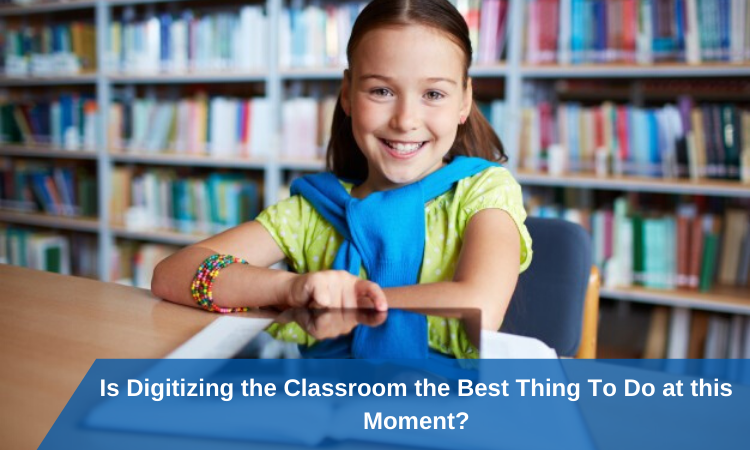 Few days back when we all were planning New Year's Eve, penning down resolutions in journals, making plans to go on a vacation... not even in dreams one could have imagined that the forthcoming days would turn our world upside down. Unfortunately, Covid-19 took everything by storm & has created a mess.
Were you aware of this mess?
Well, neither were we.
Not a single dimension remained untouched. One of the biggest losses we've faced has to be the education industry. We all know that scientists across the world are trying to find a cure for the Corona Virus. They have given a ray of hope to us. But imagine if there were no scientists & medicine experts, what we could have done? Quite hard to imagine! That's how pivotal education is! Education is the only source by which progression of a country takes place. Without educating the young generation, we can't be assured of a good future.
The big question is - What can come to the rescue of our kid's education?
Our simple answer would be - Digitization of the classroom!
Here's why digitization with the help of edTech is the best thing to do at this moment...
Encash Education Stack with Remote Learning
A stack of interesting, engaging, and enriching education technology can work wonders for children who are willing to continue their education despite the situation. With remote learning, you can provide the following facilities & empower students.
Video Conferencing: Get a speedy internet connection & teach your students via a virtual setup live streaming.
E-Content: Upload ebooks, notes, video tutorials, audio & journals online to help students get their daily dose of learning.
Online Discussions: Give your students a chance to discuss their queries after completion of your online lecture. You can set up a timetable for multiplying its impact.
Chat Privately: Get into one-to-one study-related discussions with children with the help of private chat messenger.
The highlight of e-learning is that it doesn't require you & the children to be present physically. You can teach as per your convenience & the kids can learn as per their own. Simply sorted yet an avant-garde way to imbibe strong learning. I know it might sound delusional to some, but remote learning can be better than learning in the four walls classroom when done dedicatedly.
Let Skill Development Take the Center Stage
I believe that education isn't just about getting a diploma or a degree. True education liberates the mind & ignites a passion to innovate new things that could be beneficial for mankind. No wonder why, we all are expecting a medicinal cure of Corona Virus from the scientists, researchers & doctors. We have faith that they would do it. If they would have taken education merely for the sake of a degree, we know what would have been our future.
Perhaps why the education system needs to pay attention to the skill development of kids. With school management system and digitization of education, skills & creativity can be unfolded easily. Gamified learning, interactive presentations & online quizzes being my top choices, I suggest that every K12 educator must reinvent their methodologies of teaching to get the most out of children. Let the skill development take the center stage & design your curriculum likewise. You'll surely witness a revolution in student learning outcomes.
How to Embrace the Change?
Sometimes, the problem is not as big as it seems in our head. K12 faculty and educators have to go through a transition, and it won't be easy, to be frank. However, it won't be much tough either. You'll require:
Discipline: To overcome the basic implementation & learning challenges of edTech.
Sound Mindset: An adaptive mindset to make things easier for fellow faculty members & children.
Trial & Errors: Constant hunger for innovation to bring out the best teaching techniques.
Once you pass the litmus test, you'll discover how influential digitization could be!
To Sum Up
When the thought leaders of the tech industry said that digitization in K12 classrooms will be the next big thing, none of us would have thought that the future was so near. The fallout in the education industry from the corona virus has been dramatic & no one knows what the upcoming months hold. Therefore, as an educational institution, to strengthen the nation by empowering the young generation, you must opt for an education ERP solution with e-learning tools.
For detailed guidance on education ERP technology, get in touch with us today!