Top 5 Predictions for the Future of Education ERP software | MasterSoft ERP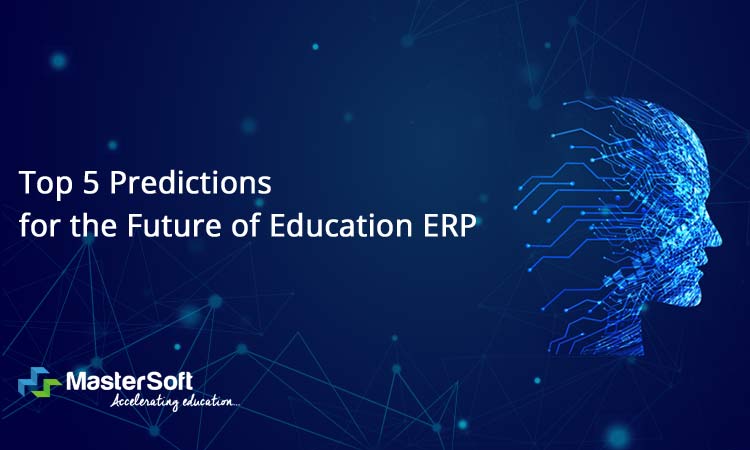 From heavy school sachets to compact tablets, from pens to touch screens, from traditional Parent-Teacher conferences to daily updates and remote connectivity, one wonders if education can get more futuristic than this. And yet, Education ERP keeps reinventing itself, multiplying features and benefits for its users while cutting down on the tedium of conventional school management and learning methods.
The future of ERP with school management system is likely to see even more changes and upheavals in the next couple of decades. While it is difficult to predict how rapidly these changes will come about, one can safely predict the domains in which ERP software is most likely to change.
Here are my five predictions for the future of Education ERP software, based on what I believe would be the five dominant needs of educational institutes, students and teachers in the next couple of decades:
Advances in E-learning platforms and technology
E-learning took its first tentative steps in the 1960s. The convenience and flexibility it affords to both students and teachers became evident as an ever-increasing population of internet users sought out online platforms and courses that would give them the same skills and knowledge that traditional classrooms offered. One can anticipate more options and more advanced features from e-learning ERPs in future.
E-learning apps are type of school mobile app that are more intuitive and creative. Micro-learning may take precedence over lengthy courses that are not too mobile-friendly. The content that is loaded in e-learning ERPs will need to adapt to fleeting attention spans, with more visuals and less text, more engaging themes and expressions, an emphasis on virtual immersive learning and, eventually, a gamification of problems and modules to captivate e-learners.
More AI in Education ERP
Artificial Intelligence is already being integrated into school ERPs. One can envisage a more complete, holistic integration of AI in Education ERP to improve learning outcomes. School ERPs that are supported by AI can predict outcomes and offer solutions like the human brain, only much faster. By analyzing student data rapidly and monitoring student progress in a sustained manner, AI can generate reports that could help the teacher better understand the student's needs and weak points. Thus, AI-supported ERP could aid the teacher in curriculum design as well as in the conception and implementation of creative teaching strategies. By providing accurate, realistic assessments of the student's performance in class or even in an examination, AI could give them the tools to improve their cognitive abilities.
More personalization
Modern pedagogical practices demand that learning modules be personalized to make learning meaningful, effective and fun. One can expect future education ERPs to take personalization to the next level. Personalization will no longer be the outlier in teaching strategy; it will be its rule and founding principle. With the volumes of data available today on each student, in terms of preferences, thought processes, convictions, choices and more, an intelligent ERP should be able to bring to the table focused and specific solutions to suit individual requirements of students.
One can thus expect diversity and context of users to reflect in ERPs of the future. With distance learning becoming increasingly popular and a progressively heterogeneous student profile, it would be an anachronism if ERPs were not to personalize and represent this diversity. Future Education ERPs, to be correctly understood and implemented, would have to mirror multi-cultural and psycho-social sensitivities, or, at the very least, be respectful of differences and context-aware in their functionality.
More device-friendly ERP
Students and teachers are far more comfortable today reading and messaging on small screens. Thus, "on-the-go" systems have become a necessity today, given the time spent in commute or in situations where the mobile is the only device at hand. ERPs that are future-ready should be easily accessible at the instant they are required, with a good combination of font size and orientation for optimal information presentation.
More BI-powered ERPs
The future is likely to see a spurt in demand for Campus Management Systems integrated with Business Intelligence dashboards. Key Performance Indicators, real-time metrics, or any other key student data could be easily tracked, giving teachers the information required to make smart decisions. By tracking attendance and studying reports generated by the system, for instance, teachers are better placed to identify what motivates students and to eliminate any blocks to learning in the classroom.
On a final note, I would like to state that Educational ERPs, however rich in benefits and features, will be truly intelligent and future-ready if they succeed in combining the finest aspects of traditional methods of learning and content creation with contemporary concerns and demands. A bright future awaits Education ERP if it manages to embody the personal touch and the wisdom of conventional learning in its new-age software. After all, the best ERP providers know better than to throw the baby out with the bathwater.