6 Important Features to Look in School Management System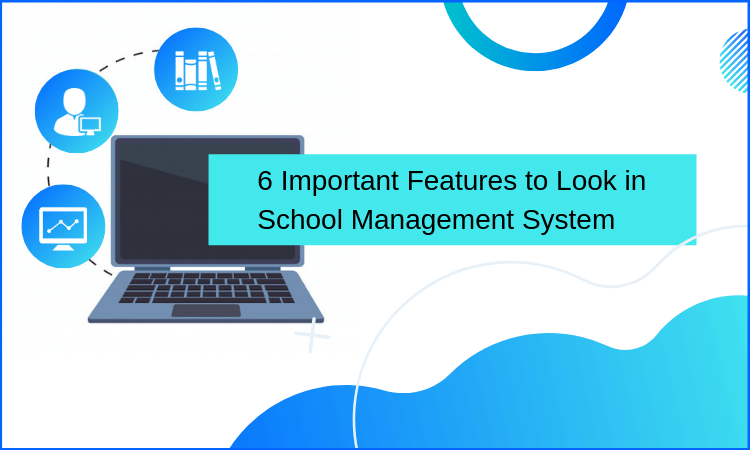 The concept of 'School Management System' has been making a buzz among educational institutions for quite some time now. In fact, considering its multiple benefits, top names in the educational industry have already implemented school ERP and been witnessing improved efficiency of workflow and student data management. There's no doubt that school management software can prove to be an effective tool for achieving higher productivity in terms of scholastic operations and academics of students. However, with a plethora of School ERP providers claiming their product is top-notch, choosing the best-suited school ERP system is seriously a tough nut to crack.
Here are the 6 important features of school management system that every educator must pay attention before making the final decision...
Profile Management Module
First and foremost, the student data management system must have a profile management module where data related to students, staff members, and faculty could be collected, analyzed, and accessed whenever required. It will minimize the workload of staff during the time of students' admission to higher classes as well as give authority to the educators to keep a track of the employees and students of their institute.
Automated Attendance
Attendance is an imperative process and goes hand in hand with teaching. You might wonder, but attendance consumes a lot of time than it should. With an efficient school management system, the daily attendance task can be automated. It will save a considerable amount of time and allow teachers to focus on teaching and other important activities.
Library Automation
Next to the attendance, issuing a book from the library is the second most time-consuming task. Students have to look out for some specific books from the piles of books and have to wait in the queue of students in the library. To be honest, searching and issuing a book indeed takes a remarkable amount of time. An efficient library management system can make the life of students easier by automating the process. It allows them to search, issue, and return the books quickly which can save their precious time and prove to be a catalyst in enhancing their academic grades.
Analytics Dashboard
Analytics dashboards are capable of generating reports by evaluating the students' academic track record. These reports can help teachers get a clear insight into students' interest and pain points that needs to be taken care of. Such practice can effectively help in boosting the performance of students. Furthermore, educators can also keep a tab on teachers' performance via these dashboards by scrutinizing the outcomes of their teaching methods.
Cloud-Enabled Technology
Cloud-enabled school management systems have become the need of the hour. Whether you want to update your existing software or have any technical issues, with a cloud-based school ERP, you don't need to do anything manually. Each and every process that needs to be executed can be done online via the internet. Plus, educators who have to look after multiple branches can access the information about their school from anywhere and at any time because of the cloud server. Cloud-integrated ERP is truly a blessing for educators.
Effective Communication
Last but not least, an effective communication is also important. School management software integrated with communication tools such as school mobile app can help teachers provide assignments or share schedules of upcoming examinations or important events via email notifications and SMS. On top of that, it allows students to get in touch with the teachers from anywhere. Introvert students who shy away in the classroom for asking their queries can connect with the teachers over a school mobile app. Thus, it promotes better communication, which is bound to create a good learning environment for students.
Mastersoft school management system is a reliable solution that comprises of all the mentioned features. It enables educators to manage the institutional operations as per their comfort and empowers the relationship between students, teachers, and parents.
To schedule a free demo, get in touch with us today!
We provide quality education ERP services in Ghana, South Africa, Nigeria, Kenya, Dubai, UAE, Qatar, Kuwait, Bahrain, Saudi Arabia, USA, and the UK.