Best & Unique Benefits of ERP Attendance System for Educational Institutions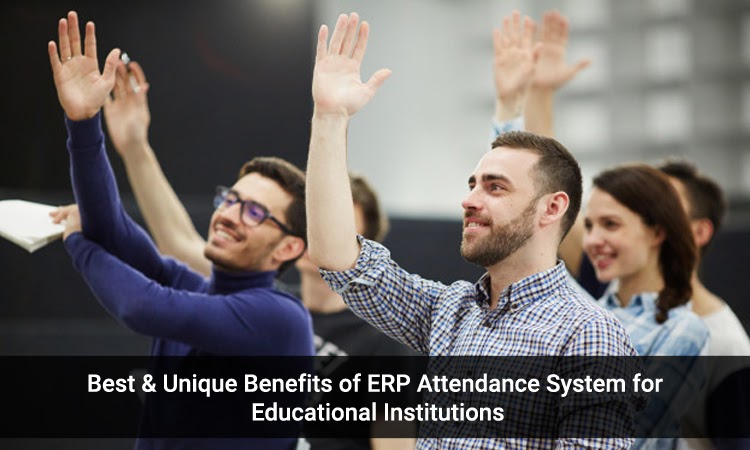 One of the biggest organizations working towards empowering men & women in the education sector UNESCO says - the nationwide school closures are adversely impacting the education of more than 60% of the global student population!
That adds up to millions of students, right?
The message is clear: the situation in the education sector is not good at all!
Until last year, online education wasn't as booming much as it has become today.
The pandemic times have forced educators to take thoughtful steps leading to the deployment of online education ERP software & conducting e-learning video sessions.
Even though they are making efforts, students seem "not-that-interested" in attending online classes. Student attendance, like before, still remains a point of concern.
What would be the use of implementing a student information management system ERP if students don't attend classes regularly?
So, whether it's about managing a college, university or school management, as an educator and faculty, you must focus on student attendance.
I am writing down the best & unique benefits of ERP attendance management system to help you analyze its potential in virtual edTech-enriched classrooms!
Accelerate the Chances of Achieving Teaching-Learning Goals
Educating students. Skill development. Critical thinking power. Personality development.
There's so many goals that you need to take care while transitioning through the daily teaching-learning process. However, the possibility of goals becoming reality has become a notch tougher since everything is being conducted online via e-learning modules.
The struggle is real.
With the implementation of ERP attendance system, the chances of accomplishing these goals become greater as you could keep a tab of the total number of students attending the classes & then comparing their results with those who attend your classes regularly.
You can send notifications to parents & students in case of chronic absenteeism explaining the effects of not attending the classes with the help of reports generated via automated attendance system.
It will help students understand the importance of VIRTUAL CLASSROOM & will surely boost your students' presence during online classes, thus accelerating the online teaching-learning process.
Figure out who's Sincere & Disciplined Enough to Take the Lead
Selecting a "classroom representative" is a common practice in most of the countries.
Generally, what happens is that students vote for the student whom they think can represent their class in front of faculty & educators.
This process is carried out in the majority of schools & colleges.
While we can assume that the candidate in colleges would be mature enough to take care of the responsibility, the case is not always true when it boils down to a school!
Young kids tend to just get away with the things easily. This is when school software integrated with the ERP attendance system can play the role of a mentor that would help teachers decide the best disciplined & most sincere candidate for being class representative.
Along with students' votes, teachers could also judge the students based on their regularity & punctuality in attending lectures & studying seriously. The end result decided on the basis of all these factors is sure to work wonders!
Double the Rate of Placement Opportunities
In today's era, every other employer thinks of hiring a candidate who's passionate about the work.
No one wants to hire someone mediocre who's just doing a job for the sake of killing time!
In colleges, we've seen that students often bunk classes. Even during the online classes, college attendance of most of the students is not that great. Unfortunately, this has become a culture.
However, such an attitude won't be helpful once the students graduate from the college & start working in a company.
Being a college administrator, you can integrate the college attendance system in your ERP software. You can generate various attendance reports via college ERP to monitor students who are serious about their studies & want to do something in their life.
And their attendance records along with grades & other factors would aid you with the information you need. You can thus utilize the student information management system (SIMS) for generating MIS reports & helping the employer understand who's worth their time during the placement season!
Guess what?
Automated online attendance management systems – be it RFID attendance system or biometric attendance management, both are easy-to-implement & are extremely cost-effective.
For more details, get in touch with my experienced team of ERP experts today!