Outcome Based Education - A Solution to Rising Unemployment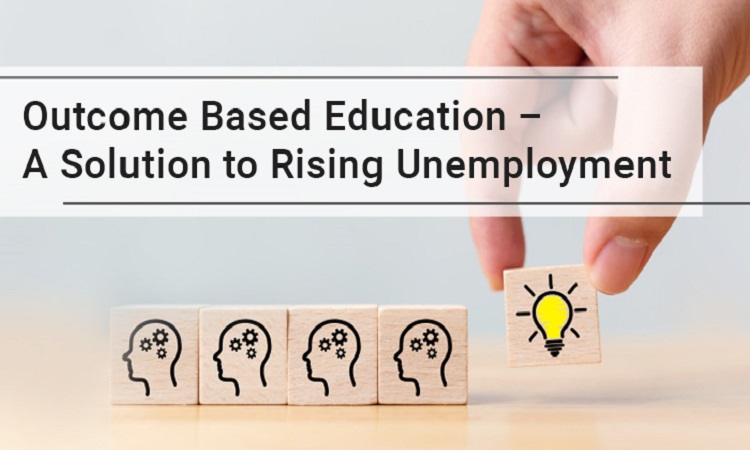 Where OBE becomes easier to adopt with good edtech
To adopt or not to adopt the OBE - this has been the baffling conundrum few academicians and education technology companies have been able to resolve. Outcome-based learning and teaching gained worldwide popularity in the early 1990's... only to be rejected a decade later for its incompatibility with a more holistic approach to learning. Wikipedia describes one of OBE's core drawbacks thus: "Learning can find itself reduced to something that is specific, measurable, and observable".
Tragically, what is specific, measurable and observable is the current state of the economy. Covid 19 has caused unemployment rates to skyrocket and the global economy is now showing signs of a recession that could be far worse than the 1930s Great Depression. This catastrophic scenario could pan out over the next decade or more. It is therefore very important that long term solutions to counter joblessness be considered and implemented along with the temporary "stimulus packages" world governments are giving to prop up their economies.
The education sector has so far reacted admirably by starting online lessons and content sharing classes pronto, with the help of smart higher education erps. While online learning is laudable as it ensures that "the show will go on", more could be done, more proactively, to help the next generation move into the winning circle.
It is with this goal in mind that one needs to review the OBE approach and reconsider adopting it across the globe. In the words of William Spady, the father of OBE, "Outcome-based education focuses on defining, pursuing, and assuring success with the same high-level culminating outcomes for all students."
OBE's four defining principles make it the perfect solution to counter an economic collapse at both the individual and the community level. Let us take a look at these principles, elaborated by Spady:
Clarity of Focus: Curriculum, content, teaching methodology and assessments are designed with a clear focus on what is essential for the student to succeed in life, not at the end of a semester or year, but when he/she exits school.
Expanded Opportunity: This principle offers expanded opportunity (in terms of ways and number of times) for the student to learn and demonstrate at the highest level possible what he/she is required to learn.
High Expectations: The highest levels of learning the most significant skills can be expected of every child. As Spady puts it: "We don't want bell curve standards, expectations, and results; we want all kids able to do significant things well at the end."
Design Down: This principle insists on designing curriculum backwards, starting from the end result (the outcome to be attained) and then conceiving of and creating a learning experience towards that end.
If these principles had been applied diligently while designing curriculums at the start of the century, we would be on our way to creating a rich pool of young, talented individuals who are perfectly suited for roles that the job-market does offer.
But, as a young writer opines tongue-in-cheek in The Guardian:
Today's youth has spent years chasing qualifications no one ever asks us about. The notion that algebra would ever be useful seemed fishy, but the grownups insisted: education, no matter how apparently arbitrary, leads to jobs... We were told that education was a ticket to employment, when really it's more like vague directions to the station".
The Information Age demands not just technical expertise but better interpersonal skills, innovative and flexible thinking, and a capacity for self-directed, life-long learning. Significant and dramatic demographic changes across the globe have also made adaptability to multicultural societies a sine qua non to success in the global workplace. These then are some of the skills that an authentic OBE seeks to teach in schools.
Making OBE work
OBE can deliver phenomenal results. However, those who have abandoned OBE have often cited difficulties in mapping learning outcomes to programs, curriculums and assessments. It is here that Outcome-Based Education software can play a meaningful role. Mind mapping software can help create an intuitive teaching-learning model structured around a central learning outcome. OBE compliant software is now commonly used to help instructors and curriculum designers in their conception and elaboration of Programs that are outcome-based.
OBE compliant software also needs to be compliant with Blooms taxonomy, which classifies learning into three hierarchical models: Cognitive, Affective and Psycho-motor. Here again, a school erp that is Bloom compliant will incorporate these classifications into the criterion for assessment, making the assessor's task far easier.
Thus, OBE when thoroughly understood and correctly implemented (with technological support if need be) can be a powerful weapon against unemployment, by:
A) Identifying and defining learning outcomes based on the needs/talents of students and the requirements of the job market and
B) Creating a more skilled and life-ready youth that the job-market would be foolish to reject.
As the dark clouds of recession and joblessness gather on the horizon, Spady's words fill us with hope - a hope that OBE systems around the world are validating convincingly:
"All students can learn and succeed, but not on the same day, in the same way".