How Schools Can Leverage Dashboard Management System?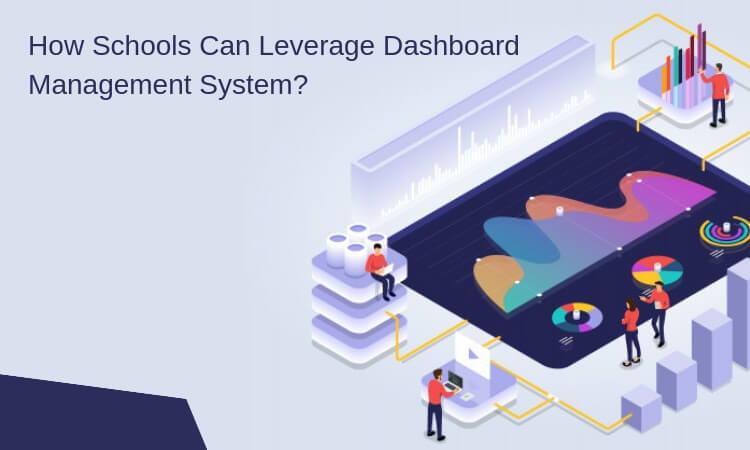 Does your school have a myriad of information but no means of creating important insights from it?
Is the absence of insights hampering with the efficiency of decision making?
With increasing competition in the education sector, incorporating the latest technology is the only way schools can stay in the lead and carve a niche for themselves.
One of the best use of technology is in the form of a dashboard management system which is a great tool that aids authorities to take prompt decisions which are beneficial for the growth of the school. The dashboard is a data management tool which processes data and reflects it in the form of statistics in real-time.
The advantage with statistical reports is that they can be analyzed at a glance, as humans are visually oriented. This is not possible when information is stored on excel sheets and other systems.
By analyzing dashboard information in real time, school authorities can take faster and more accurate decisions which help drive pupil and campus progress.
The school dashboard data management not only creates current reports but also generates predictive reports.
Here is the list of ways of how schools can use dashboards to their advantage:
Lead Management
Institutions are facing dropping enrollment numbers. To combat this issue authorities need to find techniques to increase recruitment. Dashboards help institutes to fulfill their goals of increasing their enrollments.
The analytics dashboards for schools create reports which show the problem areas that affect enrollment numbers. These reports show the demographics of the region for eg., male-female ratio, socio-economic conditions, literacy rates, etc.
The dashboard reports also show the most preferred courses, subjects, and, interests of the students in a particular region.
Dashboards also provide a probable enrollment number for the upcoming year.
With all this information in hand, authorities can take appropriate steps through marketing and social media campaigns to increase enrollment.
Financial Management
Schools are a complex organization which deals with numerous expenses. It can be difficult to keep track of all the expenses. To assist the authorities with tracking of finances, BI dashboard management system creates daily financial reports.
These reports contain real-time detailed information about the expenses of various departments. By analyzing these reports management can assess the expenses. They can also decide whether the use of resources should be continued or be diverted to other departments.
The dashboards also provide inventory reports. This helps keep a record so resources are not spent unnecessarily.
Fee management can also be done with dashboards. Administrative authorities can access readymade fee records of every student within seconds. School dashboard management system can also generate reports which show pending dues and entire fee payment history of a student.
Academics Management
Students can deliver optimum results only when teachers are equipped with proper means to support them. Teachers cannot manually find weak points of every student.
Dashboards can help teachers with that. They create comprehensive student reports. The reports are based on the class and test performances, attendance and behavior of the student.
By analyzing reports, teachers can find out problem areas of every student. They can guide and suggest ways to students on how to improve their performance. Thus, dashboard analytics exponentially increase student outcomes.
Another important aspect which influences student outcomes is - attendance. The more the student attends class the better they understand concepts.
If students frequently miss classes, they would not be able to understand what is being taught in class thereby, leading to poor performances.
Teachers can use dashboard reports to generate attendance reports of a student. This way they can find out students who miss class regularly. They can then intervene so the student becomes more punctual.
Faculty Management
Schools have numerous staff and authorities cannot manage everyone without some technological help. With dashboard reports, management can review teacher performances. They can also access records of staff attendance.
Payroll can be generated according to teacher attendance and performance reports.
In schools, authorities can review daily class attendance reports and in schools subject-wise attendance reports. So if a class has low attendance, management together with teachers can find the root cause.
Funds Management
Dashboards have all the information stored of parents and alumni. Management can use this information to locate donors and philanthropists. They can also create reports about the donations given by the philanthropists.
Similarly, dashboards analytics can find NGO's and organizations who donate to schools.
The dashboard reports can show whether fundraiser campaigns by schools are effective or not. This helps schools to deploy other campaigns to increase funds.
Dropout Management
Schools constantly try to find ways which can reduce dropout rates. But sometimes they aren't able to pinpoint the exact reasons why students dropping out which leads to the techniques deployed by the school to become ineffective.
Using dashboard analytics, schools can receive warning signs like reduced attendance rates, low marks, etc.
Teachers can analyze performance and attendance reports of individual students. The reports also mention the socio-economic conditions which play a major role in students dropping out.
After analyzing the reports teachers can figure out students who are more prone to drop out. They can then intervene and take preventive measures.
To sum up, dashboards can help schools to improve in almost every area by providing insights.
Get in touch with us to know more about dashboard management system - Schedule a Demo!!