Top 4 Benefits of implementing School Management System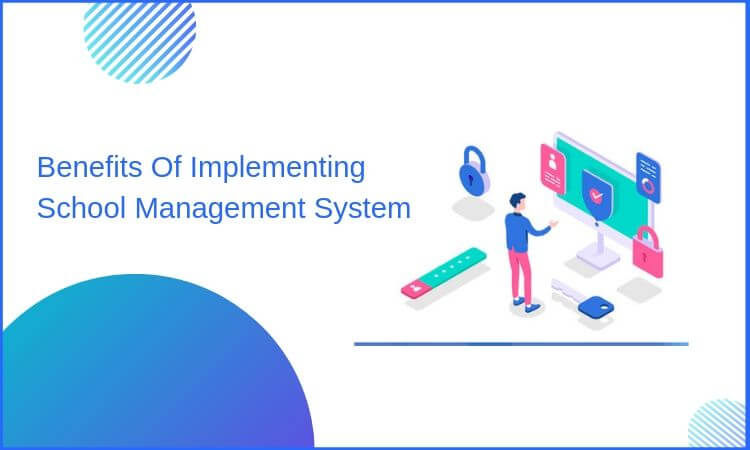 Owing to the increasing competition in the education industry, the term 'School ERP' has become a buzzword in the dictionary of educators. Right from simplifying, automating, managing, updating the student-related data with high precision to creating logical reports via dashboards that give a clear insight of all the crucial activities in an institution. The school management software can bring around significant changes required to boost the productivity and success of the educational institute as well as students. This is probably the reason why the 'School Management System' is being hailed as the next big thing in the education sector.
Let's have a look at the top 4 benefits that a school can reap by implementing an efficient School Management System.
Streamlines Crucial Tasks
The student information system (SIS) engineered to cater to the K12 and Higher Ed, efficiently streamlines, automates, and manages the tasks involved right from the day of admission of the students. It simplifies the hectic process of enrollment and data entry of each and every student that might consume a huge amount of time if performed manually. The best part about school ERP software is that it is equipped with a centralized storage system where the entire information about institute including grades, attendance, assignments, hostel facilities, payments, library cards, and more can be viewed without any hassle. Thus, student data management constructively minimizes the paperwork and maximizes transparency.
Ease of Access
Accessibility is one of the major perks of competent school ERP software. Be it a member of faculty, a student, management personnel, or even a parent, anyone associated with the educational institute can harness the school management system software to access the stored data. For example, a student who wants to view details regarding examination scheduled in upcoming days can explore the relevant information by entering their login credentials with a high degree of convenience. Similarly, the management and stakeholders of the institution can also keep a tab on the scholastic activities of the faculty, staff, and students by virtue of a school software. Such practice is bound to ensure a smooth operational workflow and escalate the performance of students.
Greater Data Security
It's been rightly said that - 'With great power comes great responsibility.'
With so many compelling features and functionalities, data security has become a genuine cause of concern when it comes to using a cloud-based student management system. Data breach and data hacking are the most common illegal practices that can result in the loss of sensitive information related to the institution. In such instances, 'role-based access' enabled SIS can positively help in reducing the probability of data misuse. With role-based access system, the administrator of any institution can pre-define what data needs to be shared with a particular group of people and assign the data with respect to their role in the institution.
Enhances Students Safety
Crime against children is an ugly truth of the society we are living in. Unfortunately, the crime rate against children has aroused tremendously over the past few years and needs to be addressed strictly. While all the leading educators are taking commendable steps to render supportive learning experience for ensuring student success, they must not forget that their personal security is equally important and shouldn't be compromised at any cost. A student information system equipped with advanced tracking features and capable of sending auto-generated SMS or email notifications at the time of emergency can substantially help tackle such student safety issues and create a safe environment for them.
In a nutshell, being a cutting-edge software, the student information system can prove to be a roadmap for success for K12 and Higher Ed. Therefore, educators aiming to upgrade the scholastic maneuver and accomplish their goals in today's dynamic educational scenario must implement a top-notch school ERP at the earliest.
Want to know more about it - Schedule a Demo Today!!