EdTech Improving Student Retention Rate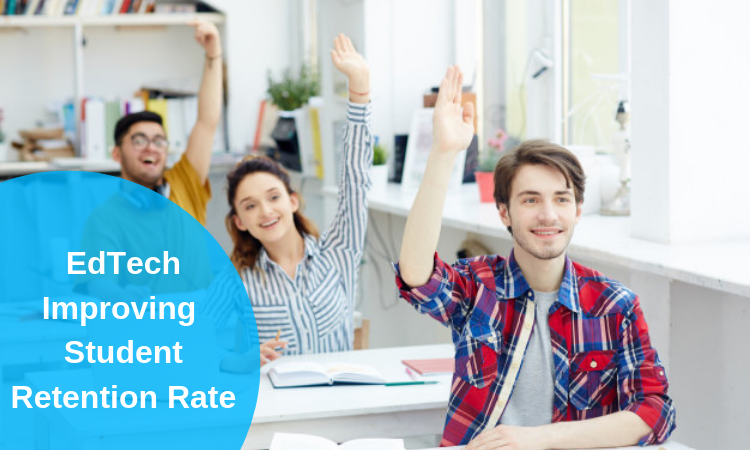 "Technology will not replace great teachers but technology in the hands of great teachers can be transformational" George Couros
Right from streamlining work processes to tracking student's performance, and staff productivity, technology in the classroom can bring a huge transformation in the lives of students, teachers, and educators. According to top-notch education ERP experts, today's students rely heavily on technology to learn new things. In this digital environment, traditional methods of teaching won't suffice. For creating impactful learning system and retaining students for a long-term, it's crucial for educators to implement campus automation software with multi-effective features in their institutes.
Here's how EdTech can improve student retention rate...
Automated Attendance System for Ruling Out Chronic Absenteeism
Gone are the days when there were only a few institutes providing quality education. Today, there are a number of top-notch educational institutes ready to admit students at any point in time. So, the question arises that -
Why will a student stay in your institution when he/she gets better educational services somewhere else?
Well, undoubtedly, students will go with the best choice and before you could analyze, they will leave your institution! To avoid such instances, a campus management system with automated attendance can prove fruitful. It can automate the daily attendance, enables teachers to keep a tab on students with chronic absenteeism, and thus, helps you identify students who are not interested in attending classes. Teachers can speak to such students and ask them the reason for irregularity, and in case, they are not satisfied with the teaching methodology, you can directly address them. Better interaction with students will reduce the chances of students dropping out of their institutions.
Mentoring Students & Meeting their Expectations
Empowering students require understanding their mindset closely. If teachers are over-burdened with non-teaching activities and don't pay much attention to solve the queries of students, they may get frustrated and end up leaving the institution. EdTech can proactively ease the work hassles of faculty members by saving countless hours that they have to invest in other activities and help them prepare effective teaching plans effortlessly to help students. Mentoring students & meeting their expectations would make a positive impact, build a great reputation for your institution, and improve student retention ratio in the long-run.
Monitoring the Academic Performance of Students
It's a red flag for institutes when the result of students with a good academic record starts to fall. However, it's difficult for teachers to keep a tab on grades of various years and consistently monitor the academic performance of students. A student information system with an analytics dashboard can help teachers to generate academic reports of students in terms of their grades, and different subjects with just a few clicks of a button. Teachers can scrutinize these reports and have 360-degree visibility on students' scholastic activities. They can have personalized discussions with students whose performance has been continuously declining in terms of grades.
To Sum Up
In a generation growing up with electronic gadgets in hand, EdTech has become the new norm for maintaining high education standards. Educators can utilize ERP technology for helping teachers work productively, which will ultimately cut down the risk of dropping out of students and increase the chances of greater retention rates.