How Education ERP can be Your "Faculty Management Specialist"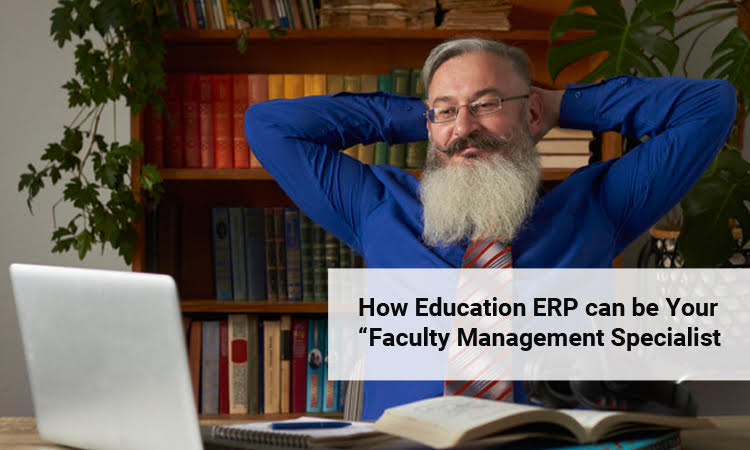 "Mr. John would handle the administrative department, Ms. Julie could take charge of academics for the first year, Ms. Emma is the right choice to take care of the second year..."
As an educator, when you assign duties to your faculty members, you need an important thing, and that is - faculty DATA!
If I'd ask you- what do you need for assembling & sorting the accurate faculty data, what would be your answer?
Think it's time & efforts?
You're wrong here!
You don't require time & efforts as much as you require logic & analytical thinking power!
That's right! Thinking in the right direction & making decisions that are right could suffice your institution's need. And there are quite a few tricks that can help you to take the best decisions for your institution by managing your faculty's information & data. For instance,
You can either make Excel sheets
Maintain manual files for faculty records as per their qualifications/experience
Or implement ERP software with automated faculty profile management feature
Considering the pandemic outbreak situation, which option would work the best for you for faculty database management remotely?
If you ask my opinion, I'd undoubtedly prefer an ERP with an online faculty data management system.
Why?
Let's unlock how education ERP software can be your "faculty management specialist" and why you actually need it...
Hire Qualified Faculty by Leveraging Faculty Management Software
Delivering quality online education is not as easy as speaking to students over a video session at one end, and listening to them from the other! There are challenges on both the ends of the "teaching-learning" spectrum!
While students grapple with the brand new way of learning & managing the sudden virtual transition, educators, especially school administrators are left clinging on their computers & internet connection to figure out a way of survival.
If the lockdowns continue for some more time, it would be mandatory for institutions to have resources that would have sound technical knowledge.
This is a deep issue that requires retrospection.
The crux is Covid-19 is forcing schools across India to hire the best faculty that are qualified, tech-savvy, (and even if they're not tech-savvy then must have an ability to adapt to the edTech) for seamless school management. A school ERP integrated with faculty management software can reduce this hassle by arranging online interviews & sorting out deserving candidates based on their merit!
Encouraging the Inter-Departmental Communication between K12 Faculty
Technology opens doors to success, but it can backfire as well & close all the doors to your success!
Confused?
Well, the biggest drawback or limitation of online education software, in situations like Covid, is that it entirely eliminates the "human-to-human" connection.
You can't work with your colleagues under the same roof!
Therefore, a ERP for College management or university management ERP system with inbuilt communication channels is the need of the hour. It bridges the interdepartmental communication gap effortlessly.
Get Maximum ROI within a Short Time
There's a popular phrase – "You have to spend money to make money!"
It is befitting when it comes to implementation of a faculty management system. You can't invest in faculty software that is just capable of maintaining their profile or keep tab on faculty leave. You have to have features that can filter out all the crucial aspects regarding your team whenever required.
As a rule of thumb, the more the features, the more the productivity & outcomes.
At the same instant, the more the features, the more the money you are required to invest!
Therefore, be ready to make investments initially. You can choose a cloud based faculty management system for smartly putting in your capital.
It automatically upgrades from time-to-time & has the best security features ensuring data safety.
Going forward
What does an ERP with a faculty management system mean for the future?
All-in-all, this top-of-the-line ERP technology is all you need to make a successful transit.
Get in touch with my team to understand what additional benefits you could gain from it in terms of – product features, and services & support.