Importance of Student Information Management System in School ERP Software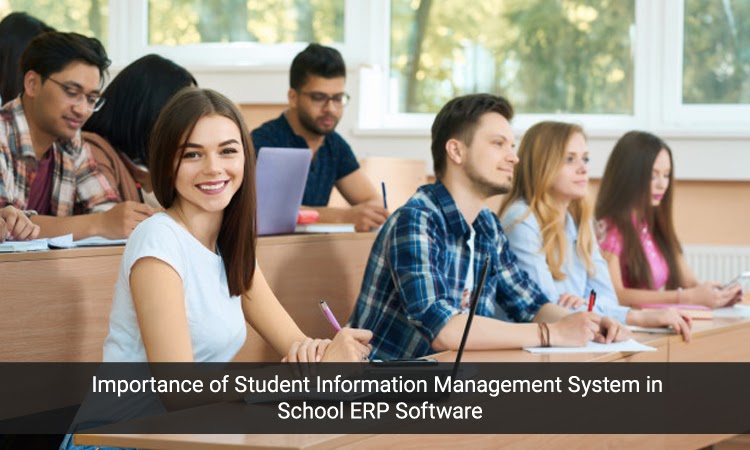 I consider myself very fortunate to be in a position where I routinely get to interact with educationists and leaders in the education sector. In the process, I get to learn about interesting facets of school life - little known facts and nuggets of information that go into making schools the dynamic, exciting and "happening" spaces they are.
But schools are not just about facts. They are also about issues and solutions. Teachers have told me of their desire to be freed up from mundane administrative duties like timetabling and attendance marking so they can give their pupils more teaching time. School leaders talk with some frustration of their inability to get all stakeholders on the same page. School managers often voice their angst at having to navigate red tape and at the lack of transparency in accessing student information. Those who have invested in new and advanced edtech talk of the challenges they have faced and of their delight at discovering and working with features such as the analytics tool and dashboard or their of their recent experiences with online teaching learning.
From the range of thoughts and feelings expressed, I could zero in on some overarching needs of educationists today. Being into a School ERP Software firm I could offer solutions that fulfill, at least to some extent, these needs and aspirations. I could thus identify:
a) The need for smart tools to enable and facilitate timely and informed decision-making;
b) The need for more clarity in the organization and presentation of information;
c) The need to engage teachers, parents, students, management and school leaders with a view to empowering all stakeholders and improving learning outcomes.
Now, this may appear to be a tall order! However, I believe the best tool to aid educators to fulfill this order would be a thoughtfully designed student information management system.
When it comes to leaders and top-tier managers of educational institutes, a Student Management System provides the facility to a) see the big picture and b) to drill down to the minutest details of student information. An advanced erp in higher education or schools would normally offer BI (Business Intelligence) powered analytics dashboards that can present consolidated reports in an easy-to-digest format. With all relevant information from pre-defined categories available at the click of a button in a pictorial or graphical format, timely, data-driven decisions are so much easier to reach and implement.
Scattered information in disparate departments is the bane of most institutions. Creating a cohesive, streamlined system that enables a seamless work flow from one department to the next, or one operation to another makes for an efficient management. This is the core function of a Student Information System – its ability to bring all stakeholders on the same page, to ensure that they speak in one voice and that they do not dilute, in any way, the fundamental beliefs, values and mission of the institution.
Occasionally, through one-on-one meets with teachers, I do get a glimpse of the sweat and tears behind classroom management. From path-changing, strategic decisions at the highest level of school direction to communications at Parent-Teacher Conferences, everything has an impact on the teacher and the student. The need to invest in the professional development of teachers so that they can use 21st century tools to teach a 21st century generation is now seen as imperative. Schools struggling with legacy systems are also, inevitably, struggling with poor pupil performance and teacher dissatisfaction. I rejoice, therefore, when a teacher tells me that the Communication App in their newly purchased erp works like a dream.
"Those tense Parent evenings are history. Most issues are communicated and resolved in real time. Schedules, notices, homework, assignments, updates, fee reminders…the channels of communication for sharing all this and more have suddenly opened up. Most importantly, the app and the new education technology have taken over all the mundane tasks like timetabling and attendance marking. I have so much more time for my students"! - High School teacher.
Student data management software is truly a game-changer. It does more than organize data. When cloud-based, it stores all information securely on a centralized database.
It allows for online admissions and enrollments.
It maintains student records.
It offers an integrated online fee payment system.
It processes, organizes and presents information in a coherent format.
Its analytics tools aid management in quick, informed decision-making.
It facilitates communication and keeps parents and students in the connectivity look through the mobile app with push notification features.
It helps you save trees by going paperless.
I am profoundly surprised when I hear debates on the need for technology in education. I believe this question is no longer relevant. Instead, we need to focus more on whether we are investing in the right tools to make our students future-ready. And we need to invest more…much more in the professional development of teachers to make them capable of creating a generation of lifelong, creative, curious, self-directed learners.
In the words of Tom Whitby, author, blogger and speaker, our kids should not be "limited by the shortcomings of anyone in charge of their information access. They should only be bound by their curiosity and love of learning, and not a lack of skills to retrieve, understand, critically analyze, and assess information…We as educators need to shift the education dynamic of teaching kids what to learn to teaching kids how to learn."
In a tech-friendly world, schools are doing the right thing by going tech-savvy. Adopting a leading-edge Student Information Management System is, undoubtedly, a step in the right direction!