4 Key Strategies for Effective Online Classroom Management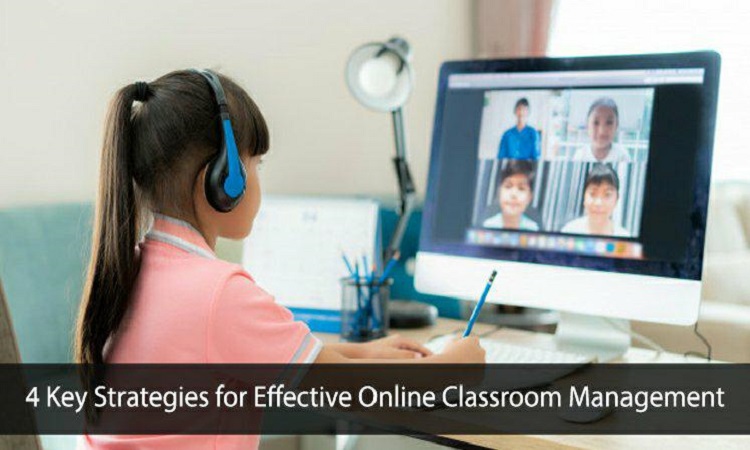 Have you ever noticed a successful educational institution or school administrator, and wondered, "How are they managing the school so well despite lockdown?"
Well, I won't say that online teaching-learning is an easy process. It needs knowledge & research before one decides to implement it. However, there is a small percentage of educators to whom we all can look up to when it comes to online school management at the first go. Some institutions are enjoying unparalleled student progress since the new-game changing rules of edTech are introduced.
To be honest, that's quite astounding.
If we dissect their approach the only thing that seems obvious is their - "willingness to adopt the new"
Such institutions go beyond their duties - they focus on creating the best online teaching-learning experience for students, they continuously evolve to make the journey of faculty & students - better, easier, interactive, engaging, and more fun.
In this article, I will reveal 4 key strategies that you can adopt for effective online classroom management just like the top-class brands who are already slaying the game...
Write Down Your Important Goals
It's tempting to invest lots of money in the latest virtual class management software with a plethora of e-learning modules when you want to improve your student performance and efficiency of faculty members. But, it's not always required!
Believe it or not, a hi-fi school ERP system doesn't guarantee a better ROI. In fact, this way you can lose out so much capital unnecessarily. So, the first step you should follow is writing down important scholastic goals. For instance, a better communication platform for teacher-student collaboration, or online admission software for simplifying the admission procedure - you must prioritize your goals. It will multiply the chances of interactive classroom development.
Know Your Students and Analyze their Needs
Are you providing your students with the study material they need?
Is your e-content speaking your students' language?
Creating an interactive curriculum for students is the best way to keep them engaged. The student-centered approach helps them take more interest in studying.
Even better, you can record and upload video lectures of crucial topics to help them learn at their own pace. Then, you can assign your students daily homework & tasks or conduct online assessments and examinations to add value to their virtual learning process.
Chat, Communicate, and Convince!
Millennial generation loves & prefers chat-based e-learning tools over the humdrum emails.
Since you can collaborate 24*7, make sure to provide an instant response.
It will help you build a strong virtual relationship with the young minds. They'll trust you more & are more likely to obey your instructions.
Take Opinion on Teaching Methodologies
Last, but not least, prove to your students that you value their opinion. Ask them for their opinion on teaching strategies. Let them help you make changes in the methodology of teaching to make it more effective.
You can try asking them basic yet effective questions like:
'What do you think is lacking in the e-content?'
'Did you face difficulty in solving the online assessments?'
In this way, you'll know whether you are doing the right thing without forcing them to nod their head as YES!
In a nutshell, there's no perfect plan that can help you achieve your goals. You need to mix and match things and continuously evolve until you get there. The only thing you need to keep in mind throughout the virtual transition is - classroom observation. Keep a watch on students to realize, analyze, and fulfill their needs from time-to-time.
For more information on school ERP system software or to schedule a FREE demo of SIS, get in touch with my team today!