How school CRM software helping institutions to increase enrollment?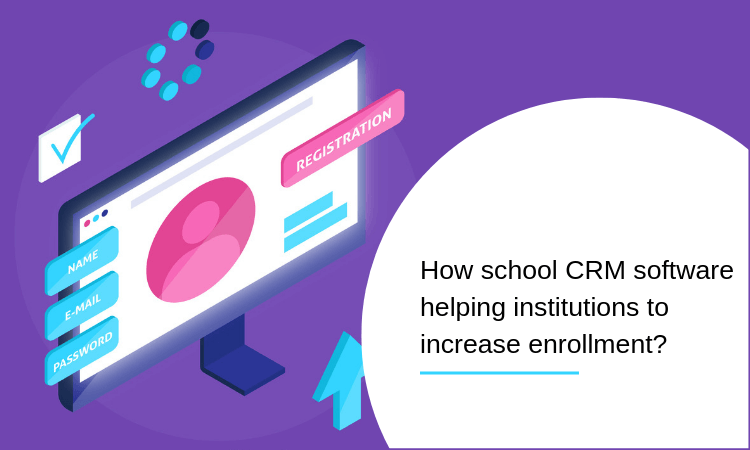 "How you gather, manage and use information will determine whether you win or lose." -Bill Gates
'Data is a valuable asset for educational institutions. Having said that, merely gathering data isn't going to help them grow, utilizing the data with effective technology is important for accomplishing scholastic goals within a specific time. Customer Relationship Management System or CRM software is one of such technologies that enable institutions to gain, retain, and serve students in the best possible manner. It holds the capability of empowering institutions by significantly improving their workflow and nurturing the student-teacher relationship, which in return would result in positive student outcomes, and abet them acquire a leading edge over other institutions. No wonder why Customer Relationship Management systems have become the first choice of top-notch educational frameworks including K12 schools and Higher Ed institutions.
When we speak of a successful institute, student enrollment comes up as the basic step. If you're an educator and want to increase the enrollment without any hassle, you must adopt CRM software. Here's how a CRM system can help enhance the enrollment in your institution.
Tracking Potential Leads
With easy access to information such as reviews about the school, its picture, its result, over the internet, every other parent these days research regarding the school they want to admit their children to. A lead management system embedded with smart tracking tool can help you track potential leads easily. You can get in touch with them via emails and start a productive conversation by assisting them with the benefits you can offer to them in terms of student success.
Answering the Inquiries of Parents or Students Promptly
Be it, parents or students, no one would entertain school staff that takes too much of their time for answering simple queries. CRM systems can play a vital role in such instances. They help the school admin or faculty members to keep a tab on every interactive episode by maintaining the record and they could indulge in follow-ups in case of genuine inquiries. Such a practice would not only help parents but also, help your institution by escalating your reputation.
Successful Lead Closure
The CRM system has inbuilt analytics dashboard that can easily help educators identify aging leads that require taking appropriate action. Educators can further approach such leads by sending them more information about the institute in terms of quality of education and facilities it has to offer to the students. Once the leads are converted, educators can save them as closed leads and transfer the information to appropriate staff members for managing important steps that need to be done.
Key Takeaways
There's an adage that 'When the roots are deep, there is no reason to fear the wind'. The same thing goes for educational institutes who want to eventually increase the performance of the entire institution. They must search for reliable ERP vendors and adopt efficient CRM software for managing the operations at the earliest.
Owing to the track record of 2000+ successful ERP implementations, Mastersoft ERP Solutions is counted as a trustworthy Education ERP provider for K12 and Higher Ed. It helps educators to not just increase the enrollment but also, manage the entire student-faculty lifecycle!
Want to explore more? Get in touch with us to schedule a free Demo!
We offer the best and cost-effective education ERP solutions in UAE, USA, UK, Nigeria, Ghana, South Africa, Kenya, Dubai, Qatar, Kuwait, Bahrain, and Saudi Arabia.