School Management System Providing Academic Flexibility and Educational Growth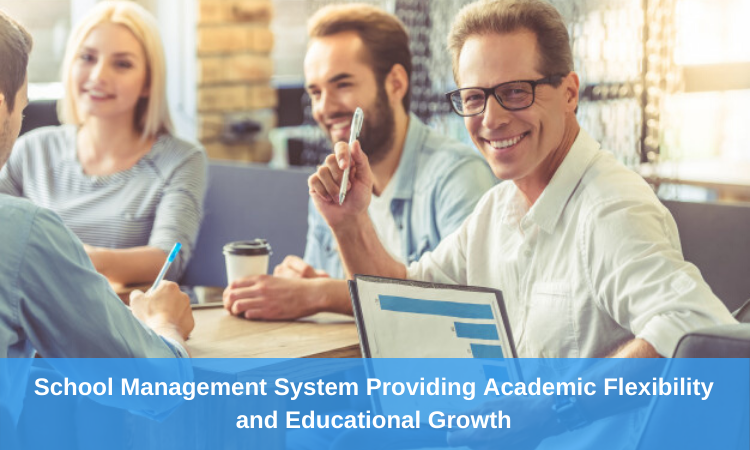 What picture comes to your mind when we speak of schools?
A classroom, children, and a teacher juggling multiple tasks, right?
From teaching to executing non-teaching tasks such as marking attendance, assigning homework, preparing timetables, schedules, teachers have so many tasks in their kitty. It's crucial for them to make a correct balance between both categories. However, it's not the actual hurdle, the hurdle is performing these tasks without losing a tab on time. Teachers get a limited frame of time each day & that's what makes their job difficult. With the right school management system, teachers experience academic flexibility that ultimately leads to educational growth.
Let's explore how a student information system can transform the teaching-learning experience in schools...
Automated In-house Operations
The first & foremost advantage of school ERP software is campus automation. It automates & streamlines all the in-house operations of a school and improves the overall productivity of teachers. The edTech enables teachers to perform tasks such as assigning homework virtually from any place. They can purposely do such non-teaching tasks later on whenever they get time rather than wasting the classroom time. It significantly minimizes the time-consumption for performing tasks & indirectly helps in boosting the time limit of faculty for taking the lecture.
Connect at Any Time & from Anywhere
One of the major complaints teachers have today is poor communication with students which ultimately impacts institutional growth. When it comes to achieving scholastic goals & academic flexibility, school management software can prove to be a game-changer. Education ERP software integrated with mobile app enables faculty members & staff to stay connected with students even after school. It fosters real-time communication via different mediums such as chat messenger, groups, forums for students & a lot more. The flexibility of communicating with teachers at any given point of time enhances student success. It allows students to discuss their study-related concerns and get access to study materials online. Such a practice is surely bound to out-turn into positive outcomes.
Real-time Tracking of Student Progress
Student data management plays a vital role in making an institution successful. Education ERP for schools embedded with the analytics dashboard helps teachers & faculty members to make data-driven decisions & get ahead in terms of efficiency, productivity, and overall performance. The analytics dashboard keeps track of student progress and generates highly accurate real-time reports that can be analyzed & evaluated for understanding what needs to be done.
Student Security at Fingertips
In today's world, student security is a major area of concern and should not be taken lightly. Parents start getting worried as soon as their children step out of the home for going to schools. As it's not practically possible for working parents to pick-up and drop their children to school every day, they usually opt for a school bus facility. This is where the fear of their security gets fueled up. To avoid & overcome such incidences, a school ERP for schools with bus tracking provision can work wonders. It helps parents as well as faculty members to keep a tab on the location of the bus in real-time & receive updates about the route it takes while traveling directly on their mobile app. It can help save children from falling prey to any kind of unfortunate incident.
To Sum Up
A school education ERP system enhances academic flexibility by reducing the work burden of faculty members & allowing them to perform crucial non-teaching tasks from anywhere and at any given point in time. When the focus is purely on teaching, students will definitely gain numerous study-related benefits leading to institutional growth in the long run.