Top 4 Higher Ed & K-12 School Administrator Tools for Institutional Success in 2020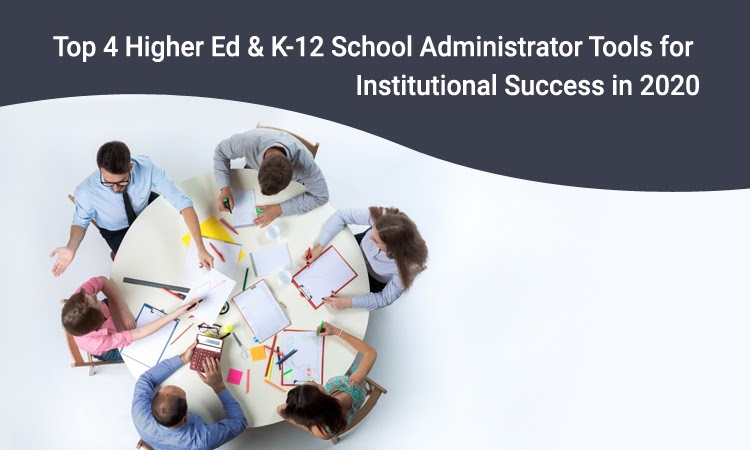 "New beginnings are in order, and you are bound to feel some level of excitement as new chances come your way." - Auliq Ice
2020 started with a happy note, everyone was so enthusiastic about the New Year.
Little we knew that the upcoming months would throw cold water on our hopes, and how!
Covid-19 knocked on the doors of worldwide countries and began spreading like fire in the forest. It affected various areas of our lives. Businesses, restaurants, offices, and most importantly educational institutions were the primary fields that were trapped and shattered by the virus.
Anyways, it's been around 6 months and I hope you and your family are healthy.
In this article, I am going to talk about the best higher Ed & k-12 school administrator tools that would help you survive & succeed in 2020 and the coming years with ease, even after the COVID-terror ends! If you are a student, faculty, or school admin, do go through this article, the information would surely be helpful.
1: Student Information System (SIS)
Also referred to as the student information management system (SIMS), a student information system (SIS) is basically a cloud-based ERP solution that can help faculty and school administrators like you to store, track, extract, and share all the crucial pieces of student information at a centralized database.
The information could be anything like - their name, address, qualification, grades, certificates, attendance history, and much more.
If you ask me why is it important?
The primary reason is that it will help you avoid piles of paperwork and keep the student information safe. You get the authority to access the data at any given point with role-based permission structure.
2: Library Management with OPAC & M-OPAC
You must have heard about library automation software that streamlines all the functions of the library including - book accessioning, cataloging, issuing, return, fine calculation, library report generation, and much more.
You are correct!
However, when I speak about library management with OPAC (Online Public Access Catalogue) & M-OPAC (Mobile - Online Public Access Catalogue), I am more concerned about the e-content sharing via web and mobile.
As you know, COVID-19 has restricted schools to reopen & considering the social distancing these facilities can help your students search for books with the help of web & mobile phones. They can also access valuable content in the form of e-books and journals and cut off the need to go to the library physically!
3: Learning Management System (LMS)
Okay, so the next ERP software tool for higher Ed & K-12 schools is the learning management system - LMS. This e-learning tool might be on the third position of my list but trust me - it is the topmost tool that you must integrate into your ERP system at the earliest. Here are the reasons-
It is an AI-powered remote learning tool

Requires online internet connectivity

Offers online test & assessments - MCQ & Descriptive format

Enhances skills like - logical thinking & creativity

Provides online chat & communication options

Keeps tab on student progress
You must go for LMS tool integration without a second thought!
4: Choice Based Credit System (CBCS)
As a student, I was adamant about choosing a career of my "choice".
However, I realized that I want to be an art teacher when I was in the final year of my graduation in engineering. This is the most common situation faced by youth in today's time.
The moment they realize they want to do something, they don't have a proper backup with knowledge.
Imagine a system that would help us learn the subjects of our choice & has a multi-dimensional approach. It is exactly what a choice based credit system (CBCS) offers. As a faculty, you can integrate software built for the CBCS pattern and help your students learn the subjects of their choice despite the field they are in! To learn more about the benefits & features of CBCS, you can visit one of my previously written blogs on CBCS here.
To Sum Up
"Corona would go away soon with the development of a vaccine, so why choose education technology and spend money on implementing edTech?"
To this question, I just want answer with a quote by Alvin Toffler -
"The illiterate of the 21st century will not be those who cannot read and write, but those who cannot learn, unlearn, and relearn."
Everyone's talking about e-learning, but seldom do people know how to utilize the e-learning software wisely. I hope the provided information would help you choose the best edTech tools to gain better ROI and maximize student learning outcomes.
For any kind of queries, catch up with my team of school ERP software experts today!