How Does School Management Software Save Time & Money?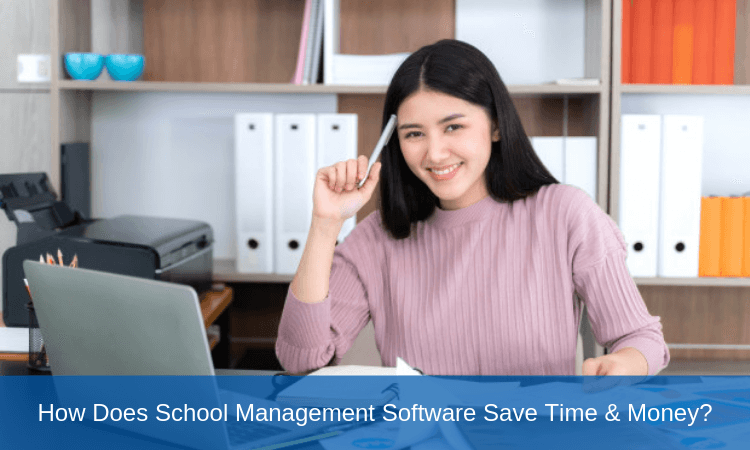 In today's tech-driven and fast-paced world, the very old adage - 'Time is money' seems absolutely apt. If you closely observe, every single educator that has built a strong brand and reputation in the market owing to their success has one thing in common, and that is- proper utilization of time and resources. 'Time' and 'Money' have become necessary entities to drive success in the education sector.
In a school setting, where the teaching staff and other faculty members have to perform heaps of paperwork and rigmarole of extra activities in addition to taking lectures, a lot of time gets consumed which indirectly triggers the budget due to more utilization of resources. The only solution to tackle such a scenario is the implementation of a school management system. An effective school ERP can help educators escalate institutional productivity by streamlining their routine tasks. We have outlined the major benefits to help you understand how a school software can bring students' success.
Here's how school ERP software can save time & money and prove to be the greatest asset for your institution...
Utilize Resources with Paperless Work Management
Right from handling admission enquiries to managing records of students that contain sensitive information and personal details, schools have to collect and maintain a wide range of data. Usually, schools prepare documents to serve the purpose. Imagine if the number of students is 1000 then, schools will need to manually record everything on the document for every student. It's so obvious that recording a vast student data would require more resources as well as efficient time management. With a student information system, the data can be saved, stored, and organized digitally within less time minimizing the work hassles of the staff.
Scrutinize the Performance of Students
The next most important thing that a school has to look after is the academic progress of the students. Students' performance is the prime factor required to accomplish the scholastic goals that decide the fate of the educators. To ensure students are performing up to mark, it's crucial for the teachers to keep a tab on their academics. However, it's quite a challenging task to monitor so many students unless one has extra manpower and time. For such instances, school ERP software integrated with analytics dashboards could prove extremely fruitful. Analytics dashboards are capable of generating multiple reports that cover students' grades, attendance ratio, and other scholastic activities. Teachers can easily track their performance with the aid of such innovative school management software and cut down manpower cost and time.
Boost Parent-Teacher Communication
Last but not least, a school management software can boost the parent-teacher communication which is the key aspect for creating a positive learning environment. Generally, teachers need to stay in touch with parents in order to ensure they receive how bouts of their children from time-to-time. For instance, teachers need to inform parents regarding absenteeism and lateness if the children are not punctual, right? Making manual notes that cover these parameters is just not the correct thing to do because it will consume way more time than it should and will hamper the teacher's routine. A school software with an automated attendance system and reminders can significantly solve these problems and save countless hours of the faculty members which they could utilize for the betterment of students.
To Sum Up
School management system has become the need of the hour for educators willing to properly utilize their resources by cutting down on unnecessary expenses. On top of that, it is a tried and tested tool for empowering students and upgrading institutional performance. Thus, investing in a school management ERP is a win-win situation for educators.