How College Automation Software Digitize the Multi Academy Trusts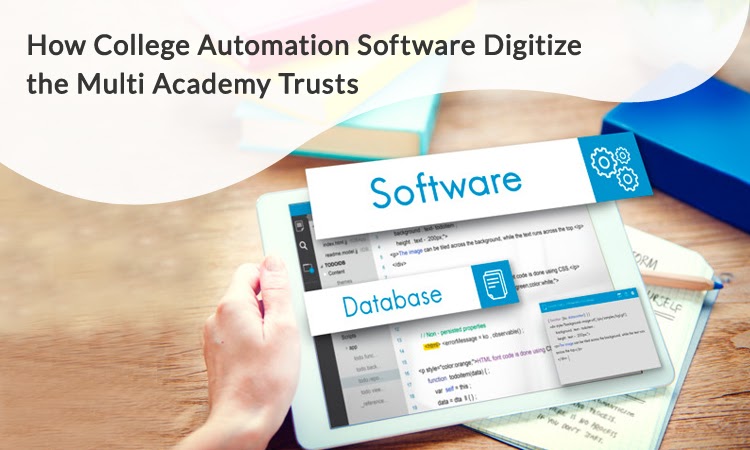 "Be strategic about productivity-do less exceptionally well, instead of doing more in an average way." - Laurie Buchanan
Anyone who says that managing the Multi-Academy Trusts (MATs) is an easy task is simply lying!
For any educational institution running MATs- handling work with 100% efficiency and dedication is quite an unrealistic task in the COVID-era.
Accept it or not - it is a fact!
However, with the right set of tools & technology, there's nothing that can't be achieved.
And college automation software is one such edTech that can simplify the hassles of college management and higher authorities that are worried about the "virtual educational world"!
Here's how college ERP software can digitize multi-academy trusts and create a student-friendly environment...
Multiple Work Departments - Single Centralized Platform
The workload is not always the same.
There are days when things seem as easy as walking in a park and there are days when everything seems like climbing a mountain!
Happens?
Going to the workplace and doing the daily tasks can be more burdensome when there are limited resources and a plethora of work piled up all at once.
I'd be honest here - this scenario is common with employees and faculty members who are a part of MATs. Compiling the data of various institutions while planning strategies and making decisions becomes erroneous and time-taking.
For such instances, a centralized campus automation solution is a must-have! A centralized database enables the college admin to monitor the work processes of every department virtually and any data can be extracted & downloaded whenever required with zero compromises on data security!
There's no need to visit the organization physically.
Collaborative & Constructive Work Culture
Strong "collaboration" and "communication" make the work environment easy-going, right?
On the contrary, weak collaboration may backfire and lead to reduced efficiency & productivity hampering the end goals.
Let me quote a simple calculation for you here-
Suppose, if one organization has 50 faculty members and 10 organizations (MATs) have the count of ----50*10 = 500 faculty members, imagine how difficult it could be for the educator collaborating with 500 teammates on a daily basis!
Just like e-learning software is essential for kids - "e-communicating software" that has the provision of video conferencing, chats, and emails is necessary for internal faculty communication. As a college admin, you must invest in a customized college management system software that offers hassle-free communication!
Measure & Map Success Parameters
There's a reason why "Digitization" has been welcomed in the Global Education Policies 2020 adapted by governments across the world. Looking at the current situation, the Government officials have realized that any kind of unnatural calamity can destroy the educational system, which is- one of the strong pillars holding the success of any country.
Therefore, to ensure nothing shall come in between students and education, Global Education Policies for Higher Education are encouraging online digital platforms integrated with video sessions, e-content, e-library, online assessment tools, etc for studying.
At present, teachers and faculty are wondering how to keep tabs on student progress.
However, with a digital multi academy trust management system capable of measuring and mapping student progress having AI-analytics dashboard and report generation provision, the challenges can be conquered and success can be achieved.
To Sum Up
All-in-all, college ERP software is the synonym for the perfect digitization edTech tool! In the future, even if Corona kind of situation comes into existence, it won't have the power to disrupt the educational landscape.
If you are looking for a college software integrated with a learning management system (LMS) and can maximize student learning outcomes, get in touch with my team at the earliest.
We will solve your queries and help take the online teaching-learning journey with confidence!