How Cloud ERP implementation helps you secure student data?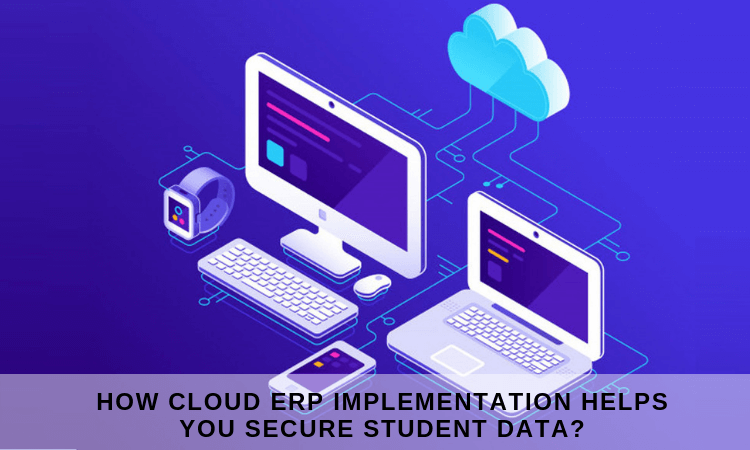 "Without change there is no innovation, creativity, or incentive for improvement. Those who initiate change will have a better opportunity to manage the change that is inevitable": William Pollard
Educational institutions have been managing and recording their data on papers for ages. Be it a minor tasks such as updating student's information or major ones like marking daily attendance, history of grades, they maintain heaps of files for every single task. However, when we speak of student data security, the paperwork seems a shallow method and doesn't guarantee that data will be safe. For instance, if a senior authority or a teacher misplaces an important file, then they'll right away lose the sensitive student or employee-related data, and the probability of an outsider misusing the information becomes high. Such a scenario would only lead to disappointment, and it may damage the reputation of the institution in the long run.
Is there any way to maintain high-end data security?
Yes! Implementing a Cloud-enabled Campus Management System is a foolproof way that would help secure your data and besides that, it will also streamline your operations, and boost the efficiency of the institution.
Unlike the name sounds, cloud technology is actually easy to implement and access. You just need to train your staff about how cloud ERP system works, and once the concept is clear, you'll witness remarkable growth in the overall performance of the institution over a short period.
Here's how cloud-integrated ERP systems can help secure your data...
Centralized Data Storage
Cloud-enabled campus management software operates via the internet and has centralized data storage. You don't need to worry about paperwork as it saves and stores the data on the cloud. The greatest perk of the cloud is- it allows the admin, educators, teachers, and other faculty members to access the data from anywhere and at anytime with just a few clicks.
Define Role-based Access
You might be thinking that suspicious people like hackers may intrude in your system and steal sensitive data as everything is available online, right? To avoid such unfortunate incidents, cloud-enabled ERP system for K12 Schools and Higher Education uses encrypted transmission and empowers the admin or management team members to define and assign role-based access to the teachers, staff, and other faculty members. They can limit the visibility of data according to the position of the person handling it. For instance, they can provide access of library data only to a librarian and not anyone else from another department, and likewise, they can define the role of every person. One would just need the credentials such as ID, passwords, or OTPs to log in the system, and they can check the ins-and-outs of different operations.
Automatic Updates of the Cloud ERP Software
Upgrading cloud ERP software doesn't need a team of technical people or any expertise. The software is updated automatically from time to time. It eliminates the fear of handling the system to unknown people, "institutional data" to be precise! Further, you can contact the customer support team online at any suitable time. They'll be at your service 24*7.
Key Takeaways
Cloud Education ERP Software is the best technology to minimize the headache of paperwork and secure student data. However, efficient data management would only be possible when your data would be in safe hands. For a smooth process, make sure to choose a trustworthy and experienced ERP facilitator to get 100% surety that your data would be in safe hands.
Years of providing great customer service and successful implementation of more than 2000 ERP solutions, MasterSoft Student Information System is touted as one of the highly reliable ERP solution providers in the market.
To explore more about the multi-structure products and services we offer, simply get in touch with us!