5 Things to Consider Before Implementing Student Information System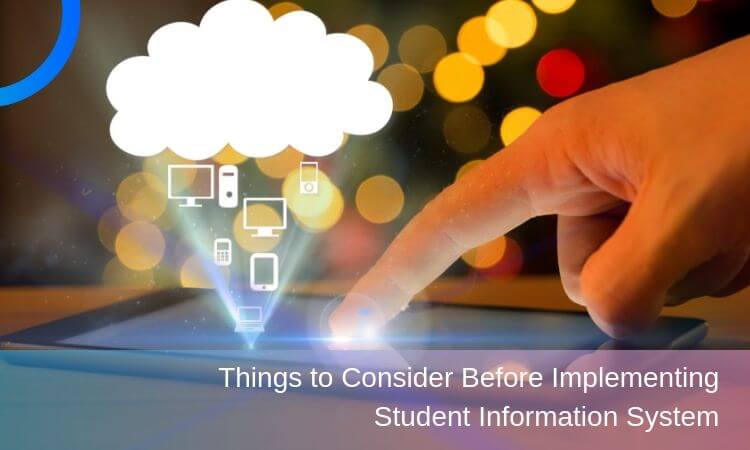 While it's imperative for schools and colleges to help students focus on studies and unleash their intellectual potential, merely imparting bookish knowledge to students won't contribute to their long-term success. Along with the academic curriculum teachers must pay attention to other aspects that would aid the overall development of students. However, teachers have to play a multi-dimensional role and look after student's lifecycle that comprises of crucial activities such as documenting grades, managing record of test results, creating timetable & schedules, tracking daily attendance, and assessing academic grades. These responsibilities consume a lot of time and owing to time constraints, most of the faculty members ain't able to justify their role.
A student management system is a comprehensive software embedded with cloud technology that can record, manage, monitor, and analyze student-related data without any hassle. A cloud-based student information management system (SIMS) is more recommended as it offers high-end functionalities such as dashboard analysis, accurate report generation of students and staff performance, and access to the vast database which minimizes the headache of paperwork and enhance the collaborative coordination between students and faculty.
With a plethora of student management system facilitators in the market, it's imperative for your organization to choose a reliable source. Picking the right SIS provider will create a positive impact by simplifying the journey of students as well as faculty.
Here are the top 5 things that you must consider before implementing a Student Information System (SIS)...
24x7 Access to Data ( any device & data security, data accessibility )
First things first, make sure the SIMS you choose utilizes cloud-based ERP technology. As cloud-based systems operate via the internet, they provide broader coverage. With cloud technology, the students, faculty members, and management can enjoy 24 x 7 access to information such as grades obtained in the examination, homework, assignments, and attendance status. The best perk of cloud-based SIS is that it is highly secured as it offers role-based access to users. No one can misuse the information present in the database. Let's say a staff member requires some details regarding fee payment of students of a particular class. They won't be able to access the information until and unless the admin gives them access permission. It's that simple, safe, and convenient to use!
User-friendly SIS
The simplicity of software is often neglected, but it should be on the priority list while choosing a student information system. Irrespective of one's software handling proficiency, complex SIMS that are geared towards technophiles may give a tough time to students, faculty, and administration in the long run. They may have to deal with unnecessary complications resulting in a waste of time and generate resistance to use ERP. On the other hand, a user-friendly system would help them understand the features and functionality of SIS completely and ensure smooth communication. The significant time can be utilized for other important tasks and betterment of students.
Highly Customizable
The ultimate goal of an educator is to multiply the productivity of the institution by helping students perform better. To accomplish this goal, every teacher or staff member follow a particular set of protocol and utilizes certain methodologies that would prove effective while performing any task. If the ERP is not customizable, teachers will have to learn and adapt to new processes every time the software gets updated. Such work culture might become mentally draining and result in a huge loss of time. Therefore, one should always choose the SIS that meets the requirements of the institute and is customizable in nature.
Involvement of Parents
There was a time when parents used to come to the school every month to meet teachers and understand the performance of their children. The time we are living in today is extremely high-paced and hectic. In the hustle and bustle of life, managing professional and personal space is quite difficult. Literally, no one has got time to breathe in peace. Howbeit, no matter how busy parents might be, they must pay attention to their children and busy lifestyle shouldn't become an excuse to ignore children. Software that allows parents to monitor their performance and communicate with teachers may prove to be a boon in such cases. Ask your SIS provider to provide such functionality where parents can track their children without any hassle.
Students Safety
Being concerned about students' data security is commendable, but what about the personal safety of students? Admit it or not, owing to the unsafe environment and criminal activities, parents do get worried when their children, especially the ones studying in schools leave home to go to their respective schools. A student information management system with advanced features like bus tracking can be the best gift you give to parents who have shown trust in your institute for the future of their children.
To sum up
To improve the institutional effectiveness, you must implement a student management system that is future-proof, provides a 360 view of students' lifecycle, and acts as a reliable channel for boosting the growth of students, teachers, as well as management.
Want to know more about this - Schedule a Demo Today!!