5 Reasons Education Institutions Should Implement Student Information System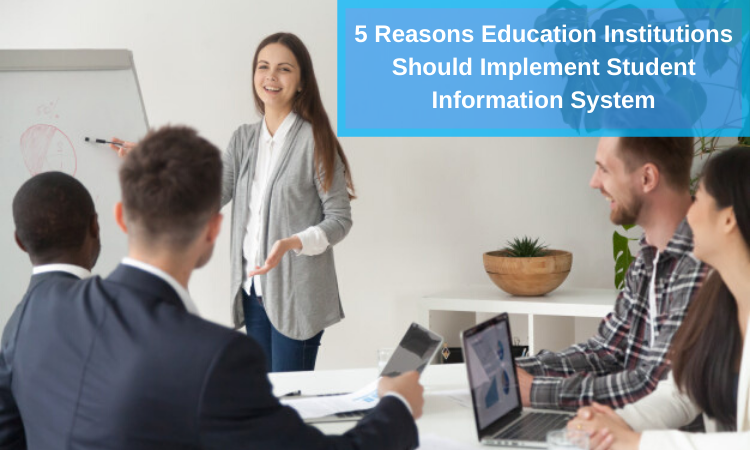 "Technology can become the 'wings' that will allow the educational world to fly farther and faster than ever before-if we will allow it." - Jenny Arledge
The ultimate aim of any education institution is student success. However, unlike the old times, teaching & learning are not limited to a four wall classroom and good grades. Today, students need to develop an all-rounder personality with additional skills. Student information system is empowering tool that eases the workload of teachers & helps them focus more on students so that they can score well in exams as well as undergo a complete personality development.
Here's why educational institutions should implement a student information system...
Hassle-free Work Processes
Non-teaching activities such as marking daily attendance, providing assignments, scheduling exams, and preparing timetables consume a lot of time & degrade the lecture time of faculty members. With a campus management system, these tasks can be automated saving the precious time of teachers. Teachers can utilize the time for fruitful work such as developing new teaching methodologies or conducting extra-classes for students with low performance.
High-end Student Data Security
The biggest doubt every educator faces while implementing a student information system is student data security. Being a cloud-hosted system, SIS facilitates the provision of storing the data in a centralized location with role-based access and uses OTP & password encryption to keep data safe. In addition to this, student database management system also provides multiple backups for ensuring disaster recovery management in case of any unfortunate incident.
Monitoring Students for Better Outcomes
K12 & Higher Ed institutions admit a limited number of students in every batch. The reason is that teachers should pay proper attention to students. Even after taking all the measures, teachers fail to achieve their goals. In such instances educational ERP solutions with analytics dashboard can prove to be a boon. The analytics dashboard is a smart tool that can generate highly accurate reports of various scholastic as well as co-scholastic activities. Faculty members can utilize these reports for student progress by identifying & rectifying the shortcomings of students.
Teacher-Student Communication
There's an old adage - 'Communication is the key to success.' With proper reports about students in hand, teachers can arrange a personalized session with students & speak to them regarding their concerns. They can make a note of their doubts & plan strategies to overcome them. Teachers can even conduct online classes & share study materials such as video tutorials and important notes to further help students perform better in exams.
Greater Parental Engagement
The impact of parents in children's lives is crucial. Hectic lifestyle & professional commitments have made it difficult for parents to pay attention towards their kids. They hardly get time to visit their educational institutions or help them with their assignments. As a result, children may feel neglected and it may affect their academic performance. In certain cases, poor performance may also lead to lower self-esteem. With education technology, parental engagement can be increased drastically. A campus management system embedded with a mobile app can help parents stay in touch with teachers & get the whereabouts of their children. It will eventually help them keep a tab on their grades, maintain a healthy relationship with children & remain stress-free about their academics.
In a nutshell, a student information system has numerous benefits that would help improve student progress as well as institutional growth in the long run. Therefore, implementing education technology like a campus management system is a smart move that every educator must think about.