Best Faculty Management Software for Improving Staff Performance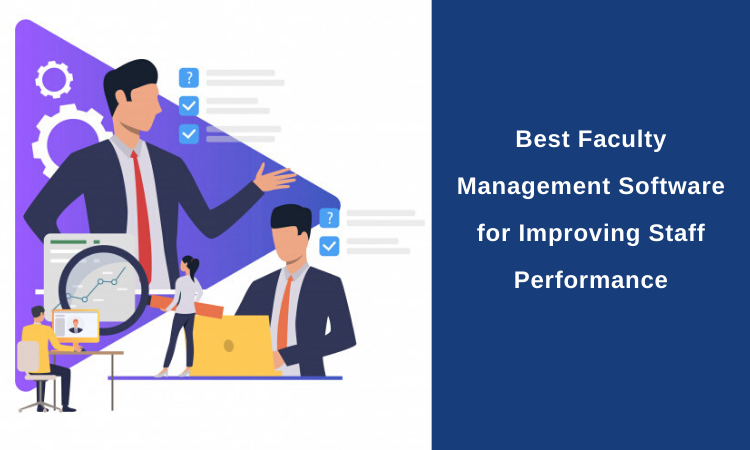 Students and teachers being two prime stakeholders, teaching & learning go hand in hand. To improve the performance of students, we need faculty who can create a positive learning environment & teach them better. When the faculty does their job well, the students' outcome ratio will surely be high. Despite this simple formula of success, the student's outcome ratio in the majority of K12 Schools and Higher Ed is still not up to the mark!
Want to know the reason? Well, it may leave you in shock! It has been observed that a teacher spends more than 70% of their work time performing non-teaching tasks such as administrative documentation, assigning homework, preparing timetables, and marking attendance! Can you believe it! A faculty has so much workload that they need to focus on everything in addition to teaching. Such practice can negatively impact student engagement and degrade staff performance completely. An adept, reliable, and customizable faculty management system can help institutions overcome the hurdle of non-productivity.
Here's how educators can significantly improve their staff performance with the implementation of educational ERP solutions...
Recruit the Best Faculty for Your Institution
Recruitment is the basic yet most important step that educators must pay attention to! Gone are the days when recruitment was done merely by the reference of known people. Today, the educational needs of children have changed and recruiting an experienced teacher capable of handling them has become the need of the hour. For providing quality education, educators must choose an eligible candidate. However, screening thousands of applications and then shortlisting meritorious candidates for teaching is a time-consuming task. In such instances, faculty management software with online recruitment feature can do wonders. It can simplify the entire process and generate automated merit lists based on the parameters of your institutions. Thus, the ERP solution makes the faculty recruitment process absolutely a hassle-free & transparent one!
Student Data Management with 100% Data Security
Teachers can't ignore the task of managing student data. For every single task, they require accurate student data. For instance, if a faculty member requires information about a students' past academic record, he/she might have to go through piles of paperwork for searching the information. Faculty management software hosted on the cloud and embedded with a centralized database can help teachers compile, manage, access, and analyze student-related information at any given point in time merely with a few clicks. Thereby, teachers can perform such tasks within no time & can utilize their time for planning strategies that would improve students' performance.
In addition to time-management, a cloud-based ERP system also accredits the institution to maintain 100% data security. It encrypts the data while transmission & has a provision of role-based access. Anyone can't access sensitive information meant for management use. Thus, the cases of data theft & mishandling can be minimized with this approach.
Faculty Attendance History & Staff Performance Reports at Fingertips
The best way to escalate the performance of kids is to keep a tab on their activities and guide them wherever the efforts are below the expectations. Now, the same approach can be used for tracking the performance of faculty members, which in return can boost their performance & lead them towards growth. With the implementation of a student information system integrated with a smart analytics dashboard, educators can monitor their daily attendance and generate various MIS reports such as total lectures conducted by them weekly or monthly, the curriculum covered by them, and a lot more. They can utilize these precise reports to help faculty understand where they lack & what their strengths are.
Best ERP Software for K12 Schools and Higher Ed
The work efficiency of your staff depends on their skill of handling student data along with focusing on teaching. For achieving the goal, as an educator, you must contact an ERP vendor who has a successful track record of delivering customized educational ERP solutions.
When it comes to the best school management software, MasterSoft tops the list! Being the leading name in education ERP from the past 22 years and having served more than 2000 institutions, we insist you should visit the website of MasterSoft ERP Solutions. You will understand the services & quality of work that our team has been doing through these years. We have a clientele of prestigious schools & colleges who have experienced a remarkable growth after the implementation of our ERP solution!
For a FREE demo of our faculty management system, get in touch with us today! Our team professionals will connect with you at the earliest & solve your concerns.