What Can You Achieve from an Analytics-driven Institution?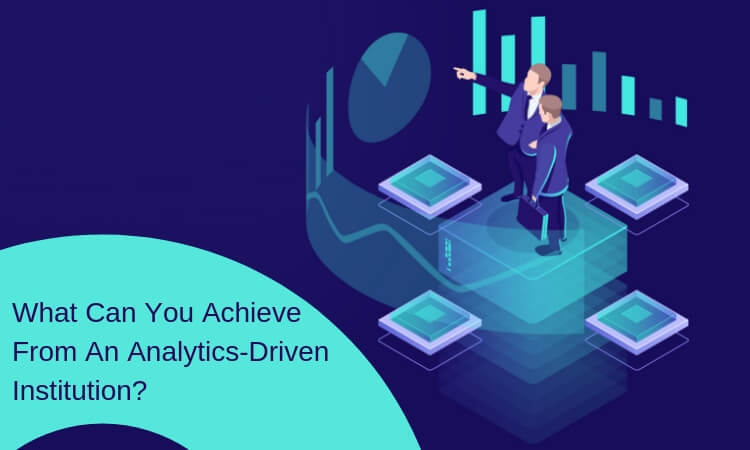 Who doesn't want to drive progress in their campus? Especially in areas such as enrollment/recruitment, dropout, student outcomes, etc.?
All this can be achieved with proper and timely decisions, which can only be made if accurate and precise information is available. Information in its raw form can lead to superfluous work and errors. These errors can impact the crucial decisions made for the welfare of students and the institute.
Hence, you need a consistent and integrated system that can give you actual and actionable insights in real-time. Analyzing crucial information helps in understanding data and makes taking decisions easier.
Dashboard Management System shows relevant information to the user based on the user's role and hierarchy in the institution. Dashboards give an overview of all kinds of key information and numbers related to the Institution such as-
There are various benefits which can be achieved with an Analytics-driven Institution such as:
Improved Decision Making
When you run an institute it is imperative that you stay on top of things. The decisions that you make affect the staff as well as the students and decides the fate of your Institution. It is, therefore, necessary to have every piece of information available before making a decision.
Since Dashboards provide vast amounts of data in a statistical format, it is possible to review a lot of information at a glance. This aids in making faster, better, and more accurate decisions. Additionally, you can find meaningful patterns with the dashboards and consequently find out the areas for intervention.
Predictive analysis, via Dashboards, assists you in finding out those areas that require preventive steps. This ensures that the processes remain unharmed as you can take decisions to reverse the damage even before it actually happens.
Enhanced Student Outcomes
Schools and Colleges need to constantly find out newer methods to improve student outcomes because of the rise in the competition levels nowadays. By adopting student analytics software key performance indicators such as student grades, attendance, performance in class, performance in extra-curricular activities, etc. can be analyzed.
The cumulative report of each student helps teachers to pinpoint exactly where the student faces an issue. Likewise, after implementing the corrective measures, the teacher can once again find out whether there is an improvement in the student's performance or not.
This ultimately leads to a personalized student learning experience which is quite essential to improve their outcomes considerably.
Increased Enrollment
With an incredible rise in competition, Institutes need to find and implement tactics like never before to increase recruitment. Dashboards help Institutions in many ways to achieve the goal of higher enrolment.
Firstly, as mentioned above, Dashboards aid in figuring out and solving an Institution's problem areas. Which in turn leads to improved performance which plays a key role in bringing in more applications and higher enrollment!
Secondly, a Higher Education Software integrated with a Lead Management Software aids in planning marketing strategies such as social media campaigns, email marketing campaigns, digital marketing campaigns, etc to reach out to targeted recruits.
Additionally, Dashboards also provide you with crucial insights regarding the courses preferred by students from a particular region, student behavior, interest areas of the first-generation students, etc. This further helps Institutes to figure out the areas they lag behind and take appropriate decisions.
Decrease In Dropouts
Smart Student Data Management leads to the prevention and curbing of student dropout rates. As mentioned earlier, the Dashboards show the progress of the student around key metrics which give a general idea about their academic performance, attendance, etc.
Teachers these days are able to keep track of students like never before. The students who lag behind or fail to attend their classes can be found out and steps can be taken by the right people to help them cope up.
Furthermore, a principal can also monitor a teacher's performance and map it with their class to figure out if the students and the teacher need any help. Also, the increased dropout rates can be a sign that fewer number of students find that course or subject interesting. Either that course can be made more interesting or the curriculum can be changed, etc.
All this ensures that the student retention rates are increased and more students graduate each year.
In a nutshell, Student Analytics Software can prove to be of immense help in almost all the areas related to the students. What's more? It's easy to use and gives you all the information you need at a glance.