Higher Ed | Teaching Methodologies and Tools for School Management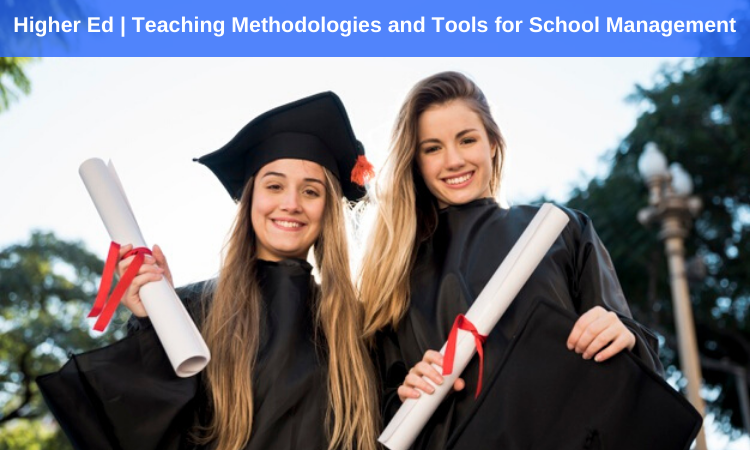 "Children are not things to be molded but are people to be unfolded": Jess Lair
Students from diverse backgrounds & abilities make the teaching-learning environment of schools interesting. However, it makes the job of a teacher quite tough. As every student is unique & blessed with different set of skills, it's necessary for the teachers to properly understand & meet their needs. No matter how much experience the teachers hold, they require going the extra mile for dealing with today's generation of students. Implementing the same 'old-school' techniques of teaching can't help you enhance students' performance. To be honest, innovation in teaching methodologies by introducing technology in the classroom is the only key to identify and meet the educational demands of new-age students, & boost their success.
Here's the list of effective teaching methodologies & tools to help you manage school with ease...
Online Teaching and Learning for Greater Interactivity
Kids often get bored with regular classroom lectures, especially when they have to study a topic they don't like much. Teachers can make the humdrum classroom teaching routine more fun & interactive with online teaching and learning!
School management system with e-learning module can help teachers to collaborate & connect with students at anytime and anywhere. Teachers can share creative video tutorials to make students grasp a tough concept easily. They can even share study notes & arrange engaging quiz for sculpting their teaching process. In addition to these provisions, e-learning software also eradicates the barrier of distance enabling students with physical disability or major health concerns to learn better.
Dashboard Management System for Tracking Student Progress
Next most important thing that can improve the effectiveness of teaching is tracking student progress. Even if a faculty gets positive feedback from students at the end of their lecture, it still doesn't guarantee that students have understood everything. The only foolproof way to determine student growth is tracking their consecutive academic grades over a period of time. Teachers must compare their grades & closely scrutinize overall activities such as their contribution in the classroom, their assignment submission, and attendance history for confirming their seriousness in academics.
A campus management system with dashboard management can suffice these requirements. With an intelligent dashboard tool, faculty can not only keep a tab on students but also plan out strategies that would improve students' performance.
Readmore: How Are Automation & AI Changing The Education Landscape?
Tools for Bridging the Communication Gap
Children spend maximum time with their parents and teachers. To excel in academics & develop personal skills, children must have a good learning environment at school as well as home. These days what happens is, parents don't pay attention to kids due to their professional commitments & work. Furthermore, they don't visit schools due to the same reason. Whether one admits it or not, the communication gap between the trio of teachers, parents & students has become a leading cause behind the poor performance of children. Children who feel neglected and don't have anyone to look after their studies are more prone to performing below than average.
A school management system inbuilt with communication tools such as a chat messenger can help faculty to pass the litmus test of poor communication. It enhances the communication by enabling parents to stay in touch with faculty & discuss their concerns at any given point in time. Even a word of encouragement from parents & teachers can change the lives of children forever.
To Sum Up
Tradition classroom teaching may seem easier but it won't help in boosting the institutional growth in the long run! To evolve & grow, it's crucial to innovate & accept the change. As a quote by Robin Sharma says - 'Change is hard at first, messy in the middle and gorgeous at the end', being an educator, you must embrace education technology and implement the best school management software for escalating institutional progress & staying ahead of your competitors!