4 Must have Strategies for Success of Online Education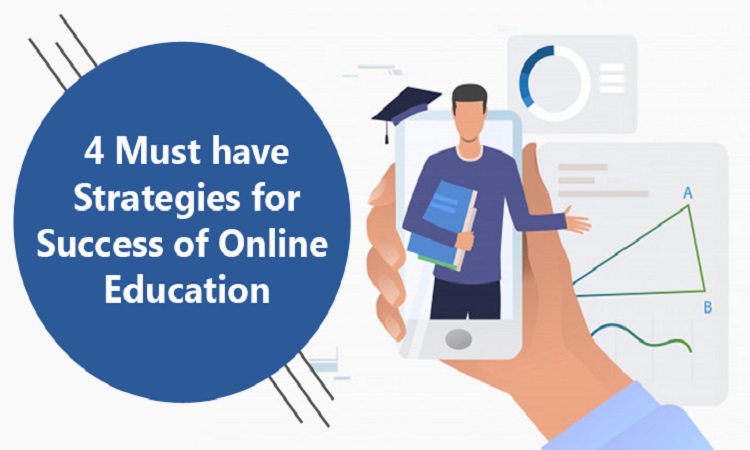 "Nationwide closures of educational institutions are impacting over 90% of the world's student population." - UNESCO
Further to the lockdown announcement made by various government officials across the globe, many schools are considering online education as a means of supporting their students' learning. Delivering online education seamlessly--- is undoubtedly the end goal of every institution. However, the term "success" seems so fickle in today's monetization era. Educationalists are competing for "Monetary Gains" leaving the "Quality" parameter to fade slowly. They are focusing on creating a virtual classroom setup to earn profits due to the situation and it's possible with school erp. Planning content & teaching strategies are being treated as secondary things .To be honest, it ain't the correct approach. Your success lies in the success of your students.
Being an educator,
You must think of your educational institution like a car, and a quality teaching-learning process as the fuel to drive students' success.
Your educational quality will decide your long-term survival. Speaking of the profits, surely, it will boost your ROI gradually by increasing student retention! I am laying out four must have strategies for success of online education that every faculty & educator must follow...
Planning, Creating, and Providing Engaging E-Content
Tom & Jerry, Adam & Eve, Bacon & Eggs, Jack & Jill, Salt & Pepper...
You must have heard of these popular pairs, but for a faculty, to achieve success, there's a special pair that must go hand-in-hand: Content & Teaching! Yes, a compelling, engaging, and interesting content can work wonders for virtual classroom teaching. It has been observed that interest levels of students are high when the content they've been served online is interesting.
Whereas a poor quality content might interfere with their learning skills & create bouts of boredom. Therefore, no matter what, always always always focus on designing something different that can add value to them. You can use the internet to find cool facts about a topic. You can even prepare presentations or animated videos to make learning more fun.
Observe, Analyze, and Act in the Right Direction
Whenever a professor asks - "Did you understand it?"
Most of the students give a head nod saying yes. However, their grades speak the opposite story. Being an experienced faculty, one of the bitter pills to swallow is accepting the changing mindset of students. The continuously evolving thought process of youngsters can sap the years of experience you hold. Because, at the end of the day, it's your students' performance, that will count. Therefore, whenever you teach a topic via an online learning platform, make sure you observe the students. You can introduce activities like a short quiz at the end of every topic, and then after analyzing their results you can decide to proceed further.
Don't trust the head nod given by students. Utilize the learning management software to test their knowledge.
Personalize Learning by Establishing a Strong Network
Successful students realize that their academic success is due not only to their determination & learning, but also to the teachers who've taught them things, motivated them with positive guidance, and pushed them to enhance their horizons.
This is how a success story is made.
With distance learning education, the face-to-face interaction is not possible. However, the online chat option for teacher-students communication gives a ray of hope. Teachers must seize the technological blessing & get in a habit to talk to students personally at regular intervals. They can make a list of different students based on their grades & identify students who need extra-care! Striking up conversations with students will inspire them to give their 100%.
Manage & Achieve Daily Teaching-Learning Goals
So many tasks on an everyday basis can puzzle you, as well as, the students. Time management is, thus, imperative. You can begin your week with creating a to-do list that includes tasks like -
Create a weekly teaching timetable
Providing & checking the daily assignments
Deciding the class-timings
Arranging webinars/exams
And with these strategies, you are all set to go!
To Sum Up
Some educationalists follow the mediocre thought process of "why buy the cow if you can get the milk for free." Instead of looking for top-class school management software & features-equipped online platforms, they settle down with the mediocre software available in the market. Remember that short-term gains won't help to survive for a long-term. Like good things take time, an efficient LMS may take time to show results but it will be worth it!
For more details on the best online learning platforms, get in touch with us today!