How Student Information System Helps You In Simplifying Data Management?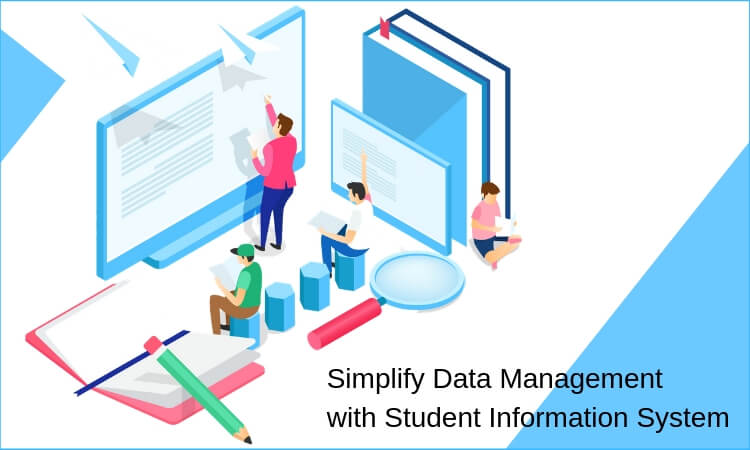 Is managing data manually creating unnecessary hurdles for your institute?
Are your teachers stressed due to huge amounts of unfiltered data and not getting enough time to focus on students and teaching?
Data Management is the most essential part of any Institution. Data Management, when done properly, paves way for:
Increased productivity : Information that is easily accessible leads to people spending less time searching for data and do more significant work.
Smoother operations : Responding to issues or inquiries on time is only possible when you have real-time data.
Improved decision making : Any decision is made only when accurate and updated information is available on time.
Data management, when done manually, leads to a host of problems. Firstly, a lot of time and resources are spent on employing and training staff for data handling. Subsequently, a lot of the staff-time is spent on manual data entry rather than core tasks.
However hard employees try to avoid mistakes in data entry, errors do slip in. Mistakes that may seem insignificant can create problems later on. For instance, manual data entry by one staff can be easily misinterpreted by another staff due to illegible handwriting or lack of data.
All these issues can be resolved by implementing the student information management system.
Automated Data Capturing
There are many tasks in an Institution that can be automated to reduce time, efforts and hassle. With advancements in technology, many daily operations can be effectively computerized. One of them is data capturing or data entry.
For instance, class attendance, hostel attendance, library stock verification, etc can be done automatically.
For the attendance of students and staff, RFID smart cards or biometrics can be deployed. Both the systems completely eliminate manual work and are quick and easy to use. Automated data capturing leads to minimal errors, highly increased speed of operations and streamlined processes.
Integration
Usually, different departments in a campus use different modules/systems. These disjointed systems make data management a cumbersome task as you have to keep up with the data in every module. Instead of simplifying data management, different modules actually lead to a lot of repetitive tasks and complications because these systems don't communicate with each other.
Integrating all the modules is the key to solve this problem. For example, student details once entered in the administration module need not be entered again in the accounts, fee, school transportation, library, or hotel modules.
The integration of modules reduces staff work as they no longer need to rewrite superfluous data.
Data Arrangement
Institutes have huge amounts of data which ceases to make sense if not arranged properly. Manually indexing data for an entire Institute is a lengthy, tedious and time-consuming process.
Using student information system, all your data can be indexed quickly and automatically. By applying filters, information can be searched through common fields like batch, subjects, caste, region, etc.
Student Information System provides dashboard analytics, which creates a comprehensive report of the students' grade. So teachers have access to the detailed academic reports of each student. This helps the teachers to better understand the problems students face.
Cloud Service
Campus management systems can be hosted on the cloud. Since data stored on the cloud provides a centralized platform for data management, it makes accessing information much faster from any location at any time.
For example, if a teacher wants to review a student's details, they can easily do it from the comfort of their home. Similarly, if the Principal is not on the campus and needs to access information instantly, then they can do so with the help of an SIS. Important decisions can also be taken with the help of real-time data which is easily available to the decision makers.
Furthermore, you can rest assured that your data is safe from all kinds of threats. Losing crucial data is can be very catastrophic to the Institute. To avoid this, information is stored on the cloud and is automatically updated each time changes are made. Regular security updates ensure that your information is secure from viruses.
Simplified Operations
Student information system is used to ease the stakeholder's lives. It is therefore important to have an intuitive SIMS. It is also important that the SIS has an easy user interface that the staff can navigate easily.
This system has role-based access. This means that different levels of staff have different authorizations to access the student information. This means that a lower level staff will not deal with information he is not authorized to view.
Conclusion
Student Management Systems help Institutions to have smooth operations and reduce the unnecessary workload on staff. Since teachers do not have to deal with redundant paperwork they more aware of students performances. Information is now available faster and in an easy format. It is also stored in a more secure system.