How School Mobile Apps Empowering Teachers & Students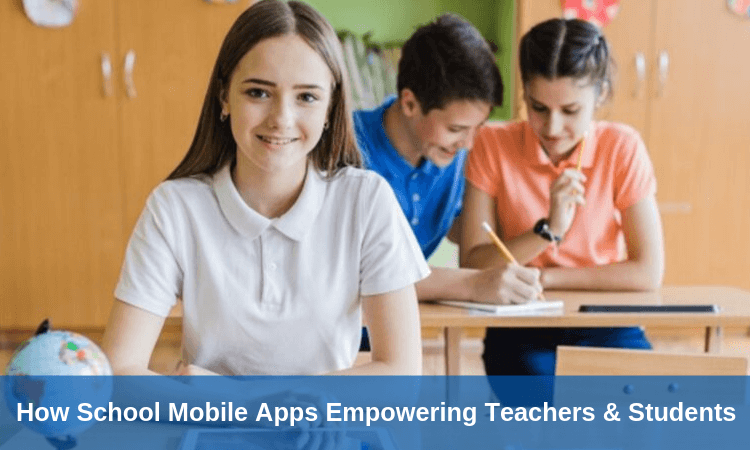 "We need technology in every classroom and in every student and teacher's hand, because it is the pen and paper of our time, and it is the lens through which we experience much of our world." - David Warlick
Owing to the multiple benefits of edTech in classrooms, school mobile apps have gained popularity among top-notch educators. An efficient school app can help teachers manage the complete academic lifecycle of students, assists them to perform administrative work without any hassle & encourage educators to make smart decisions. This is why school management apps are being considered as a sureshot tool for the success of students as well as the entire educational institution.
Being an educator, if you are thinking of introducing a school mobile app in your institution and want to know how it can empower teachers & students then keep reading the article. We have compiled a detailed list of benefits a school app proffers to teachers & students.
Here's how school mobile apps can empower teachers & students...
Automated Attendance System Saving Precious Classroom Time
First and foremost, marking attendance is one of the major non-teaching tasks that teachers have to perform every day. It's definitely not a complicated task but it's time-consuming. Recent reports state that a teacher, on an average, spends almost two-thirds of their classroom time registering the attendance of the students. It depicts that an enormous amount of classroom timing that could be otherwise utilized for teaching or dealing with students doubts gets wasted.
A mobile app can prove to be a game-changer in such instances. A school app embedded with an automated attendance system can significantly minimize the attendance time. In fact, the time can be reduced to literally a couple of minutes enabling teachers to focus on their teaching methodologies.
Assigning Daily Homework & Tracking Student Progress
Assigning daily homework to students is quite important for their academic growth. Assignments help teachers evaluate their day-to-day teaching techniques and the best way to subtly keep tabs on students' progress. However, assigning daily homework requires time and effort. A teacher needs to make a list of precise questions and other tasks that would help children learn & grasp the topic easily. It may consume a considerable amount of classroom time. To maintain a proper balance in such cases, a school management app with homework assignment feature is an apt solution.
With an efficient school management system that eradicates the restrictions of four walls of the classroom and enables teachers to upload daily assignment with mere clicks, students' outcomes are bound to improve.
Analytics Dashboards Improving Student Outcomes
School apps embedded with analytics dashboards is the best combination for institutions willing to accomplish scholastic goals within a short span of time. Analytics dashboard helps in student data management by providing a consolidated view of the entire data to the admin or principal of the school at one place. The dashboards are also capable of generating highly accurate reports concerning students' overall performance, which in return can allow teachers and educators to make smart decisions & plan effective strategies for boosting the student progress.
Key Takeaways
In this tech-driven environment, managing student data and improving institutional performance compulsorily requires an effective system that would simplify the everyday scholastic hassles. A school mobile app seems the most viable solution to administer the in-house operations, streamline the workflow, and help teachers focus on students. All-in-all, implementing a school management app is a win-win situation for all the stakeholders - teachers, students, and educators.