How School Management System Can Bridge the Modern Learning Experience Gap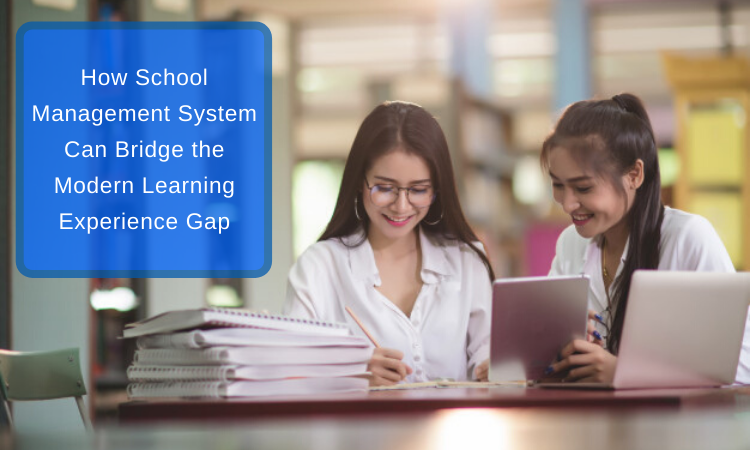 In this digital age of fast-paced advancements, where everything is being computerized, education technology in teaching is still not popular with senior faculty & teachers. You know, there's a vast range of teaching professionals who are still dependent on traditional methods of teaching. It's not that they aren't aware of education technology, but they don't adapt themselves with the change. On the contrary, today students are much more interested in technology and innovation. They want to learn but don't want to restrict their learning to the four walls of the classroom!
This scenario has created a gap between teachers & students. To cope with the needs of the new generation of students & bridge the modern learning experience gap, teachers must consider introducing software for schools.
Here's how school management system software can help improve student learning outcomes & ease the workload of faculty...
Replace Chalkboards with Online Teaching & Learning
There's a very famous quote of Bill Gates - 'The first rule of any technology used in a business is that automation applied to an efficient operation will magnify the efficiency.'
It reflects how technology & automation can transform operational efficiency and enhance results. The same concept can be used in schools by embracing edTech. Instead of following traditional norms of teaching on a chalkboard, traditionalist faculty & staff can significantly maximize student outcomes. With the implementation of a school ERP system integrated with e-learning tools that accredit teachers to take online lectures, a boost can be given to the learning environment. Children with physical disabilities or illness who can't attend the lectures by physically visiting the schools can largely get benefited from such standards of teaching!
Share Study Material Digitally at Anytime
As we mentioned earlier, modern-day learning is more about freedom. The next-gen students don't want any learning boundaries. School data management software with features such as assigning homework from anywhere & any time, the restrictions of sharing knowledge within the classroom can be eradicated. It enables teachers to share homework and study material with students digitally. Students can directly log in to their portals for receiving it at any given point in time. Furthermore, the features can be made more advanced by integrating the ERP in higher education system with a mobile app for better accessibility.
Track & Enhance Student Success by Making Smart Decisions
When we want to determine the institutional progress, it's important to have data as a proof of what's being said & done. Without data-driven analysis, no one can track the actual growth. However, being a teacher, it might become a mentally draining task to collect and evaluate student data from time to time. A student data management software embedded with analytics dashboard is probably the best solution for tracking & enhancing student success. It generates reports that depict exact facts. For instance, teachers can generate reports about student's academic record considering their exam grades, attendance, and extracurricular activities.
Improve Student Engagement with School Management System
With precise reports about students' academics, teachers can have personalized discussions with them and understand their core problems. Once the core problems they face in teaching are identified, teachers can arrange extra lectures & try to organize guest seminars that would help them learn better. In addition to this, teachers can also manage attendance with the clicks of a button and save enormous amounts of time. Having a tab on attendance can ensure student security as it will identify students who bunk classes or are irregular. The time saved in attendance management can be utilized purely for interacting with students. Thus, the educational school ERP software can escalate collaboration and communication between teachers & students.
To Sum Up
Embracing change is the only way to bring innovation into education. Teachers willing to change their teaching methodology by switching to education technology must share their thoughts with educators. Similarly, parents willing to transform their kid's learning environment must visit the K12 schools and have a word with educators. Try to share the advantages of the system and ask the educators to get in touch with the best educational school ERP provider.