School ERP - Keeping Parents and Schools on the same Wavelength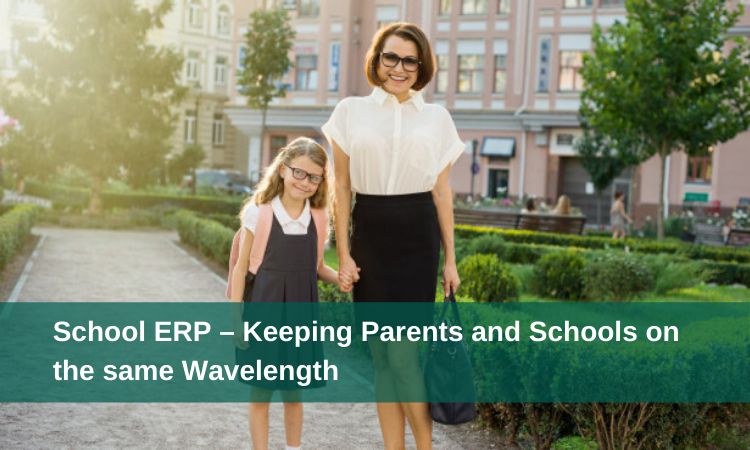 How Education ERP Systems Software is strengthening the Parent-Educator Bond
The relationship between parents and schools is a complex, multilayered one. The parent-school association, at its lowest point, can be reactive, tenuous and distrustful. Communication that takes place when things go wrong is often strained and emotive. And a lot can go wrong in the 500 to 700 odd hours that school pupils spend in an academic year at school. Tackling challenging behaviours such as bullying, aggression, racial abuse, truanting, exclusions, non-attendance, incomplete schoolwork and homework requires a smooth, clear, mature two-way dialogue between parent and educator.
Unfortunately, when schools and parents connect, they are often in firefighting mode. A kid accused of bullying needs counseling, incomplete homework needs attention, a learning disability could be diagnosed at school, parents of an exceptionally disruptive kid could refuse to acknowledge that she needs medication for ADHD...who can blame schools for raising these issues? The question is not whether the issues should be raised, but how and when and, most importantly, through which mechanism.
Why communication matters
It would be axiomatic to state that parental engagement is vital to a child's academic success. Schools, now aware of this all-important key to good results and exemplary conduct, are making appreciable efforts to reach out to parents. Most schools seem to realize too that communication, to be effective, needs to be a two-way street. Moreover, they know that good communication is respectful of feelings, respectful of the need for discretion and confidentiality, sensitive to cultural, class and linguistic differences, never patronizing, never overbearing, and always leaving room for further dialogue. When communication between parent and school breaks down, all is lost! Especially for the child, who bears the major brunt of the distrust and the suppressed or overt resentment that marks the parent -school relationship henceforth. Good communication builds bridges and maintains them. Hence the need for schools and parents to break out of firefighting mode and work on restoring normalcy, peace and trust to their communications. Tempered communications, marked by even, conciliatory, calming voices are more likely to engage parents in the academic lives of their wards than high-pitched or querulous tones.
Ensuring lasting, meaningful parental engagement
Effective communication does pave the way for constructive parental engagement. However, for this engagement to last through the academic life of a student, much more needs to be done. To begin with, it would be simplistic to see parental engagement as engaging only teacher and parent. While parents bring to the table their own socio-cultural and psychological baggage, teachers belong to a structure and an organisation which they would be hard put to ignore.
Subject teachers need to relate to Heads of Department and Heads of Year, who, in turn, report to the Academic Lead and the Pastoral Lead. The Leads are accountable to the Deputy, the Head and the Board. When a parent engages with a teacher, she or he is, in fact, engaging with all that makes up a school - its regulations, values, principles, hierarchies, ideology, affiliations and belief systems. Expecting a teacher or a school office to carry the entire weight of communications with parents would be impracticable and counterproductive.
Mastersoft School ERP |An All-In-One solution
The Mastersoft School ERP is the ideal "all-in-one" solution to keeping all major players in a school in the connectivity loop at all times. With modules such as "Admission and Fees", "Student Administration", "Attendance", "Examination", "SMS and Email", "E-learning" and "Library", no parent, student or staff member could possibly feel shortchanged or excluded from any school activity. Accessible to multiple users in a school, the entire faculty and administrative staff can manage activities assigned to them through their login. An interactive, user-friendly interface allows non-technical staff to work on it without the assistance of a technician. And finally, the "SMS and Email" feature keeps parents informed about day-to-day activities of their children, covering events, examinations, attendance, reports and homework. The Mastersoft mobile app has some exciting features, like the Chat Messenger that is perfect for two-way communication, the "notification" and the "alert" feature.
The dovetailing of information makes daily academic and administrative life harmonious. Inner hostilities or discordant voices need necessarily to be resolved before a school goes "online" with a certain piece of information. Parents are naturally reassured by the consistency and smooth flow of communication from all quarters.
Technology - Keeping a Tab on Progress
With mobile technology becoming the preponderant mode of communication, it is not just desirable but also totally possible to bring all players in a school organization on board. The tools offered by the latest technology, as in the MasterSoft Student Information System, make it possible for schools to engage with parents on a daily basis. Through a steady flow of information, schools can keep their corners clean. Parents are routinely updated on their smartphones, via mobile apps, with regard to events, results, schedules, examinations, notifications concerning their wards. A real-time review of data by parents and teachers makes it possible to keep a close tab on a student's progress. Any obstacles coming in the way of the child's progress would be instantly visible to both parents and teachers, who could then collaborate to nip the issue in the bud.
In order to reinforce work done in school, parents should at all times be kept in the loop. When parents are given information on deadlines, results, assignments, events, schedules and changes in teaching methodology or curriculum, they know what to expect from their children and when. If a child misses a deadline, plays truant for certain lessons or hides a poor grade, the parent can intervene before it becomes a negative pattern in the academic life of the child. On the other hand, when a household is undergoing major changes, it is important to convey the change in personal circumstances to the school. Teachers can then help the child through any significant emotional upheavals that a drastic change in the personal situation of the child could bring about.
Technology then becomes the supportive base, giving schools and parents the perfect tool to bring facts to the surface and find the best cures for any wounds that may thus be exposed.
Thankfully, with no facts unduly suppressed or ignored, mobile apps and education ERPs are creating pathways for easy, enriching and constructive communications between parents and schools. When adults talk peaceably, children feel centered and safe. Secure in the knowledge that their parents and teachers are on the same page, young minds are free to stay focused on what truly matters - learning and attaining their full potential in life.
Who should be involved to ensure this engagement
Technology - what it should do and what it should not do (build walls)
All players at school
Old school and new school
Complement to old school methods
Redefining communication, the Mastersoft way
Mastersoft solution to the parental challenge
Redefining communication - 2 way, tangible results, real-time