Quick Guide on Student Information System (SIS)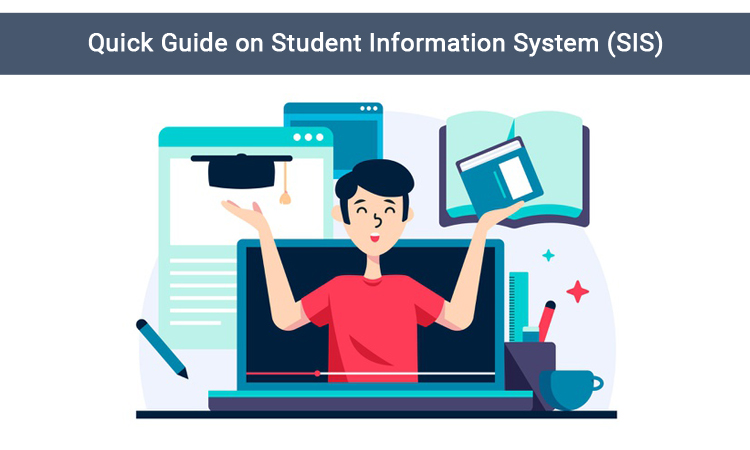 "Technology for Faster & Error-free School Work Management"
That's Student Information System or SIS in simple words.
Sounds like a great technological boon? It is, and rightfully so because a school information management system. It sets apart educational institutions from mediocre brands.
It's a valuable tool that empowers schools & Higher Ed & K12 institutions to manage the digital ecosystem tactfully & systematically without involving too many resources. It can prove to be the best edTech software for achieving institutional objectives & improving ROI in the long run.
We've compiled this all-in-one quick guide on SIS to help educators discover what is SIS, its working, features & benefits.
Let's begin by answering the basic question..."what is a student information system?"
Student Information System Software is...
It is an edTech platform or software that enables educational institutions like schools to manage their student-related information & data with ease. From managing information regarding -
Student Admission
Fees Collection Record
Classroom Attendance
Homework Assignment
Timetable
Exam Schedule
Report cards
Mark sheets
Alumni management
A SIS digitizes the entire student lifecycle and provides error-free data management with better efficiency & productivity!
Goal of Student Information System (SIS)
You might wonder why the digital warfare of campus automation is going on between education institutions! Well, in the first place, the workload on teachers has made it mandatory for schools to introduce technology in the classroom. And secondly, the aim of achieving better ROI and scholastic goals within a short time has given a boost to the use of technology in schools. Probably the reason why all top-notch institutions are dancing on the tune of digitization!
How is a Student Database Management System Software Beneficial?
Complete data management, student data security, efficient work processes...
If I start telling you the benefits of student management software, I might need to compile a big article that can cover up a couple of more articles! Yes! Advantages of SIS for school are countless.
Let me give you a brief idea of the 3 ultimate benefits of School ERP...
Go Green: In this green-loving generation, saving paper is a big deal. A student database management system allows the faculty to manage all operations digitally!
Smooth Student Admission Process: The school staff no longer needs to work overtime during the admission season! For securing the sensitive student data & avoiding repetitive work with SIS, the faculty must follow a simple chronology - Feed, Save, and it's done!
Academic Details:Who scored what? Who's better at mathematics? Who can excel in the debate? Answers to all such questions can be found only after analyzing the strengths & weaknesses of students. A student management system with an analytics dashboard can help utilize the student data smartly for gaining such insights. Time & effort of faculty are saved TREMENDOUSLY.
How Can We Rate a Good SIS?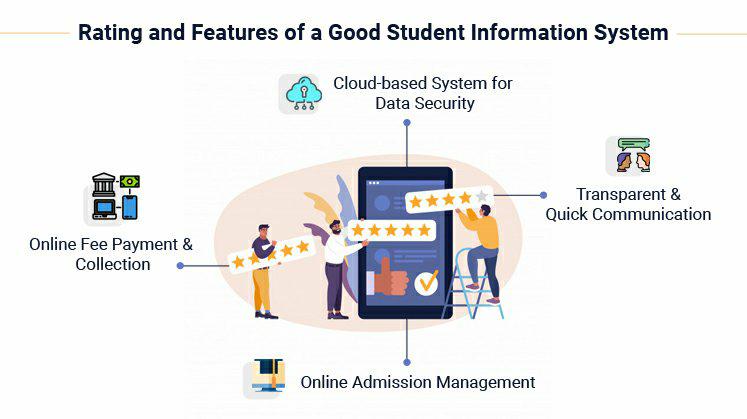 Here are the features on the basis of which a good SIS can be identified & implemented successfully.
Cloud-based System for Data Security
To ensure 100% student data security & privacy, schools must look for a cloud-based student information management system (SIMS) that will maintain the student records safe at a centralized location.
Online Admission Management
Online admission features help educational institutions to fetch, manage, and convert leads, and streamlines the journey from being a prospect to student seamlessly.
Online Fee Payment & Collection
Online fee transactions are far away from being safe. You can ask any educator regarding what it takes to manage accounts especially the online fee transactions. So, the school management software must have a secured online fee payment & collection system.
Transparent & Quick Communication
The last thing an institution wants to experience is miscommunication or poor teacher-parent communication! With accurate data, and school mobile app integration in student management software, the parent-teacher communication can be managed effortlessly.
Benjamin Franklin once quoted- "By failing to prepare, you are preparing to fail"
The responsibility of managing student data should never fall on the shoulder of the faculty members. This creates unseen risks. If they suddenly leave your institution for any reason, you'll lose the crucial information. Therefore,being an educator, you must be well-equipped with the right ERP tool like - Student Information System Software.