Maximize Students' Learning Outcomes with Online Assessment Platforms for Higher Education Institutions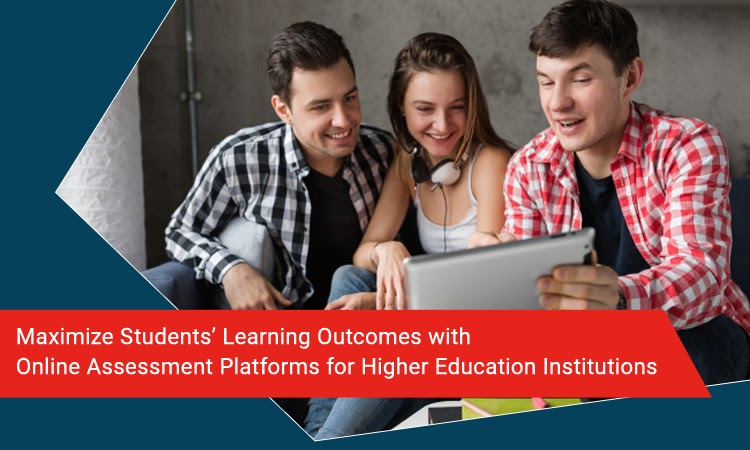 Poor student performance can be scary, right?
But, poor student performance despite taking efforts & investing time can be even scarier!
I know, whether you are a parent, K12 school faculty, or a school admin, you must be going through a similar phase. The sudden shift from "traditional" to "edTech culture" might be intimidating since the online education revolution has just begun due to the Covid-19 outbreak.
Primarily what most of the Higher Education Institutions (HEIs) like you are struggling with is the - sudden downfall of teaching-learning processes hitting their lowest.
Reasons are-
No proper virtual classroom facilities

Inappropriate planning of study lessons

The biggest one is the - inability to utilize e-resources & assessment tools!
Sometimes, the average student learning outcomes are not the fault of kids, it may be because you as a teacher are failing to adapt to what they require. Probably why Ignacio Nacho Estrada has penned down - "If a child can't learn the way we teach, maybe we should teach the way they learn."
In this blog, I'll shed light on the same and explain to you how online platforms can serve as a pathway to bring maximum results to students in HEIs.
Here's what you should know...
Filtering Students' Performance Metrics
Students' performance is a broad term.
It's not restricted to what they learn in their curriculum, it also deals with what they learn beyond it that adds a sparkle to their personality.
To measure, map, and assess how your students think, what skills do they have? Whether they are strong in language or they have better analytical skills or they are super-creative, everything can be integrated into the online question sets and scrutiny points can be figured out with filtering the judgment parameters.
Narrow Down Your Quest Further
Just knowing the shortcomings and strengths of students is not enough. It may suffice for time being, but for attaining long-term goals, you must know the cause of it.
You must focus on narrowing your "quest for excellence" further by pinpointing what takes their performance to peak and what brings it down. Once you understand the cause, you can smoothly work on strategies to boost students' skills. For this smart online assessment and evaluation, an analytics dashboard with BI powered tools can be your best friend.
It will sort things out for you and revolutionize the online education system. To drill down further, you can start by designing a new e-content that would help them cover the learning gaps.
Mock Tests in MCQs and Descriptive Format
EdTech may also backfire when not used wisely!
As an online assessment platform is an "alien" thing for students, even the brightest of students may become nervous and get confused while attempting the final assessments.
It may become a cause of their poor performance even though they are well-prepared with their test lessons.
Therefore, to avoid such instances and allow students to be confident as they appear for the e-assessment test, you can ask them to attempt mock tests. Mock tests in the - MCQs as well as descriptive test formats.
After all, practice makes a man perfect!
So, this may not be the traditional way of boosting the learning outcomes, it is surely a unique and robust way of doing things.
Conclusion
Analyze, assess, identify, and improve - this is the right cycle to help higher education institutions maximize students' learning outcomes. Online assessment software and e-learning tools can engage students, bring them clarity, and in return better results.
If you holistically follow the things I've mentioned in this article, you would see the best benefits in no time.
Need help with the implementation of college ERP software with online exam systems and assessment tools? Let's connect & grow together with your digital partner in edTech!