3 Ways Learning Management System Can Strengthen Your K12 School Reputation in 2020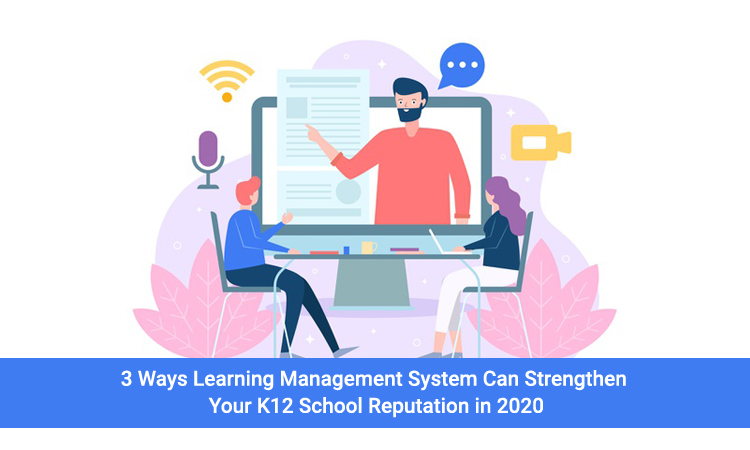 "Online learning is not the next big thing; it is the now big thing." – Donna J. Abernathy
You know what I've been thinking lately?
The innovative ways of utilizing a learning management system (LMS)!
Just hear me out.
The obvious reason that nudged me to give a thought about it is the COVID-19 outbreak. Apart from that, I feel, we should be ready to combat such challenges. No one can be sure of the future & the global pandemic situation has unknowingly given us a time to think about the implementation of edTech in the classroom.
Long before these days of 'isolation' & 'social distancing', most educational institutions were following their traditional teaching norms. Teacher-student communication was face-to-face. Students had developed a strong connection with teachers.
Maybe not "Hello! What's up?" connection, but teachers knew what every student is up to in terms of their academics.
With the explosion of e-learning, the value of this relation has degraded & affected the reputation of institutions. Parents no longer believe that studies can be done in an equally good manner while attending online education classes. However, with an effective learning management system, as an educator, you can overcome these challenges quite swiftly.
Here are the 3 ways how e-learning software can enhance your K12 school reputation in 2020…
1) Don't Just Brainstorm – PLAN!
Okay, so this hack might sound like I am trying to ask brainstorming some really "cool" ideas, but it's nothing of that sort!
I am asking you to plan out your goals!
REALISTIC goals!
When it comes to e-learning, you get a lot of areas to explore such as conducting video lessons, uploading e-books, arranging podcasts, and stuff like that. So, you might say that you want to conduct 5 live video sessions daily. But, do you think that possible? It's not!
Don't believe it? Think about the daily routine of your e-school for a second.
From managing online attendance, uploading assignments, taking quizzes, tests, to reviewing the daily activities of kids, arranging 5 live video lesson sessions is honestly, impossible to achieve!
If you expect your k12 faculty & staff to work on such goals, you need to wake up from the "rosy dream"!
So, plan out online teaching-learning strategies that could actually work!
2) Create an e-Content that Resonates with Your Brand
Have you ever heard students saying that e-learning is boring?
Probably you have, right?
I'll tell you the core reason. There are thousands of schools that are producing similar types of e-content.
The syllabus & curriculum is plain. It has nothing new to offer to the kids.
There's a great possibility that your kids will get bored if you deliver them the same e-content on their platter.
I would like to suggest a secret here. A tried & tested secret to online education success.
When it comes to developing e-content, you don't need to make some mysterious or complex stuff that no one else is producing. Of course, you need to prepare easy-to-digest content but it should reflect your brand value.
Create something actionable, which could improve the student performance, something which is interactive, engaging, and easily understood by kids.
It's that simple!
3) Grab the Attention of your Students via Clear Communication
As I discussed in the beginning, the teacher-student connection loses its charm in the virtual study setup.
Let's face it. Getting student attention is an uphill battle when it comes to online classes.
You lack that human-touch.
It's tough to understand their emotions & feelings online. You somewhere miss out on seeing the expressions of your students from your eyes. The psychological power play vanishes.
Fortunately, with a learning management system with e-learning modules like communication forums, you can bring the ball in your court.
Give your students an opportunity to speak their heart out.
Thinking what to discuss?
Ask them to explain the key takeaways of recently taught lessons or you can even ask them for a genuine feedback on your teaching skills. Here you can't judge them by their expressions, but you can get a sense of what they've been thinking.
You can "observe" & "read" their mind clearly.
I mean it!
You must take advantage of online communication forums & keep a tab on what students have to say. It is not a fancy process, but when you actually listen to what your students have to say, you can grab their attention towards improving the learning process without spending a dime!
The best part? You can dedicate some time for healthy performance boosting discussions everyday!
To Sum Up
I'm a huge believer of education technology.
I truly truly truly believe that tapping into the right school ERP software & edTech tools like LMS, institutions can multiply their brand value by 10 times!
If you're on the same page, let's get connected right away!