Lead & Admission Management Software | Helpful Tool Guide to Attract and Manage New Admissions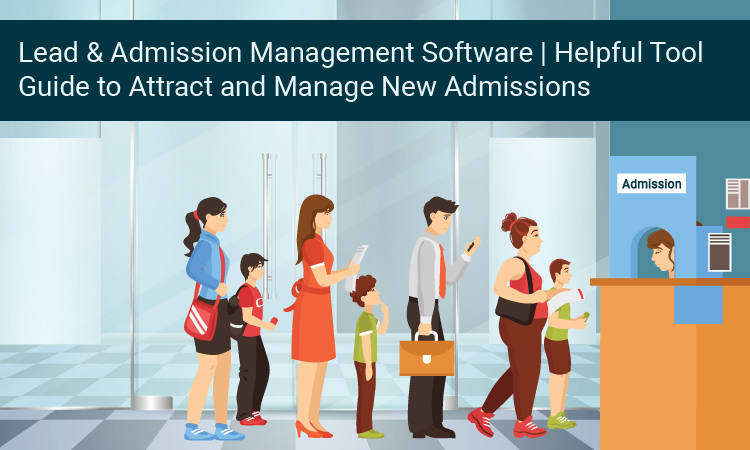 Educators and administrators handling student enquiries and admissions paperwork manually had to face a lot of hassles. This was till their school management system brought them succor in the form of an admission module designed to collate, streamline, rate, and process student leads, enquiries, and admissions efficiently.
MasterSoft's Lead and Admission Management Software is an intelligent & efficient ERP that does what admission administrators have been doing manually. The pace at which it processes the admissions online is extremely rapid. And the range of tasks it can accomplish far wider.
Here's why it makes sense to invest in highly sophisticated admission ERP that will guide interested students to your school or college and pick out the best ones for you to educate:
Creates a quality lead pool: What prevents enrollments from picking up in many institutions is the absence of accurate information about potential leads. An integrated lead management ERP reaches out to potential students by running campaigns across several platforms: Emails, AdWords, SMS, and Social Media. While tracking the student enquiries, it automatically captures the leads. It then sifts through the leads and, based on certain parameters such as time spent on your website, the number of times the site was opened, etc., it rates the leads. This helps in making informed decisions that are data-driven and can lead to a better, more authentic pool of leads.
Nourishes leads optimally: Students & parents who have enquired need to be kept in the admissions' loop to keep them interested in your institute. This can be done by sending reminders and updates on tests, interviews, deadlines, etc. MasterSoft's Business Intelligence-based model generates reports on each lead and helps classify it according to previous communications, gender, origin, location and more. From a disparate mass of leads, the system creates small focused segments based on the students' preferences, courses or interests. Only relevant messages are sent to them based on their previous communications. The list of leads is thus optimized by funneling the most authentic and qualified candidates towards conversion.
Prevents aging, duplication and leakage of leads: An inevitable challenge in the admissions process is the duplication and leakage of leads. These are common pitfalls when the process of admissions is managed manually. It stands to reason that, in order to generate an authentic database of potential students, the twin hurdles of duplication and leakage of leads need to be eliminated. Parents and students may make multiple enquiries. The same lead could originate from different channels. Our system rapidly identifies the channels and thus manages to eliminate duplicate leads.
Also, leads can age or can be lost to the institute when administrative staff is unable to give them all the attention they deserve because of workload. In such instances, the ERP Software continues to send gentle reminders or engaging content such as videos and testimonials to bring the leads back to the fold, and guide them towards conversion.
Lead Conversion: A fair and equitable process of admissions is ensured when a software takes charge. The criteria for retaining the best leads and urging them to convert are objective. The admission management system merely seeks to match the interests and capacity of the student with what the institution has to offer. A standardized assessment gives every student an equal opportunity.
Saves time and resources: Automating the admissions and lead management process is a sure-fire means of preventing staff efforts. This education ERP module saves time, paper, energy and money and frees up educators and administrative staff for more pressing matters such as interactions with students and parents or academic and career counseling or, eventually, interviews.
A most effective marketing tool: By reaching out to potential students in remote corners of the country or the globe via social media or other online means, the lead management system is also proving to be an excellent marketing manager. Once leads are captured and classified, customized emails or text messages can be sent to these leads. Thus, a vast and effective marketing campaign also keeps track of the responses generated and is able to funnel them into a credible and authentic database. Moreover, the marketing campaign can be adjusted by the system based on the leads generated. If it is found that most leads are originating from a particular area while another area has yielded fewer leads, the campaign can be reviewed and the marketing strategy can be changed.
Enrollment targets often seem steep to the school management. Reaching these targets requires insight, diligence and intelligence. Expecting school administrators and managers to consistently meet admission goals would be a tall order by itself. MasterSoft Lead and Admission Management Software comes with the promise of helping schools meet and, indeed, surpass their enrollment targets by providing steadfast support in capturing, nourishing and converting the largest possible number of leads.