5 Key Features Your Student Information System Must Have!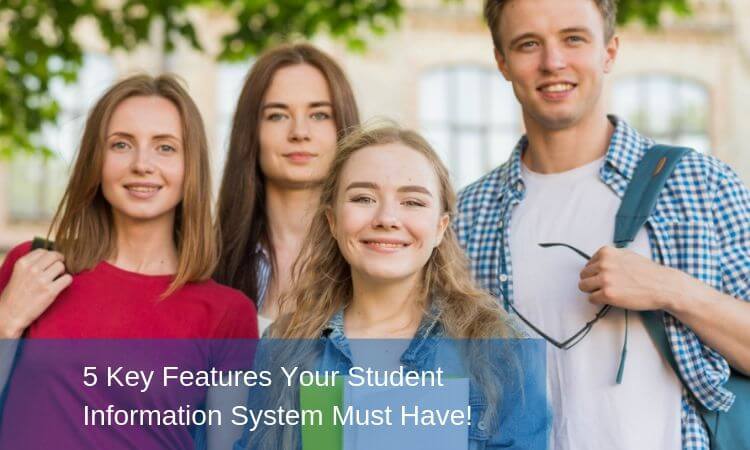 'Teaching, taking attendance, managing records, and repeat!'
If we look back in time, a regular day of a teacher at school would shrink to taking lectures, managing notes, assignment papers, attendance registers, and doing loads of paperwork to keep track of student-related data. Hopping fast forward to the tech-enhanced 2019, the scenario has changed. Today, schools have become reliant on ERP technology for data management and student information management systems (SIMS) has become a vital part of the administrative system.
A student information system is capable of automating and simplifying the tasks in an educational institution, which in return can save a lot of the time spent on manual data entry. However, merely automating daily tasks is not enough to cater to the long term goals of an educational organization. Your SIMS must be engineered to improve student and faculty retention, collaboration, and success.
Here are the 5 key features that student information system (SIS) of every educational institution must have...
Cloud Technology
Although on-premises SIM can provide great results, education institutes should consider switching to cloud-enabled student data management system. The reason is, with cloud-based systems, you will get strong connectivity, reduced work time, and cost-effectiveness of usage. Unlike the on-premises SIS that is dependent on IT team or someone having expertise in handling software for manual setup to get connected to the local server, cloud sets you free!
Yes! With cloud technology, you don't have to worry about the setup and configuration as the installation can be done via the internet without any hassle. It will save your precious time as well as money that you can utilize for broader education priorities.
Data Tracking and Analytics
Education institutes have to maintain a vast database of students' information such as grades, timetables, library, fees, medical history, and more. Therefore, the student information management system for K12 and Higher Ed institutions should be capable of providing 360-degree visibility on data.
It should have a centralized database from where the students, teachers, staff, or management can access the data simply by entering their login credentials. Furthermore, the data would be of no use if the SIMS can't track and predict student behavior. So, the system must be embedded with analytics tools & dashboards that can help in analyzing the overall performance of students by sorting, simplifying & presenting the complex data in systematic form.
Effective Communication
Communication is an influential factor in the success of any institution. A student information system must have an effective communication module to increase engagement between teachers, students, and their parents. For instance, if a student wants to take sick leave, he/she should be able to make a request for the same simply by login in the system. As soon as they send request seeking approval, it must get reflected in the respective teacher's account. In addition to this, the SIS must be robust enough to send time-to-time auto-generated alerts or notifications on key events like annual function as well as during an emergency.
Highly Configurable SIMS
A competent student information system must be highly configurable in nature. It means that the software must be simple enough to operate and meet the requirements of the institution. Irrespective of the software updates, it should concede the staff members or teachers to work according to their own methodology instead of creating technical hassles and wasting their time in learning something out of the box every time the software gets updated.
Alumni Management
Be it any school, college or university, alumni network holds a special place not because they were formerly a part of the institute, but they can still contribute toward the growth of the institute. Therefore, being a responsible institute, look out for a SIMS that can help you manage alumni network effortlessly and have features such as fundraising, business exchange, and membership programs.
If you are looking for a highly efficient system for your institute in-built with these features, get in touch with us! We are renowned for providing reliable education ERP solutions and services across countries like Ghana, South Africa, Nigeria, Kenya, Dubai, UAE, Qatar, Kuwait, Bahrain, Saudi Arabia, USA, and the UK.
Get in touch with us to know more about student information system!