Keeping Parents in the Loop through School ERP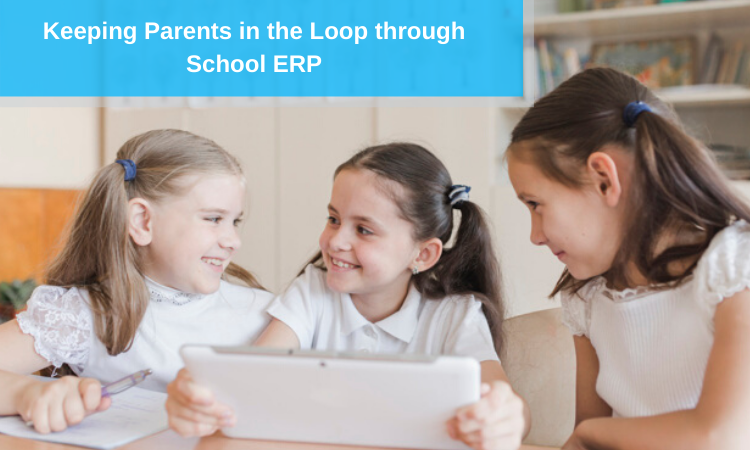 Why schools need to invest in education ERP
The daily grind for survival and a highly competitive working environment have taken their toll on the parent-school relationship. Parents' evenings have seen diminishing involvement of parents who are increasingly stretched for time and mental space. Those intimate, unhurried conversations between parent and teacher appear to be a thing of the past. What one sees instead are stressed out parents, unable to pause the treadmill of their working lives to give their full attention to their children's academic needs.
And yet, engaging parents in the academic lives of their wards remains a sine qua non of the child's academic success and mental equanimity. But what does it take to get parents to engage whole-heartedly in the academic progress of their children? The key to parental engagement that has a positive impact on the child's academic progress is, not surprisingly, meaningful, effective communication between parent and school. When schools and teachers reach out to parents by keeping them posted on the child's academic progress through SMS, email and mobile apps, parents feel inclined to reciprocate by getting proactively involved in the child's school life. School ERP software is just the tool, albeit a very powerful and comprehensive one, to support these meaningful Parent-School communications.
Why does Parental engagement matter?
Parental engagement matters because:
It creates a sense of security in the child, leading to confidence and high self-esteem. When parents are actively involved in the child's academic life, the child takes off from a place of comfort and peace. Inevitably, the child is more motivated to study, more positive about learning new concepts and desirous of bringing in results that draw praise from both parents and teachers.
It brings to the fore issues the child may be facing that would otherwise continue to fester and eventually become toxic for the child and the classroom. When parents and teachers collaborate, they can together seek and/or provide psychological support for behavioural issues, incidents of bullying or any learning disabilities that prevent the child from performing optimally in school.
It lessens absenteeism and improves class participation significantly.
This is a clear win-win situation for all - students, parents and teachers. Engaged and well-informed parents are better equipped to offer useful home support to their children. The teacher can support the parent with information and handy tips so the parent is more easily able to guide the child with home assignments. Better attendance and a motivated set of students in class create a learning environment where even the weaker students thrive. Teachers who receive positive feedback and face eager learners in the classroom have higher morale. Better grades, better attendance, higher self-esteem, better social skills, and improved classroom behavior - could one ask for more?
What hinders communication between parents and schools?
Communication between parents and schools can be hindered when there is an absence of clarity and coherence in messages sent out to parents. Communication also needs to be a two-way street. Unfortunately, parents from low-income groups or minority communities often find Parent-Teacher Conferences intimidating. Differences in culture, language or levels of literacy may contribute to miscommunication and some parents who are not confident of their own language or communication skills may prefer to avoid interactions with teachers or school authorities altogether. Here, only clear, non-judgmental and reassuring messages can help parents overcome their inhibitions and join the team of educators to support their children.
The need for a School ERP to connect the dots
School ERPs such as the one offered by MasterSoft play an important role in facilitating communication between guardians and teachers.
A good school Parent App can give parents all the information they need regarding their child's progress in a clear, concise and uniform format. Messages from individual teachers, when communicated through the App, would respect this format, eliminating any scope for confusion or error.
When reports, attendance records, homework, timetables, tips for support, updates and reminders are just a click away, parents and teachers benefit from the time thus freed up. Parents' Evenings are not then wasted on seeking and piecing together basic information. Parents and teachers can devote their conferences to discussing more pressing matters in-depth - the "Whys and Wherefores" of a certain situation, report or troublesome behaviour. Teachers, for their part, can spend more time doing what they are meant to do - teach - while leaving the administrative tasks to the ERP.
A single system, such as the SIS (Student Information System) assists the schools in managing every single detail about students in a holistic, organized and cost-effective manner. Parents do not feel judged when viewing their child's reports or records on their smartphones via clear, coherent and pertinent messages. The learning then continues at home, with the active support of well-informed parents.
When Parents double up as educators, children are bound to thrive. Ironically, it is technology in the form of School Management Software that is, today, restoring the soul to education.