Is Covid-19 Holding Back the Educationalists from Better School Management?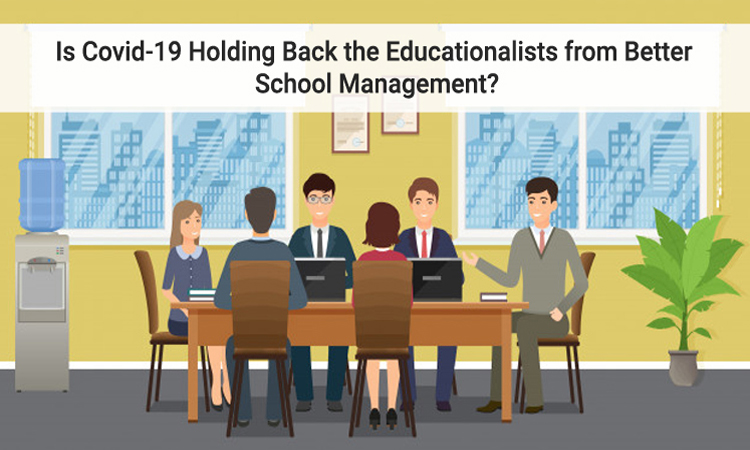 Alarm bells began to ring in the month of March in countries worldwide.
Who knew that a new virus is waiting to knock down the spirit of 2020!
COVID-19 seems to be eating every single aspect of our lives at the moment. It's a threat with the potential of destroying the entire global economy. Due to lockdown & closures following the pandemic spread the education industry is facing a challenging time.
Expecting things to be in control soon, is, unfortunately, not on the cards of students. It's not just me saying this. Leading educators share the same view.
'So, will this put a full stop on learning?'
Well, it totally depends on the approach of schools!
By developing a growth hack mindset, educationalists can turn the tables & manage their schools the same way they were doing earlier. In fact, they can do much better than before!
Let's see how it works…
What's the Growth Hack Mindset? How to Get in Tune with it?
If you're a school administrator who's willing to walk the extra mile, then I can guarantee that events will be in your favor. The following steps can help you change the adversity into opportunity.
Step 1: The first step in the direction of success is embracing school ERP software with online teaching learning provision. A few days back, I published a blog post discussing what a school information management system is & how educators can rate a good SIS. You can refer to the blog to get more details of school management software.
Step 2: When new changes happen, it becomes psychologically tough for humans to accept the change. The next step is to train your school's faculty & students to use the edTech and digital platforms. Teach your children that learning from video tutorials & e-books will be equally effective. In case, they miss their classmates & friends, ask them to join in live video chats!
Step 3: With the introduction of digitization & e-learning software, there will be a paradigm shift in the traditional ways of teaching-learning, but in the long term, it will be beneficial for you. So, when you plan out strategies, think of the long-term goals.
Don't forget to keep a close eye on what your competitors are doing and stay updated with the latest education technology.
Parenting & Teaching Should Go Hand in Hand
Everyone's talking about teaching. However, it's time to focus on parenting as well.
Both are like two sides of a coin. On one side, children are struggling with the learning management system (LMS), on the other hand, they just don't know what to do inside their homes for 24*7! They are having a hard time staying indoors. They don't get to meet their friends, play sports outside, or even watch a movie!
As per a recent healthcare report, the phenomenon of anxiety, aggressiveness, depression, and anger has aggravated in the little minds post-lockdown. Since parents are also busy working from home, kids feel left alone completely.
So, my suggestion to educators is to stay in touch with parents.
You can ask them to do the following activities regularly:
Install a school mobile app
Get the know-how of their academic progress
Speak to teachers from time-to-time
It will surely boost parental involvement and help schools tackle the COVID-19 situation with ease.
Got queries regarding the school information management system or ERP higher education?
Get in touch with my team today and schedule an online demo for free!