5 Ways Parents Can Improve Professional Life by paying their kid's Fee Online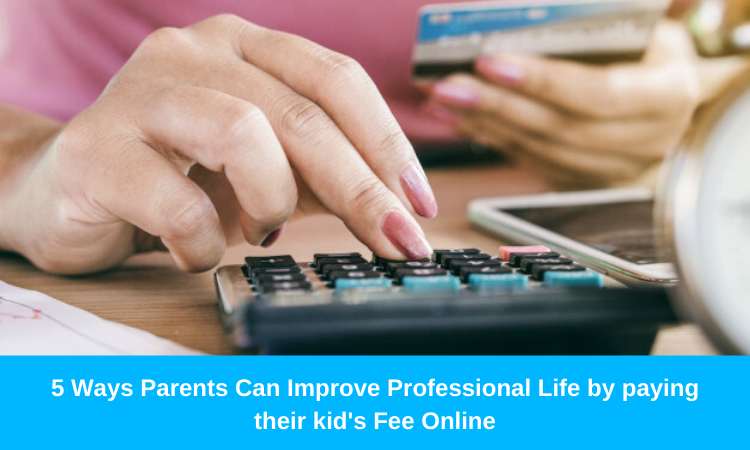 Parenting comes with a huge roller coaster of responsibility! Juggling professional work with personal life ain't easy. If you find yourself in the same situation, here's a piece of empowering advice for you - Utilize your time as much as possible!
To this advice, parents often ask me - How to have the "time"?
I agree, there are just 24 hours in a day and there's no practical way to extend the time limit. However, by taking small steps towards being efficient with time can dramatically improve your professional life! Start by making notes of the activities that are consuming your time. For instance,
Paying school fees is one of the most time-consuming tasks that every parent has to follow mandatorily.
If you don't get time off to visit schools & eventually you're stuck up in the pattern of standing in long queues that costs you an entire day then, you can opt for an online fee payment method.
Not sure of how it works?
In this article, I'll discuss how you can switch to online fee payments & boost your professional life positively...
No More Distractions

I have seen parents who constantly check their work-related emails every couple of minutes as they stand in the queue for paying school fees manually. Stressing out like this can take a serious toll on health and develop conditions such as anxiety. However, they are tied to the nature of their professional work which sometimes can't be avoided. For dealing with such panicky situations, nothing better comes to my mind than online fee payment software. It can beat such an engrossed environment by giving parents the option to sit, relax, and pay!

Stay Active & Work More Productively

Case A)Standing in a queue in the peak afternoon time for quite a few hours, sweating badly, paying children fees, rushing back to the office, again start working.

Case B) Sitting in the AC room, picking up your phone, log in the school fee payment portal, entering the amount to be paid, payment successfully done, getting e-receipts, resuming the office work.

Which scenario would you like to be a part of?

The second one, right? This is how you can save time.

Choosing online ERP software for school fee payment thus simplifies everything & allows you to be more active & productive. An easy way out to impress your kids as well as the boss!

Enjoy Healthy Meals without Worrying

What did you eat for lunch today?

I bet more than half of the parents reading this won't answer it instantly. Skipping meals & eating food in a hurry has become a common norm. Parents often scold their kids for the same & irony is they end up doing the same. Imagine if such a lifestyle continues how much trouble you'll be inviting? If you utilize your lunchtime for visiting kid's school for paying fees, then get the idea out of your head straight away. As I mentioned, just switch to the school management ERP system. You can visit school authorities if you find any difficulty in managing it, but be sure to adopt it at the earliest. Do eat your lunch on time!

Mind Refreshing Activities

My mentor once told me - when you feel good, you perform your best! Now that you have decided to embrace edTech, you'll undoubtedly save so many hours. You can use the time for playing sports or doing mind-refreshing activities such as Yoga! Even if you have 20 minutes a day, consider going for a brisk walk or take your kid to a park. It will surely bring a huge change in your personal as well as professional life.

Good Night Sleep

If a modern-day genie appears, a night of sound sleep is all I'd wish for! Blame it on 18-20 hours of work or your dedication towards your dreams, sleep deprivation is a saddening reality. While I don't promote taking naps during work, I unequivocally recommend you to have proper 7-8 hours of night sleep. Your system gets hung up when you work on it continuously and you have to restart it. Our body functions in a similar way. It needs rest. Utilize your saved time for getting a sound sleep.

In a nutshell, working parenthood is a challenge, regardless of how brilliant you are! There's no permanent fix or formula for balancing personal & professional life, but efficiently utilizing edTech for managing school payment can be a savior.

Get in touch with us if you find this idea viable & want to explore more about online school fee payment software!