How Teachers Can Leverage Student Information System?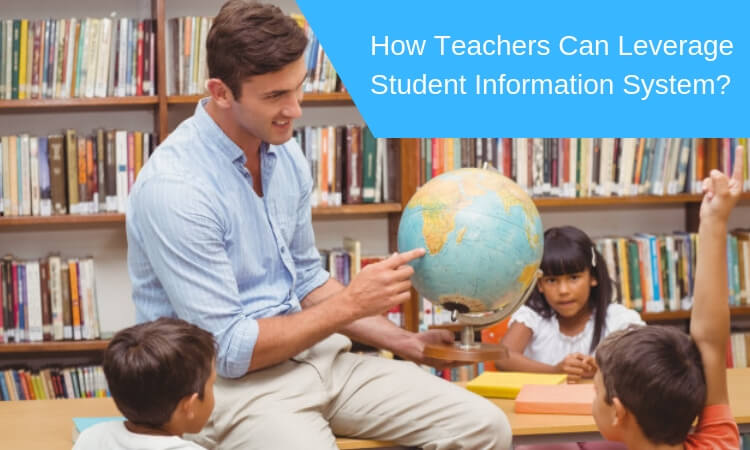 Teachers are the backbone of any academic institution. A school is only as reliable as its teachers.
Teachers play an important role in the formative years of students. Thus, it is necessary to provide teachers with tools that help them tutor students in the best possible way. When schools empower teachers with technology, teachers are able to manage their time more efficiently and increase their productivity.
Some schools are hesitant about introducing technology in classrooms as they believe that conventional teaching methods alone are beneficial for students. But technology doesn't replace teachers.
Technology can only be a mechanism teachers utilize to make their teaching more effective. Students retain information better when their curiosity is piqued. Technology is a medium that students are already comfortable in using.
Student information management system automates the entire student lifecycle. It provides support activities for staff, teachers, students, and parents. SIS contains demographic data about every operation that takes place in a school.
Teachers can depend on SIS to improve daily operations, enhance productivity and figure out areas of concern.
Listed below are ways in which student information management system can be helpful for teachers:
Gradebooks
Teachers spend a lot of time in compiling various records of each student into one comprehensive report. This not only wastes important classroom time but mistakes can creep in due to human error. With the grade book feature in SIMS, teachers can simplify the process of creating customized student reports.
Gradebooks are an online file of a student. They contain all the information of a student right from grades of tests to performance in sports. The grading system can be tailored according to the needs of the Institute.
Reports made with grade books are in a proper format and are ready to print. So teachers can produce physical reports of the entire class with just a few clicks.
Parents and students have access to grade books and they can access it from any device and from any location.
Teachers can also create targets, curriculum mapping, etc with the grade books. This helps teachers to be more efficient and teach more effectively.
Dashboard Analytics
It is important that teachers know how every student of their class performs. For this, teachers need a single detailed report of student performance in every subject. Manually creating these reports for every student is impractical.
Student information system are equipped with dashboard analytics. These dashboards quickly analyze student information stored in the grade books and curate a comprehensive report of individual students.
According to a Statista report, 89% of students are interested in personalized dashboards that give you real-time feedback about your progress.
The reports are in the graphical format so information is represented in the form of graphs, tables, and pie charts.
Humans are visually oriented so teachers find it easier to analyze information better when it graphically represented. Therefore, they can evaluate student reports in one glance.
This helps teachers to figure out areas of concern and implement new strategies to improve student performance. After implementing new strategies teachers can once use these reports to check whether the new strategies are working or not.
Attendance Management
The attendance process is an important administrative task but can become mundane for teachers. By manually marking the attendance of every student in a register, teachers lose crucial classroom time.
With the attendance management module in the student data management system, teachers can mark attendance in just a few moments. This module marks every student present. Teachers just have to mark the absent students attendance.
Parents send in leave applications online. The attendance management system marks the absentee students 'on-leave' for the dates mentioned in the application. This helps the teacher to mark attendance quickly and focus on teaching.
Another disadvantage of manually marking attendance is that if the registers are destroyed due to some reason, data is lost completely and cannot be retrieved.
On the other hand, attendance records stored in the SIS have multiple backups and layers of encryption. This makes data extremely secure.
Parent-Teacher communication
Parent-teacher communication affects the amount of time parents are involved with their child's education at home. Students grow only when they receive equal amounts of support from both parents and teachers.
Students can improve only when they study in classrooms and at home. For example, when a topic is introduced in a class, students will retain it better when they go through it once at their homes.
Any doubts arising can be cleared with the teacher the next day. This ensures that teachers can move forward with the topic rather than repeating the same thing again.
When parents are in touch with the work done in school, they can make sure that their child is completing tasks on time. But with busy schedules, parents can find it hard to communicate with teachers. Another reason for the communication gap between parents and teachers may be due to the reason that some parents reside in different cities.
To eliminate the communication gap, SIMS has an in-built messenger feature. With this feature parents and teachers can interact in real time from anywhere.
Teachers can send daily homework and parents can clear their doubts directly with the teachers. Additional study resources like ppts, articles, videos, etc can be sent by the teacher through the messenger.
Thus, SIS should be used in every school so that teachers can provide students with the best schooling experience.
For more details schedule a Demo today!!