Enhance Student Lifecycle From Prospect To Alumni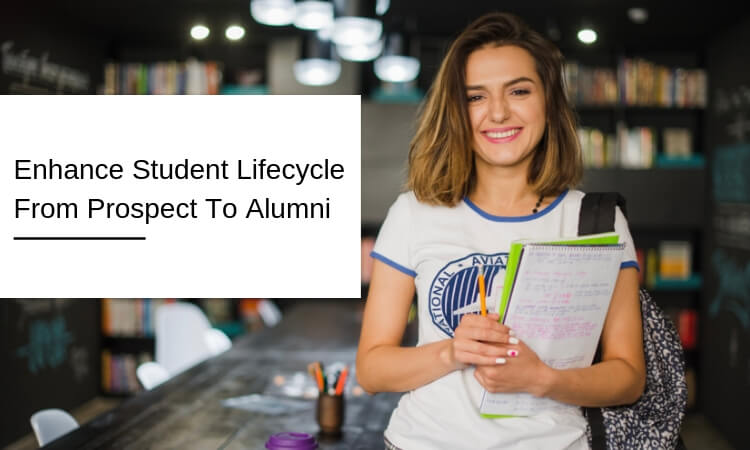 A student begins their journey from a prospect and ends by becoming alumni. Every year new prospects turn into students and students convert to alumni. The most important aim of any school is to provide quality education and ensure that students are qualified enough to compete in the global market.
Students not just expect quality education and coaching but also a healthy relationship with their alma mater.
As prospects, students, and alumni are acclimated to personalization at every level it is important for institutes to develop and sustain a healthy relationship with them. But how do Institutes achieve this?
The answer to building healthy relations with students is information. Yes, information is the key to maintaining relations and if properly nurtured, can be efficiently used to create and sustain bonds with anyone. Students in your Institute attempt and master various activities. Some of them may succeed in examinations or scholastic competitions and others may be excelling in sports.
Campus Management Solution - Strengthens Student Relationships
A campus management system is a simple solution which allows you to streamline all operations and manage them more efficiently. It also automates a lot of operations which gives you and your staff members more time to concentrate on enhancing student outcomes.
For example, the CMS sends automated SMS and Email about various important events and activities which can help you in instantly reaching out to the students and also ensures that the message was delivered to the right person at the right time. It is also equipped with multiple tools to enhance the student experience and solution is an important asset for any size and type of school.
It is also termed as the student information system, and it not only stores all the student-related information but also manages, tracks, and organizes data. It also allows you to take more advantage of the data. You can create a data repository that contains all your student information ranging from prospects to alumni in this exhaustive database.
Lead Management System
The lead management system is the initial step in storing the crucial data of the prospects who may become your students. All the general and basic information about the prospect are saved in the system. This information is very valuable for many reasons. Firstly, this information aids Institutes to get a general idea about the prospect which is helpful in recruiting the student successfully.
Secondly, this information can also be used as base information, which is useful in comparing the results of students in the future. For example, the previous marks or grades of the student can be compared and if required, necessary steps can be taken. This way, you can improve student outcome substantially with the right tools, methods and most importantly - accurate data.
Lastly, the data can be further used to identify and retain possible patrons. The preference, hometown, current city, former alma mater, and interests play an important part in recognizing potential patrons as well as retaining them. This information is the initial step in maintaining Student Relationship Management.
Student Information Management System
SIMS or the student information management system is generally used for storing student data starting from the stage when they are prospects until they become students. Information about the student like teachers, marks, attendance, classes, and other important details about the academic and non-academic activities is saved in this system.
This information is beneficial for evaluating student performance and can be used to increase student outcome. Also, by analyzing this data thoroughly teachers can find meaningful patterns, with which they can easily identify the areas in which the student is comfortable and areas where they need more help. This again helps you in educating the student better, which results in forming a healthy relationship with them.
Alumni Management System
The alumni management system manages all the data associated with a student once they become an alumnus. With this data, Institutes can find potential donors and retain them. The contact details, which is one of the most critical information, is stored in the system.
If schools or colleges, show interest in the alumni about their prospective endeavors or job opportunities, then they will reflect back the same interest. If Institutes want the alumni to become a donor then they need to care about students even after they graduate.
Thus, student information systems help to form and maintain strong relations with students. An ERP integrates all the above-mentioned systems which help Institutes have a unified platform for all operations. This is proves to be extremely helpful when comparing information from different stages of student lifecycle.
Get in touch with us to know more - Schedule a Free Demo!!