How Educational ERP Solutions is Becoming Power Bank for Schools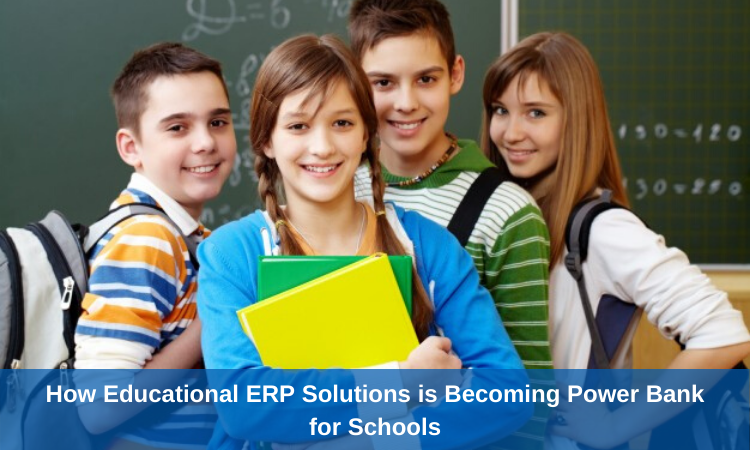 Schools!
Collage of happy memories. A place where we spend maximum time of our incredible childhood. First learning platform where we develop hobbies, which we may pursue as a career in the future. We totally understand how crucial the teaching-learning environment of the school is!
Schools being an important learning space that shapes & liberates the mindset of young dreamers, educators must move to the edTech for enhancing the quality of education. With school management software, you can exactly know the gaps in the teaching & learning pattern, and sharpen it up by with customized & apt inbuilt modules. Speaking frankly, edTech is becoming a power bank for schools because of the diverse "game-changing" advantages it offers. We have compiled a list that will unveil how the school management systems can help you cross milestones & achieve your goal of institutional success.
Empower Students by Hiring the Right Faculty
"The empowerment of children starts with the empowerment of faculty!"
This is what we have observed & learnt so far. The entire result of students is, in a way, dependent on the faculty. The way they teach, the way they behave with children, the way they encourage kids to perform better, all of it counts when we talk about student progress. So, it is the responsibility of school administrators to pay attention while choosing or hiring the faculty & assistant staff for the school. They need to scrutinize them based on their personal as well as professional terms. For finalizing the most eligible candidates to fill the position of teachers, faculty management software is the best solution. It helps you screen the entire number of resumes & sorts out the top-notch candidates & prepares a merit list. You can directly call the shortlisted candidates for interview & perform the hiring process. Here, in this case, you don't have to take the headache of going through the multitudes of applications. The software would do it automatically thus, saving the time of both candidate & interviewer.
Ease the Workload of Teachers
So, after hiring the best teachers, school administrators need to take care that they aren't burdened with the workload. The "extra-workload" can give rise to frustration & deteriorate their quality of work in the long term. As the teachers need to execute paperwork & fill in data of students from time to time, they are bound to make errors. Plus, the papers may get misplaced and result in loss of sensitive & confidential details of the institution. With the implementation of the school management ERP system, faculty never has to face any such issues. The cloud-hosted ERPs help them to collect, store and save the student data at a centralized digital space that is easily accessible. Alongside the increased efficiency & accuracy, there's no space for data loss. It further protects the data from hacking & data theft by encrypting the data during transmission & reception.
Get Benefited from Power BI Tools
Managing the information of students in itself ain't a simple task. On top of this, faculty members need to keep track of the students' academic records to help them accelerate their skills.
Imagine you are a salesperson & you need to meet 20 people in a day & have to explain to them a concept. Besides this, you also need to remember their names & what feedback they gave, what doubts they had, and what solution you offered to them. Difficult, right? A teacher's job is a hundred times tougher. The teacher needs to conduct lectures, have to constantly upgrade their teaching techniques, manage daily routine tasks like marking attendance, plus, they need to remember details about students!
Thanks to the school management systems integrated with BI tools such as Analytics Dashboards that make the analysis & evaluation part extremely simple. The analytics dashboard provides teachers specialized reports that reflect every nook & cranny about the performance of students. Faculty can analyze -
Top-scoring subjects
Low-scoring subjects
Participation in extracurricular activities
Attendance history
With such information in hand, educators & faculty can plan out strategies & make smart decisions for boosting students' overall development.
All-in-all, education ERP solutions hold the power to transform passive learners into active learning students. Also, it prepares a smooth gateway for faculty & educators to drive high student success ratio by enhancing their work efficiency.
For conveying your thoughts to us or exploring more about ERP for schools, get in touch with our team right away. We await your response.