How Educational ERP Software is helping Institutes Go Paperless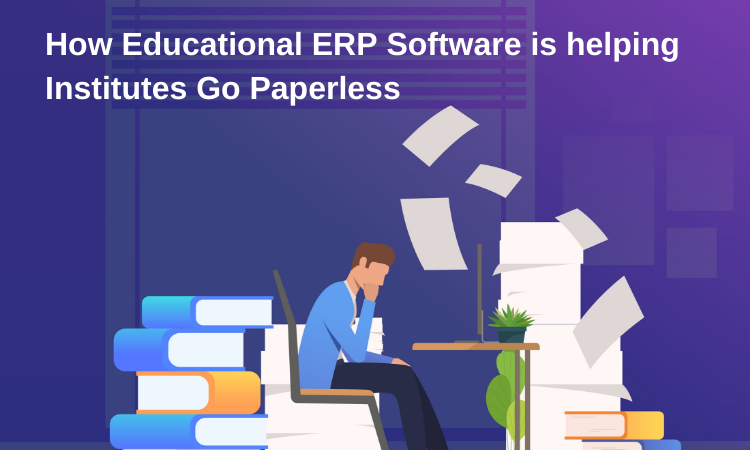 A glimpse into the revolution brought about by Educational ERP Solutions
Educational institutes have long been debating on the worth of traditional systems of administration and their relevance today. But even the most conventional cannot deny the need to eliminate the 'paper' from 'paperwork'. Apart from the most universal argument that a paperless school management system helps reduce the carbon footprint, it is becoming increasingly clear that organizations that do not adapt to the realities of contemporary society will struggle to survive.
Administrative and financial departments in schools and colleges are today expected to report more frequently and in greater detail to local authorities, tax authorities and trustees. Not having their records in order could land them in serious trouble. Moreover, employees are also working under considerable time pressure. Educational institutes are burgeoning across the globe in tandem with the growing number of students entering higher education. Admissions, income, communications, library resources, human resources, student profiles - the numbers generated and stored can be astronomical!
Take finances. The reams of paper required to handle income and operating expenditure would be mountainous. Tuition fees and education contracts, funding body grants, research grants and contracts, investment income, donations and endowments - these and perhaps many more sources of income would have to be calculated, consolidated and reported in a clear and concise format. For audit purposes, the records would have to be preserved carefully, in a secure environment.
A financial ERP would offer electronic space that is far more compact and economical that physical space. It would provide security via ERP security options such as Role-Based Access Control. Cloud-based central hosting would ensure that the staff of the financial department is able to access the data whenever and wherever needed. The institute would benefit from significant direct cost savings on stationary, stamps and courier. Financial administration becomes far more efficient, saving precious time and resources, when done electronically.
Many other tasks can be handled by educational ERP software with the same efficiency: Student profiling, online admissions, fee payment and receipts, parent-school communication, examination time tables and progress reports, library management and analyses of data, to name a few.
Institutes that go paperless reap multiple benefits from the digitalization of their operations. Here are a few:
The creation of a positive, engaging and efficient work ecosystem.
By eliminating needless manual operations and repetitive tasks, by reducing workplace pressure, by avoiding wastage of time and resources, it helps in streamlining operations throughout the institution. The integration of student data with other data sources or digital devices takes data processing to another level altogether. Data is no longer scattered and unmanageable. It is consolidated and leads to better coordination between different departments.
Data security guaranteed
The data privacy that an ERP ensures is another very good reason to go paperless. Student data is relatively easy to steal, manipulate or alter when stored in paper format. A well-conceived Student Information Management System provides multiple layers of security. The role-based access control (RBAC) that ERPs provide clearly defines the roles of staff members and only grants limited access taking into account the role of the stakeholder.
Totally errorless operations.
A paper-based administration is prone to human errors. Files are likely to be misplaced, lost or wrongly classified. When the ERP system does all the calculation and organization, there is no scope for mistakes. One can expect perfect scheduling, for instance, with a good Time Table software, whereas the same task done by a coordinator could result in overlapping of periods or incorrect substitutions.
A most economical data storage mechanism
Paper is cumbersome, weighty and inconvenient to store and manage. Moreover, it cannot be easily backed up. It is virtually impossible to take photocopies of every document to safeguard the data. An electronic file, on the other hand, can be easily stored while saving on space and, consequently, on the money required to maintain the physical space and the cost of paper and stationary.
Real-time updates and access
A smoother flow of communications is ensured by school and college ERPs. SMS and email alerts are integrated into most school and college Student Information Management Systems. Parent-School Communication Apps help parents stay abreast of school events and the progress of their wards. Also, any change in data by one staff member can be viewed instantly by another member. By providing real-time access to information, timely action and rapid decision-making are possible for authorities.
Useful, actionable insights
Dashboards generate reports that can lead to helpful insights. Paper-based data is not easy to compile into a concise report, whereas the business intelligence tools in dashboards can segregate data and create reports in a format that is easy to understand and analyze. For instance, region-specific or gender-specific data can be viewed in a statistical format that is insightful and actionable. This helps authorities in decision-making.
Ultimately, by offering a viable and efficient alternative to paper, school management software is helping institutes save on their most precious resource - time. Thus relieved of monotonous tasks that paper-based operations entail, faculty, parents and school authorities can dedicate the time freed up by going digital to giving more quality time to students, and motivating them to become better learners. After all, what you focus on blooms!