How Education Technology Helps Students to Perform Better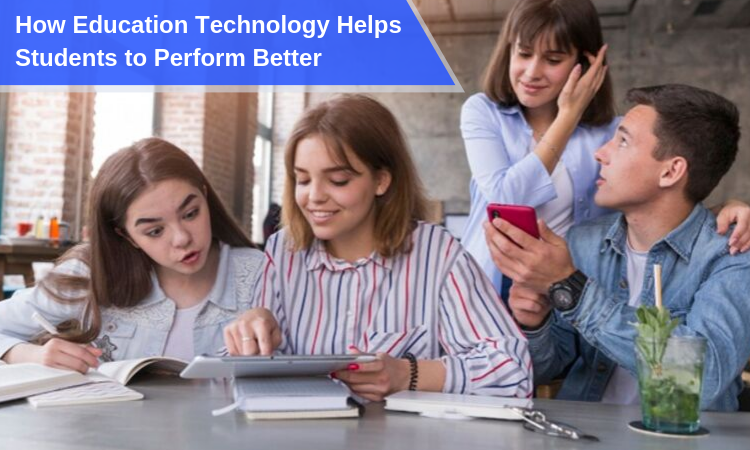 As digital advancements have rooted in our daily lives, the definition & responsibilities of educational institutions has changed a lot. Long gone are the days when teaching was confined to a four-wall classroom and the only available tools were - chalk and a blackboard! Thanks to technology, today students have the freedom to learn anywhere and at any time, and collaborate with any teacher that too with mere clicks of a button!
Being an educator, if you want to know how you can reap the benefits of introducing technology in the classroom then, keep reading the article. We have compiled the top 3 benefits that will help you gain insights about how edTech can help students excel and escalate the overall results of your school.
Here's how education technology can help students perform better...
Complete Focus on Students' Growth
Ensuring the highest education standard & student success ratio in terms of their academics as well as personal is not an easy task for the educators. It takes dedication, time, and great efforts from both the school management and teachers. The biggest challenge that educators face is - teachers fail to focus on children because of the burden of non-teaching activities such as marking attendance, assigning homework, and it results in a communication gap between them.
Recent research shows that a teacher spends nearly two-thirds of their time executing tasks other than teaching. In such instances, a school management system can prove to be a boon! A School ERP System can minimize the operational time by allowing teachers to register attendance within a few minutes and assign homework virtually! To be honest, it will help teachers pay more attention to students resolving their queries and providing thorough guidance.
Provision of Online Teaching and Learning
Classroom education has its own limitations. It's not always possible for a student to physically go to a school for learning. Reasons could be - distance, location, physical disability, or major health issues. These reasons may break the will of a child who wants to learn and achieve great things in his/her life.
This is why the concept of e-learning has been introduced & has become extremely popular amongst top-notch educators across the world. Interactive e-learning or the provision of online teaching and learning breaks all the barriers by enabling teachers & students to collaborate at any time and anywhere. It allows teachers to share study materials, teaching plans, notes, audio, video files, and much more. Also, enables students to communicate with them whenever required. All-in-all, an Online Teaching and Learning Education ERP Solution is an extremely empowering tool for students.
Precise Analysis with Dashboard Management
Analysis of students' performance is equally important as teaching. Teachers must keep a tab on the academic performance of students in order to identify their shortcomings and strong points. It would help educators understand & improvise their strategies for long-term student progress. However, it's quite a difficult task for faculty members to monitor the performance of hundreds of children studying in the school. But, with a School ERP Software embedded with Dashboard Management System, the task can be accomplished without any hassle. Dashboard with intelligent analytics tools help teachers generate accurate reports of students' performance. Teachers can scrutinize these reports for understanding the academic challenges faced by students and help them perform better.
To Sum Up
Technology in the classroom can add new dimensions to the field of teaching & learning by eradicating all the major challenges. It serves as a platform for fulfilling the goal of making children sound academically as well as personally. Educators must embrace edTech for ensuring student progress in true sense & achieving scholastic goals within a short span of time.
Get in touch with our team to explore more about the benefits of the school management software.