Edtech engaging teachers & parents to drive student success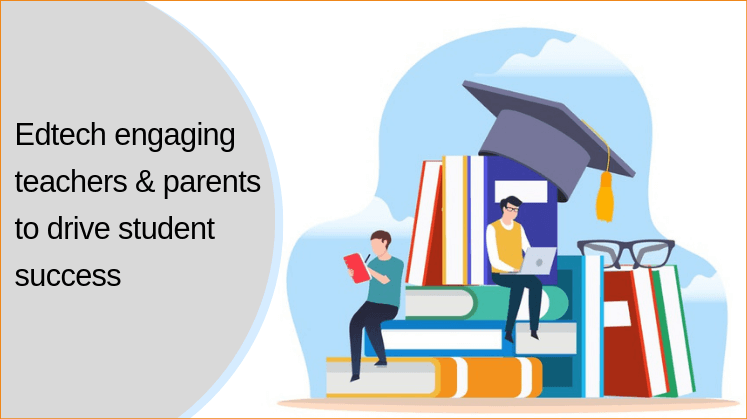 'Teacher: Being a teacher is tough'
'Student: Being a student is tough'
'Parent: Being a parent is tough'

Well, if you closely analyze the perspective of each from the 'parent-teacher-student' trio, everyone stands absolutely correct. It's not that just the teachers have a tough job. Without an obedient student, they'll fail. Similarly, without the encouragement of parents, even bright students couldn't do anything. As K-12 academic parameters are becoming pedantic, the guidance of teachers and parents is becoming an integral part of a student's life and a driving force to help them perform better. However, in today's busy lifestyle, it's not possible for parents to stay in touch with teachers and to be honest, less parental involvement may affect the children negatively and lead to poor academic outcomes in long-term.
Is there any solution for enhancing teachers-parents communication?
Thankfully, Yes! Implementing Education ERP in K12 & Higher Ed schools can bridge the communication gap between teachers and parents.
Here's how educators can improve institutional effectiveness with the help of edtech...
Analytics Dashboards for Generating Performance Reports
Cloud-enabled ERP software embedded with an analytics dashboard is the best possible solution educators can have! Cloud technology allows educators to assign role-based access to teachers, and staff members to perform various operations and monitor scholastic activities from any place and any time simply by logging in the system with their ID credentials.
The inbuilt analytics dashboard is capable of collecting and assessing the student-related data, to generate precise reports of their performance including the daily attendance, academic grade history, active participation in other activities, and much more. Teachers can share these reports with parents via their personal ID in order to help them trace the progress of their ward without any hassle.
Integrated Mobile App for One-to-One Discussions
School mobile app is the trending solution amongst top-class educators across the world. As the name signifies, a school mobile app is an ERP solution integrated with the mobile app. It enables the teachers, students, and parents to communicate with each other even beyond the four walls of the classroom. Teachers can easily assign assignments, homework, and study material including video lectures, PPTs, PDFs and much more to students with mere clicks. Plus, it allows busy parents to have a private discussion with teachers regarding their children. Parents can share their concerns and views regarding studying habits of children and make the teachers aware of the academic problems the children face in school but hesitate in apprising to teachers.
Notify Parents about Important Events
Apart from the academic curriculum, teachers need to arrange a lot of extra-curricular activities & events to help enhance the overall development of students. They need to invite parents to attend the activities, functions, and events from time-to-time. However, with a hectic schedule, they may miss out sending an invitation to some parents. It may further leave a bad impression on the minds of parents and increase the teacher-parent communication gap. With a mobile app integrated ERP solution, teachers can send notifications to parents within a few minutes and whenever they want. All they need to do is generate a message to be sent and select the group of parents. It's that simple!
Parents will surely appreciate the thoughtful efforts and these small steps will instill a sense of faith and trust in them for the educational institute.
To Sum Up
Even top-most educational researchers agree that teachers and parents role is substantial when it comes to student success. Therefore, educators willing to take their scholastic goals to a notch higher must invest in school ERP at the earliest.