How EdTech Can Help in Monitoring the Faculty Performance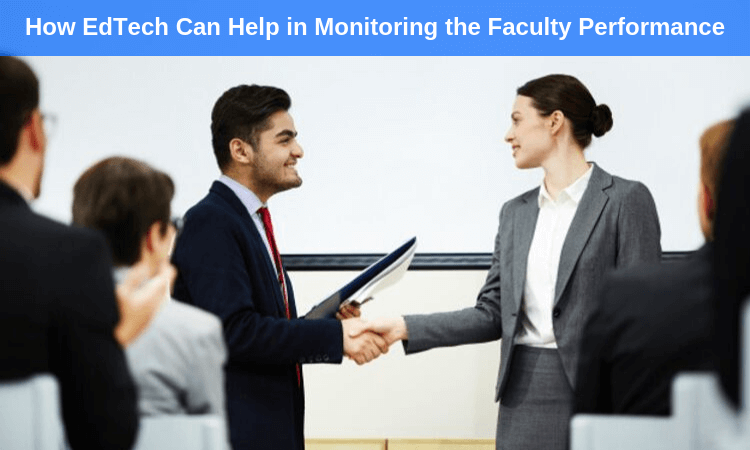 In this tech era, every educator is concerned about students' performance when it comes to accomplishing academic goals. However, they need to understand that faculty plays an equally crucial role in helping them achieve educational excellence and boosting the overall institutional performance. There's an old adage that states that we reap what we've sown which seems apt for educational institutions as well. If the employees or resources fail to perform as per the core requirements, the same will be reflected in the students' performance and it can adversely affect the reputation of the institution in the long run.
An adept Faculty Management System can prove to be a boon for educators who are keen to track, evaluate, and upgrade the faculty performance. The three most important parameters that can significantly help educators to meet their end goal include recruitment of appropriate resources or faculty, tracking their punctuality & their seriousness towards work.
Here's how a Campus Management System can help Educators to monitor faculty performance with ease...
Recruitment of Appropriate Resources for Better Results
First and foremost, the recruitment of resources that have adequate knowledge & skill set is a must for educators. Owing to the increasing competition in the education sector, finding the best faculty is not as easy as it seems. It consumes an enormous amount of time and requires great efforts. Educators may need to dedicate months for ensuring they get the best resource on board.
Faculty management software with e-recruitment provision can shorten the time span by speeding up the entire recruitment procedure. It enables educators to create an online vacancy on the portal & add their requirements & expectations from the job role in details. The software further helps them to generate a merit list of best candidates based on their qualifications, knowledge & abilities. Educators can send automated emails to the shortlisted candidates and recruit the ones that can bring value to the institution.
Faculty Attendance Management for Monitoring Punctuality
Just like students, faculties must also maintain punctuality & maximum attendance throughout the session. A faculty attendance management system integrated with a biometric device can automate & manage the ins-and-outs of teachers along with the exact time & date. It will help educators to calculate their month-wise attendance and thus, they can figure out their level of commitment towards their work.
The education ERP Software can also send auto-generated SMS or email notifications regarding late coming, early going, or poor attendance to the staff.
Smart Analytics Dashboard for Precisely Scrutinizing the Performance
Educators have to invest a lot of capital for meeting the academic expectations of the employees & students. But, what is the point in spending money if the institution doesn't get benefited? This is why it has become essential for educators to distinguish between employees that are an asset from those which are merely liability for the institution.
A campus management solution embedded with a smart analytics dashboard can serve the purpose by generating highly accurate & authentic reports regarding the performance of the faculty in terms of their attendance, the total number of lectures taken by the staff, additional non-teaching tasks done by the faculty, and complete utilization of their time. Educators can scrutinize these reports make effective strategies for escalating the productivity teachers.
In a nutshell, edTech provides endless opportunities to the educational institutions for enhancing their productivity, efficiency, and outcomes. Therefore, educators must invest in education ERP solution at the earliest.
Get in touch with us to know more about faculty management system!