College Management System Enabling Smart Decision-Making in Higher Education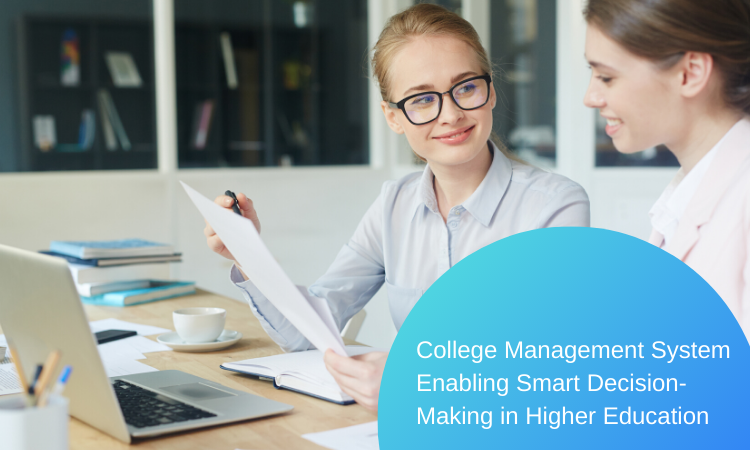 Traditional Learning:'I missed out on the lecture. Can I borrow your notes?'
Modern-Day learning:'I missed out on the lecture. Please email me the video lecture.'
Unlike the older generations, the gen-next students are a technophile. From searching for study materials on the internet to learn tough subjects via video tutorials, the learning methods of students have undergone a huge transformation. To nurture the minds of students with knowledge by providing them a better learning environment, higher educational institutions (HEIs) must implement a staunch and effective campus management system. With the right higher education faculty management software, the in-house work processes can be automated completely, and it also helps the management authorities to keep track of all ins-and-outs delivering greater operational efficiency.
We are listing some major advantages that your institution can reap with the introduction of edTech...
Operational Aspects & Student Data Security
'I have so much paperwork!'
It has become quite common to get across teaching professionals explaining the pain of paperwork they have to do daily.
To be honest, the biggest challenge every college & higher education institution face is managing piles of official paperwork. Right from admission inquiries to enrollment & admission & fees management, faculty members need to maintain the records of every single task. Any kind of error in paperwork leads to wrong information in the database and eventually disturbs the student data management. With a college management system, educators can rule out the headache of paperwork and optimize resources. Student-related & confidential institutional details can be filled & managed digitally, which reduces the repetitive work & facilitates higher accuracy of data. Furthermore, the information can also be stored on a cloud-hosted student information system to avoid the chances of data theft & maintaining student data security.
Monitoring Student Performance becomes Easier
Recent research has proven that educational institutions that track student performance experience better & positive outcomes. In this context, college ERP software embedded with smart analytics dashboard system can prove to be a boon. Analytics dashboard helps faculty to generate reports regarding attendance, assessment grades, exam results, areas of improvement, and academically strong points of students. With such precise reports about students, it becomes easier for the teachers to monitor & track student performance.
Planning Strategies & Smart Decision-Making for Success
'It is better to be approximately right than precisely wrong' - Warren Buffet
No matter how many provisions an educator confers to students, their decision-making capability is the ultimate factor that determines the institutional growth. To make a sound decision, institutions must look for what top-notch institutions are doing or simply research regarding local competitors. Once it's done, they must analyze their student & faculty-related data and identify the key performance indicators as well as weak areas. They can discuss their observations with senior faculty members & plan out strategies that would ensure the success & reputation of the college over the long haul.
Key Takeaways
Owing to a vast range of perks, education technology has become one of the main pillars of institutional success. In order to gain long-term benefits, HEIs must invest in software for colleges that are well-equipped with the latest features & cutting-edge technology. Thorough market research about ERP vendors can suffice successful ERP implementation leading to improved operational efficiency, productivity & accomplishment of fundamental goals.
To explore more information about Education ERP, get in touch with us.