How Campus Management System Implementation Ensures Campus Security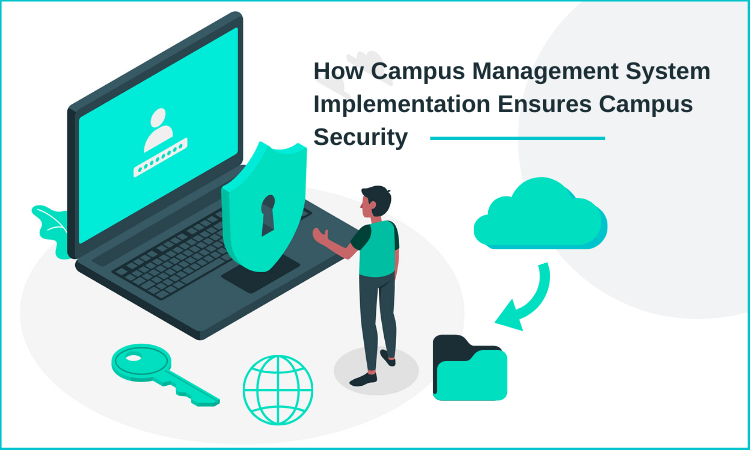 "Building a reputation can take many years, but it only takes one significant attack on data to bring it back to square one": Brian Forster
It has been observed that student data has become a major tool for criminals to plan heinous activities against students. The personal information & details of students are heavily being misused these days. Owing to the increasing crime rate against students, it has become necessary for the educational institutions to keep a close tab on institutional activities. For accomplishing the goal of campus security, implementing a campus management system that ensures student data security is a must. An efficient Education ERP tool can significantly minimize virtual attacks on students' data and reduce the probability of any kind of physical mishap in the future.
Here's how educators can achieve complete campus security by implementing a campus management system...
Cloud-Hosted ERP for Proper Data Handling
Educational institutions completely rely on student data for performing their day-to-day activities which clearly depicts why student data security plays a pivotal role in building the reputation of the school. Unauthorized access to sensitive & personalized student information or any kind of security breach may result in adverse effects on students as well as the institute. To avoid data security issues, educators must implement a cloud-hosted campus automation system. Cloud-hosted ERP Management System enables the higher authorities to provide role-based access to staff and faculty members eradicating the chances of data mishandling & creating a safe environment. In addition to this, it also allows the management to maintain complete transparency & monitor all the ins-and-outs of the campus with mere clicks.
Visitor Management System for Campus Security
When it comes to campus security, keeping a track of visitors in the campus is again an important parameter. With comprehensive education ERP software integrated with the visitor management system, educational institutions can stay updated about the guests visiting institution during work hours. Institutions can maintain a digital record of the details of the visitor along with their purpose of visiting the educational campus. The student information system indeed provides a great way to sort genuine visitors, keep vigilance, and ensure greater safety.
Transport Security for K12 & Higher Ed
The biggest benefit that K12 & Higher Ed can reap by the implementation of Education ERP embedded with a smart mobile app is staying connected with the students until they reach home. The GPS-enabled mobile app allows tracking of the bus or transport vehicle enables parents and educators to stay in the loop and receive updates about the driver, including the routes he takes, current location, pick-up time, and drop-time. In addition to real-time tracking, they can also receive emergency notifications in case of an accident while traveling.
To Sum Up
Campus Management System is undoubtedly the best solution for maintaining student safety. It significantly helps educators to create a secure & positive learning environment by addressing all the major security concerns. Therefore, educators must invest in reliable ERP software and attain complete campus security.
Want to know more about Campus Security Management System? - Schedule a free Demo Today!!