Best Checklist for Student Information System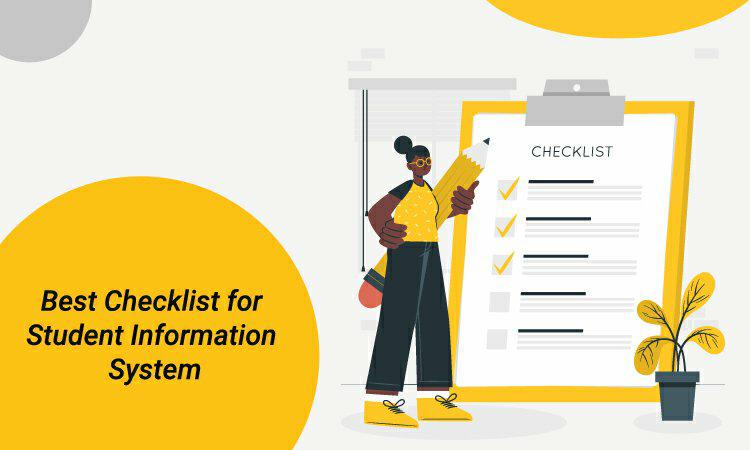 "Everything is designed. Few things are designed well."— Brian Reed
Raise your hands if you're planning to implement a student information system (SIS) to deal with the work stress of COVID-19.
Oh! That's a great decision!
However, lots of school administrators are traveling the path of digitalization to make a positive impact on the teaching-learning process. They are focusing on launching a student information management system (SIMS) with multiple features.
But integrating multiple features can have big payoffs; you won't get time to execute the implementation while juggling with other work processes of your school. You've got a Multiple Academy Trust, a large section of faculty, and administrative staff, and piles of paperwork on your plate—the only free time you get is weekend!
Thinking to work on weekends as well?
I have good news for you. I'll simplify your digitization journey with a checklist for investing in a school ERP with an efficient SIS.
In this checklist, I will tell you the best features of the school management system…
Student Admission Details Management
With a student information management software, you get the provision to collect, compile, and save various types of students details such as their personal information, contact details, address, phone number, previous academic details, certificates, etc. Whether it's an old student or a newly admitted one, you can manage the details of every candidate including your alumni who've left the school!
Student Attendance Records
Managing the details of student attendance on a daily, weekly, and monthly basis can be mentally draining. So many registers, files, paper, efforts, and resources…student attendance record is crucial for school management authorities. SIS integrated with an online student attendance management system maintains a quick, precise, and error-free record of student's daily attendance ensuring best educational practices.
Class-wise Timetable & Academic Year-wise Student Record
Class-wise timetable management is yet another feather in the cap of SIMS.
As a school administrator, you can keep a tab on your faculty attendance, lecture timing, and the total number of students attending everyday teaching sessions. You can even manage a year-wise academic record of students at your fingertips.
BI-Powered Analytics Dashboard
Analytics dashboard is the key feature of the student information management system. It gives you a complete picture of every small detail regarding your students including – their academic performance, progress reports, strengths, weaknesses, and skills. The reports are highly accurate in nature and offer critical information.
Factors You Need To Think Upon Before Buying a SIS: Student Information System
Determine & jot down your needs
Create a list of features that would benefit your institution
Note down your current data collection & compilation tools
Determine how information can be integrated with SIS
Identify whether it can merge with a Learning Management System (LMS)
Review various ERP for schools and choose the one with best specifications
Examine the tech support provided by the school ERP vendor
Experience is the best teacher!
So, please check the best performing school ERP such as MasterSoft ERP. MasterSoft SIS capabilities are beyond comparison & have a proven track record of transforming campuses.
Keep this SIS checklist bookmarked or save it & whenever you feel struck, get back to us!