Embracing the Advantages of Cloud-Based Software for Schools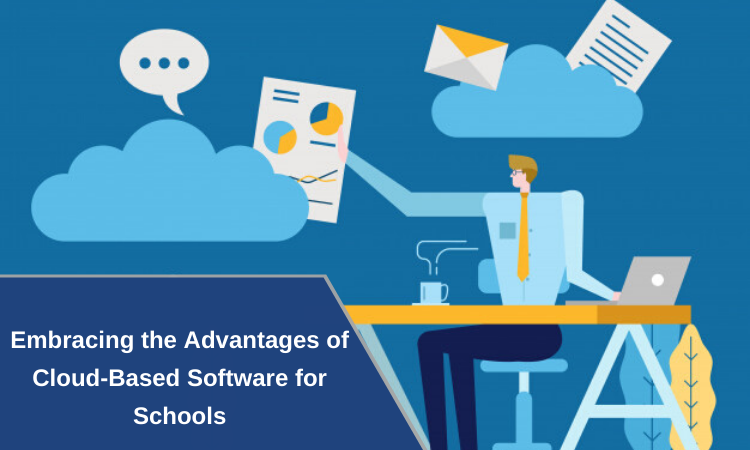 Is cloud reliable for data security?
Is it beneficial?
Started on such a doubtful note, the journey of cloud technology has come a long way, and today, it is counted among one of the leading technologies. It has unleashed an entirely new level of the edTech revolution.
Cloud is an efficient solution. A cost-effective solution. A change-making ERP solution.
With cloud-based school management software, educators can make informed decisions, boost their ROI, and create a positive impact on student results. The actionable real-time insights & data access from across anywhere and anytime, whenever the management needs, paves the way for progress, clarity, and more control over the institutional processes. Head of Management or school administrators need not have to depend on the staff members to know what's happening in the different departments of the school. "Manual staff reporting" has totally become a thing of the past. So, as we enter the digitized tech-world, it's important for schools to precisely understand what advantages cloud has to offer to the education sector.
Here's the check-list of advantages of cloud-based software for schools...
Hassle-free & Faster Data Management
According to statistics, on average, 70% of the time of staff & faculty members get utilized in executing non-teaching activities such as manual data management & preparing administrative documents. Even with careful data entry, the accuracy of data remains a big question. Cloud software for schools is the best in the industry when it comes to error-free & faster management of student data. Being a simple-to-use platform, the education ERP streamlines all the activities & makes it easier for the staff to perform non-productive tasks super-speedily saving a lot of time. It can manage a vast amount of data with absolutely zero processing errors in a fraction of time. The amount of time saved can be utilized for teaching purposes. Maximizing the teaching time can have a great impact on young minds in the long run.
Unified Platform for Student Data Security
Does the educator need multiple cloud-based ERP software for the school?
Not at all!
Educators don't need multiple educational ERP solutions; just one school information management system is enough for the institution. Department-wise ERP solutions may become havoc for student data security. Cloud ERP is an apt answer for all the data security issues. This one key innovation ERP saves, stores, and compiles the complete data at a centralized location on a unified platform. The stakeholders just need to log in via their portal to get access to the required data.
24*7 Role-based Access for Avoiding Fraudulent Activities
The biggest advantage of cloud school ERP is that it provides 24*7 role-based access to the school authorities which directly signifies that there's no chance of data theft or data misuse. With the cloud, educators can safely allow access to sensitive data to their trust-worthy staff members. This protocol minimizes the chances of any kind of fraudulent activity in the school. At any moment, educators can also disable access for safety purposes.
Dashboard Analytics for Smart Decision Making
Picture a pile of scholastic information that needs to be analyzed in order to make decisions, seems daunting, right? It certainly is! Cloud-hosted school ERP embedded with an analytics dashboard could be instrumental in helping out the staff & faculty to evaluate the student-related with reports that can be generated with just a few clicks. Not just analyze the performance, but also figure out the problematic areas where students need improvement. It can be a boon for strengthening students' academics & getting positive outcomes.
To Sum Up
Being an educator, if you want to use data to drive institutional success along with maintaining high accuracy & security, "Cloud Technology" is all you need. No on-premises school ERP system can match the functionalities of cloud & provide a multitude of advantages. Your staff & teachers can get highly benefited from it & would surely thank you for implementing it!
If you'd like to explore more cloud ERP software for schools, and what we can offer, kindly get in touch with Cloud-Based Education ERP Service Vendor.