Best Actionable Ideas for Seamless School Management during COVID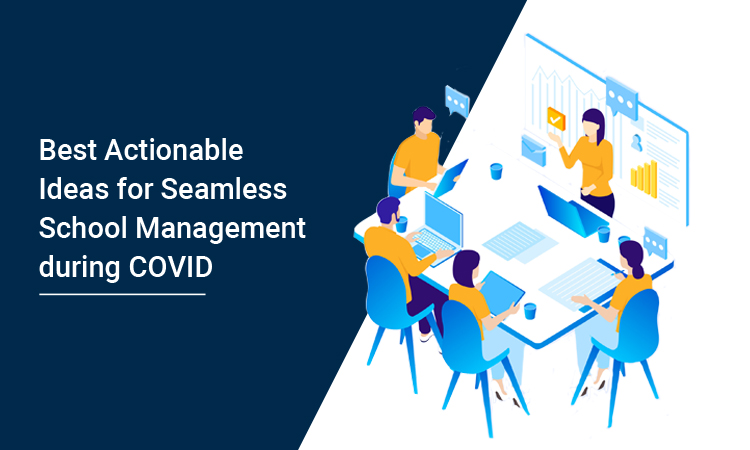 "When faced with a steam-rolling technology, you either become part of the technology or part of the road!" – Nigel Willetts
This quote by Nigel is just apt for today's scenario where COVID-19 has closed the doors to the normal life & forced us to start living a life from scratch.
No more social meetings, no more canteen gossip, no more class bunking…no more human-to-human interaction!
We are living in a time where we need to learn surviving on our own.
While offices have asked their employees to work-from-home, educators & school administrators in the education sector are still struggling to find a "substantial" way of providing "quality" education to students. The learning journey of little minds has taken a pause in the majority of countries world-wide.
However, with the aid of a student information system with e-learning tools, as an educator, you can do a lot more than what you were doing earlier.
No. Not kidding at all!
Are you new to the world of digitization?
Just started to explore the digital space when the virus left you with no choice?
If you find yourself in the wavering boat of worries thinking it's too late to have a school ERP with e-learning modules, don't panic!
Check out the following list of best actionable ideas that you can implement with the help of edTech tools and achieve seamless school management during the times of pandemic...
Online Admission & Fees Management System is a Must
Breaking social distancing norms could invite health hazards.
But the advent of Corona shouldn't become a reason for the increasing dropout rate of your school.
To have the best of both worlds, school management system software with an online admission system & fees management module can be your savior. Right from managing the hassles of online registration to completion of admission, the ERP system is all that you need to cease your students to go out in the public for performing admission formalities.
But here's the caveat: you will need online school admission software with a safe & secure fees payment gateway to avoid malpractices.
The more you emphasize on implementing an optimized school ERP, the better it will perform, which, in turn, will facilitate a smooth admission procedure & less chances of drop-outs.
Online Assessment Tools for Interesting E-learning Sessions
E-learning is not a big deal!
Yeah, you read that right!
There's a plethora of e-learning software vendors offering quick implementation services & support. Still, I can easily categorize the successful & not-so-successful educational institutions - both using such e-learning software!
E-learning facilities alone are not that effective. You need to include online assessment tools to track what you are teaching & how much students understand. You have to make the sessions engaging by telling students what they don't know! Something interesting like facts or even creative stories to make the concept clear! You can even play online games keeping in mind the ultimate goal of student progress.
Access to expert lectures and online assessments and exams is the perfect combo for achieving virtual education success.
Please Manage the Lecture Timings!
Lockdown & school closures happened out-of-the-blue! No one was expecting that the virus would lock the countries under its vicious chain.
As faculty members, you might be under the pressure of conducting online classes daily & completing the syllabus on time.
But, have you thought of the little kids?
First of all, staring at the monitor for a long time is not at all good for their eyes & mind. And secondly, students can't concentrate for a longer time. The virtual classes may become a reason of boredom for them, causing loss of interest in studies.
Therefore, maintain the online lecture timings properly. Make your lectures crisp and engaging enough to help students learn without losing interest in studies.
To Sum Up
If you want to reach the pinnacle of virtual classroom success in a short time, you need to focus on school management ideas that consist of technology as well as the humanitarian aspect.
Find out the best school management system software that works in the favor of overall institutional growth. Analyze your students' expectations and then plan strategies that are as good as your intention of providing quality education to children!
For any kind of assistance on school ERP software and learning management systems (LMS), get in touch with us!