How MasterSoft helped 2000+ institutions to achieve institutional goals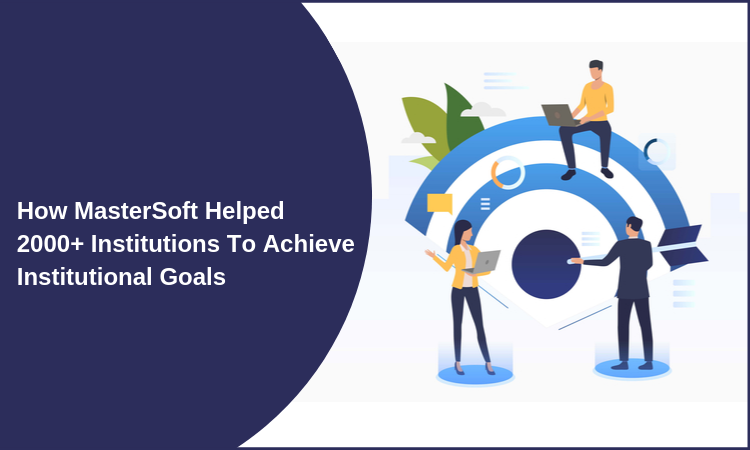 Delivering highly efficient ERP products for educational campuses that digitizes complete student-faculty lifecycle & campus administration from the last 22 years, MasterSoft ERP has become one of the top-notch ERP facilitators across the world. The journey of MasterSoft started with a commitment to revolutionize the entire educational system and provide maximum benefits to students as well as institutions in terms of productivity, efficiency, and outcomes. Owing to its customer-eccentricity & work ethics, MasterSoft has gained the trust of over 2000 educational campuses that comprise of Higher Ed & K12 Schools, Colleges including IIT's, NIT's, Autonomous & Private, and reputed Universities.
Here's how MasterSoft helped 2000+ institutions to achieve institutional goals...
Thorough Research for Analyzing Problems
First and foremost, Team MasterSoft began visiting educational institutions & met their educators, teachers, and students for understanding & analyzing the core institutional processes & the problems they face on a daily basis. The research helped MasterSoft professionals to get a brief idea of how to design campus automation systems that would help educational institutions boost their results in the long run.
Customized Campus Automation Solutions
There are several education ERP software providers in the market that claim their product to be the best because of their multiple features & functionalities. However, not every institution follows a specific way of working; each has its own workflow & quality parameters. It's crucial to design & develop customized ERP solutions depending on the requirements of the educators rather than providing a package that consists of a bunch of functionalities that don't add value to the in-house work processes.
With MasterSoft Campus Management System, educators get the privilege to choose functionalities that help them perform better. They can select features of their own choice & get a customized product as per their requirements. It not just helps them manage workload but also reduces loads on their pockets.
Successful Implementation & Staff Training
Being the best ERP provider, successful ERP implementation is definitely the primary goal of MasterSoft. However, our team understands the fact that not every faculty & staff member is tech-savvy and it's important to provide ERP training to them. Proper training plays a key role in institutional progress by ensuring the ERP gets utilized in the best possible way by the staff members. For instance, if the staff members don't understand how to operate a certain functionality of ERP, they may face challenges in terms of time-consumption & productivity. Therefore, MasterSoft professionals give equal weightage to training just as the ERP implementation process.
24*7 Online & Offsite Support
The successful track record of MasterSoft is a result of offline and 24*7 online support after the implementation of ERP. Our aim is not to merely gain clients, we believe in quality over quantity. This is why we have a dedicated team that handles queries of our clients and provides them with appropriate help. Our technical team & engineers are always available at service, clients just need to contact the help desk or raise a ticket online.
Education ERP Software with Latest Technology
Growth is a result of constant efforts. We deliver products integrated with the latest education technology in order to ensure maximum institutional outcomes & student data security. Our products are inbuilt with modern technologies such as online payment gateway, mobile apps, SMS/email alerts, biometrics, business intelligence tools, and smart analytics dashboards.
To Sum Up
MasterSoft Campus Management System enables educators to manage the institutional operations as per their conditions and escalates their growth by empowering educators, teachers, faculty & students. You can fully trust our brand in terms of data security as we don't keep your institutional data with ourselves at point given point in time. You have complete authority over your data & it stays with you even when you don't wish to continue the association with MasterSoft.
To explore more about or products or for scheduling a free demo, get in touch with us today! We provide ERP services in Ghana, Dubai, UAE, Bahrain, Saudi Arabia, USA, South Africa, Nigeria, Kenya, Qatar, Kuwait, and the UK.