5 Ingenious Things Your Institute Can Do With School Management System Software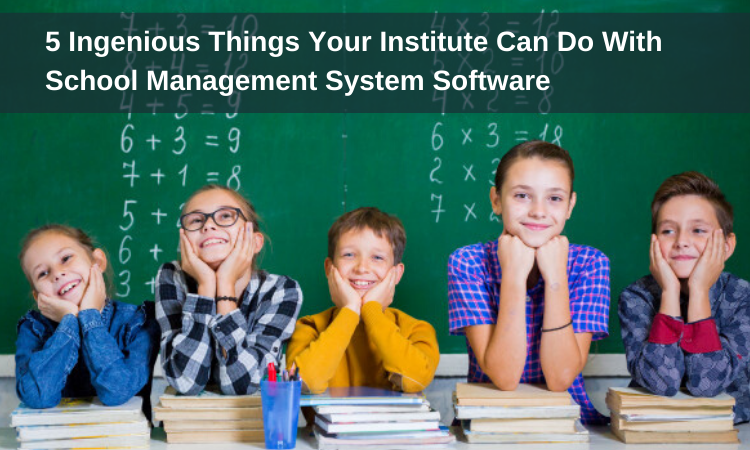 From this -
"There's so much of workload, Sir. We will need extra time to manage the tasks"
To this -
"Sir, the admissions procedure of 9000 students is done, upcoming events are scheduled, the timetable is prepared, all sorts of institutional reports are ready, when would you like to see them?"
The introduction of edTech in the classroom has taken education to an altogether new altitude! School ERPs have created a new space where the mentally draining tasks that seemed like climbing mountains are now much easier to perform. Right from generating leads to students' enrollment and graduation, student information management systems have emerged as a boon for K12 schools. Apart from simplifying & fastening the speed of tasks, there's much more you can do with ERPs.
We're providing you a list of top 5 ingenious things that your institute can do with school management system software...
Save Trees!
Seems misleading, duh? We don't want to mislead you but, indeed, that you can actually save trees with school ERP! The chain goes like this - nearly 4 billion trees are cut down for the production of papers. Unfortunately, faculties & educators have been using papers to maintain entire institutional information. So, indirectly, you are being responsible for the cutting of billions of trees! On the other hand, educational ERP implementation is all about digitization of the information & sensitive student data. Faculties can save every ounce of information starting from the student's admission to the day he/she leaves the school. With the aid of ERP for schools, not just you can reduce the burden of faculties but also save trees & preserve our environment by saying bid adieu to papers! So, educators must adore digitization and abhor manual operations!
Creation of Positive Learning Environment
"Learn with fun" is the new success mantra of gen-next students. Unlike yesteryears, diagrams on a chalkboard can no longer suffice their need. They want their teachers to teach in a creative & playful way. To attain this goal, you can opt for ERP software for school integrated with modern-day technology like e-learning & teaching tools. You can begin with giving twist to boring presentations by using the images of their favorite cartoon characters, building up a theme for story-telling, arranging fun quizzes at the end of session, and more stuff like that. Imagination has no boundaries, you must use it to the fullest to provide full satisfaction & create a positive learning environment in the classroom.
Emotional & Communicational Needs
It would be unfair and in the very instance unrealistic to assume that parents' will be always available for their kids. One might consider it as carelessness but from the point of view of a parent, they want to give the best facilities to their little munchkins. They want to give them all sorts of comforts that they didn't get when they were young. Parents have got no choice but to work hard & earn money. However, there's a dark side to this situation that might negatively affect the mind of children.
Generation might have changed but having parents by their side and hearing words of encouragement from them still remains the topmost priority of kids. In such instances, professionally committed & busy parents get stuck in the dilemma of what to prioritize. A school management system with a feature to communicate can serve the best to the emotional & communicational needs of kids. It can help parents to stay in the loop with faculties as well as track the academic progress of their pupils. Parents who can't drop by the school often can access the required information - be it their kid's grade card, attendance report or anything - directly by login in their portals.
Shifting from Rigidity to Mobility
As has been stated already, you get swift access to student-related information via login portals. Further advancement in the activity can be done by shrinking the size of the platform! You can skip going to the website and just get everything at your fingertips on your very own mobile phone! Reports, communication, academic schedules, every single aspect that you were enjoying with the website version, all will be the same; just the platform will be mobile. All you need is an educational ERP platform integrated with a smart mobile app!
Real-time Monitoring of Multi-Academy Trust
The ultimate goal of schools is to facilitate quality education to as many students as possible. Accommodating a vast sea of students in a school is not practically possible and that's why the culture of multi-academy Trusts is being popular across the world. It surely heightens the success level in terms of educating children as well as building a strong foundation for the nation. However, when the task of "management" coins in; the path becomes uphill. Being present at multiple institutions and real-time monitoring of activities ain't easy. With ERP for schools, you get the freedom to surpass time, location, and distance. As a member of the higher management team, you can access the crucial information of any of the institution that falls under the umbrella of your group with no barrier of time and place. On top of it, your data remains absolutely safe.
To Sum Up
Top educationalists & experts are comparing ERP with the "nervous system" of the human body. Just as our nervous system controls every single heartbeat & our thinking process, ERPs for schools can undertake & streamline all the operations of institutions, and at the same time help the thinking process of educators by providing them with precise information. The AI-powered ERP systems hold the power of multiplying student success by promoting smart decision-making!
Interested in exploring more about ERPs for education? Why not talk to our ERP expert? We'll be honored to part the knowledge we have gained through these years!